Taking your sweet tooth to Toronto this summer? The biggest city in Canada has been carving a name for itself among the travel-foodie community. There are so many spots in the city you can visit to get your sugar fix. Gourmet doughnuts, cupcakes and macarons have been trendy desserts in North America for over 3 years. Instead of fading away time has only refined these fun snacks and others into must-try treats. A chocolatier, an NYC boutique expat, the Queen of Cake, a doughnut shop and two French themed spots topped our list of Top 6 Locations for Luxe Treats in Toronto. Read below!
Acclaimed Toronto based pâtisserie, Nadège combines a blend of the French-born co-owner Nadège Nourian's formal pastry chef training with the laid back feel of Toronto living. A variety of crisp croissant sandwiches, devine cakes and of course their famous macarons sell out almost daily. The Queen West location at Trinity Bellwoods is a great spot for an afternoon bite before a stroll around the city. Be sure to visit their retail wall too. Their flavoured marshmallows in cotton candy, gin & tonic and strawberry basil are a must-buy.
Located in the Shangri La Hotel, Momofuko's chic Milk Bar is a quick stop for unique treat lovers. The NYC based chain features milky treats housed in a refrigerated glass room. Customers are able to pick out their favourite treats and either eat on location or tuck away for later. The menu features treats like peanut butter or cornflake marshmallow cookies, crack pie (tastes like creme brulee) or a mini luxe birthday cake in either the cookies and cream flavour or cereal. Yummy flavoured milks to wash them down include hot doughnut cider, hot chocolate, Mexican coke and pretzel milk.
Dufflet, namesake of Dufflet Rosenberg, is a well-loved Toronto staple. With 3 locations and product in grocery stores and cafes around the city Rosenberg has definitely earned, The Queen of Cake title. The selection of comfort desserts range from all kinds of cakes (cheesecake, sponge cake, apple spice and an uncountable amount of layer cakes), tarts and gourmet cookies. If you're on the go a must try is the Sweet D's bar. Rice krispies, marshmallows, chocolate, peanuts, caramel and peanut butter are all blended to create the customer-favourite.
Gourmet doughnut house Jelly Modern Doughnuts set a new standard for the deep fried treats. The selection of doughnuts are either covered in coconut shavings, fruits or even bacon. Made on site, their weekend selection is even more fun. The new Brookfield location makes it easy for customers to grab a box before heading on an adventure to the nearby Toronto Island.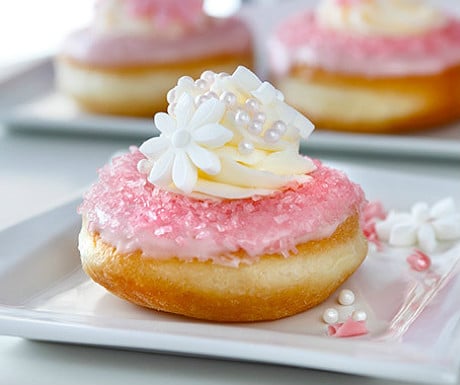 Curl up at Bobbette & Belle with a toasted marshmallow hot chocolate and a cupcake at their Beaches or new Uptown Yonge location. Co-owned by acclaimed wedding cake designer, Allysson Bobbitt and former Canoe head pastry chef Sarah Bell each treat is hand crafted by the expert staff and never disappoints. Bobbette and Belle are ultimately known for their macarons, towers of cupcakes and intricate wedding cakes. The plush Queen East dessert-location has seen several soon-to-be brides pouring over their pastel coloured frostings edible beadings and unique shapes. The decor reflects a princess' dream.
Soma is a must-visit to satisfy decadent treat cravings. Unique in the chocolate making business, Soma crafts their chocolate straight from the bean. Most companies get the powder shipped in and create their desserts from the bitter ingredient. You can watch the chocolatier's creative culinary staff while you munch on your treats at their King West location. Creative mixes of the cocoa based treats include a variety of gelato, dark chocolate bars, truffles (from classic Pistachio Crisp and Butter Caramel with Sea Salt to unique blends like Balsamic Vinegar and Thai Stick) and cookies that can be paired with a warm chocolate drink.