By
Janice Nieder
on Mar 28, 2015 in
Attractions
,
California
,
Events
,
Food and Drink
,
Going Out
,
North America
,
Regions
,
Restaurants
,
Travel Miscellany
,
USA
What's new in Southern California? Lots! If you're planning a first timer's trip to Southern California in the next few months (when the weather is sheer perfection) you probably already know that you want to spend a day at the beach and perhaps even do a little surfing. And of course, you'll want to see all the iconic So-Cal sights such as the famed Hollywood Sign, Getty Center, tour a movie studio, watch the taping of a television show and shop Beverly Hills. Keep in mind that although But if you're a repeat visitor, or just want to see what's new and exciting, then here's some of the latest developments on "What's New in Southern California"
See
New Hollywood visitor app
Tourists can experience the Hollywood Entertainment District with the newly launched Hollywood Visitors Guide smartphone application. The app provides visitors with complete access to create the perfect vacation. It offers a printed map of the Hollywood area covering the past 15 years, as well as inside information on entertainment, food and beverage, lodging, tours, shopping and transportation.
New architecture and design center
Palm Springs Art Museum opened a new architecture and design center, Edwards Harris Pavilion, giving architecture buffs yet another reason to visit the region. Guests can explore the world of architecture and design through fascinating exhibits and educational and community programs, such as lectures, walking tours and research/archive access. The 13,000 square-foot glass and steel building, perched above the street and boasting floor-to-ceiling windows, offers visitors a breathtaking space to enjoy the exhibits and the surrounding cityscape and San Jacinto Mountains.
Disneyland Resort debuts "Frozen Fun"
The Disneyland Resort recently celebrated the grand opening of the spectacular new "Frozen Fun" experience, which features magical adventures with characters from the Walt Disney Pictures' blockbuster film "Frozen." As part of this experience, guests at Disney California Adventure Park can sing along with Anna and Elsa in the new "Frozen Sing-Along Celebration" and play in the Arendelle snow-themed wonderland, which includes a snow slide, the chance to build snow creations and an opportunity to share a warm hug with Olaf the snowman.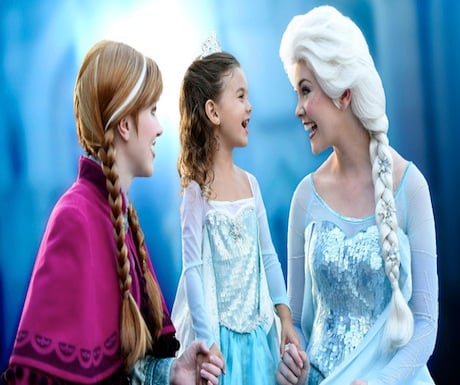 Amgen Tour of California celebrates 10th anniversary by finally adding women's events
This spring, the Amgen Tour of California, America's largest and most prestigious cycling event, will celebrate its 10th anniversary by expanding to include four days of women's events, when the world's top 20 female cyclists will showcase the passion and force women also have on a bike. The women's race will travel through South Lake Tahoe on May 8th and 9th, and conclude in Sacramento on May 10th. For the next eight days, the nation's top male cyclists will race across nearly 700 miles of California's bre including Nevada City, Lodi, San Jose, Pismo Beach, Avila Beach, Santa Barbara, Santa Clarita, Big Bear Lake, Ontario, Mt. Baldy, Downtown Los Angeles and Pasadena. Excited fans can cheer these competitors each leg of the way, with celebrations taking place in the host cities at each of the start and finish lines.
Stay
Iconic Marina Del Ray re-opens after $20 million renovation
The renowned Marina Del Rey Hotel is now open after a $20 million renovation transformed the property into a four-star accommodation, boasting a full-service restaurant, 24-hour room service, concierge assistance, an outdoor, marina-facing pool, sundeck, a spacious marina-front wedding venue and 6,291 square feet of meeting space. Guest rooms and suites have been fully revamped to embody the hotel's tranquil waterfront location complete with a choice of a private balcony, patio or pool-facing cabana. Luxuriously furnished and appointed, rooms are equipped with premium high-thread Egyptian cotton linens, 50" LED HDTV's, Keurig® coffeemakers, and Philosophy bath amenities. The new destination restaurant, aptly named SALT, is an upscale, casual indoor-outdoor eatery serving contemporary California cuisine and fresh seasonal seafood fare, along with craft cocktails created by a master mixologist.
Eat
Odys & Penelope hit La Brea District
Chef/restaurateurs Quinn and Karen Hatfield, the culinary power couple behind the award-winning Hatfield's and popular neighborhood eatery Sycamore Kitchen, just opened Odys & Penelope in Los Angeles' La Brea district. The inspiration and heart of the restaurant is its wood-fired smoker and impressive open and churrasco grills. Using these elemental live-fire cooking methods, the restaurant offers an eclectic menu of California fare consisting of locally sourced meats, fish and seasonal vegetables.
Herringbone L.A. at The Mondrian
Celebrity Chef Brian Malarkey of BRAVO's Top Chef and ABC's The Taste alongside Enlightened Hospitality Group partner and hospitality visionary James Brennan, expanded their wildly popular restaurant group to Los Angeles by opening their acclaimed restaurant, Herringbone, at Mondrian Los Angeles. Taking over the restaurant space in the boutique lifestyle hotel, Herringbone opened this year in the heart of West Hollywood. Featuring ocean-to-table cuisine, Herringbone's menu will showcase "fish meats field," including ocean specialties from around the world and a variety of surf-and-turf dishes.
AL Mare opens on the Santa Monica Pier
What happens when four childhood friends from Rome relocate to Santa Monica with a desire to share their love of Italian cuisine, wine and the Roman style of family entertaining? Ristorante Al Mare is born. Al Mare, is the first eatery on the famous Santa Monica pier offering excellent Italian cuisine produced from quality ingredients and served in a family atmosphere with views of the beautiful boardwalk and beaches. To create the menu, the team brought on seasoned chef Giacomo Pettinari. Giacomo's menu features delicious Italian cuisine, and he cooks by his mother's motto – "keep the flavor real and authentic." Some highlights include the house cured beef carpaccio, a homemade squid ink pasta with clams and a Hawaiian vanilla pod custard pannacotta.
Feast from the Farm
SEE-LA, the non-profit organization that operates the Hollywood Farmers' Market in addition to seven other certified farmers' markets in Los Angeles County, will host its second annual "Feast from the Farm" on Wednesday, April 15, 2015 at the Hollywood Roosevelt Hotel, 7000 Hollywood Blvd., from 12:00 noon until 2:00 p.m. There's still tickets available for the event featuring guest chefs Daniel Mattern and Roxana Jullapat, co-founders of Cooks County, one of the finest farm-to-fork restaurants in Los Angeles! SEE-LA will also be honoring Russ Parsons, food columnist for the LA Times.