London may have staged the Olympics in 2012 and all eyes were on Yorkshire in 2014 for the Tour de France. But, 2015 is definitely Lincoln's year. It marks exactly 800 years since King John sealed Magna Carta, the very first attempt to codify English law. Only four versions of the 1215 document survive today and the very best preserved belongs to Lincoln Cathedral.
A series of festivals are being held in the city throughout the year marking this anniversary, making Lincoln the prime destination for British city breaks in 2015. Why not combine your visit to this historic city with a festival and a stay at one of Lincoln's luxury hotels?
Great Magna Carta Weekend – 13th-14th June 2015
Lincoln is celebrating almost 800 years to the day since Magna Carta was sealed with a jam-packed weekend of special events. A vibrant carnival parade is taking place through the city streets, in which people can show off their democracy-themed costumes, masks and puppets. The Great Magna Carta Weekend will also see the launch of The Baron's Charter Trail, which will see 25 baron sculptures placed around the city, each named after the barons who were present at Magna Carta's sealing. You can also visit Lincoln Castle which has opened after a £22 million renovation, revealing a state-of-the-art vault housing Magna Carta and Charter of the Forest. A special £16 (adult) ticket gets you access to the castle and vault as well as to the stunning cathedral, Lincoln's most iconic medieval building.
Ensure you're close to all the action by staying at the White Hart Hotel, an old coaching inn in the heart of the Cathedral Quarter. The hotel boasts spectacular views over the cathedral and its historic setting is offset by its modern but comfortable interior.
Lincoln Grand Prix & British Cycling Championships – 25th-28th June 2015
Last year's Tour de France put the spotlight on Britain as a top cycling destination and this year, Lincoln is hosting own important cycling event. The Lincoln Grand Prix is celebrating its 60th year with a festival of cycling, including the British Cycling National Road Championships. The city's steep winding lanes and the cobbled streets of the Cathedral Quarter make for a tough ride for the competitors and a beautiful setting for spectators. Previous Champions include Peter Kennaugh, Laura Trott, Sir Bradley Wiggins and Emma Pooley.
Lincoln provides a variety of unique and relaxing places to stay during the championships. One of them is the Double Tree by Hilton which is offering a special package for stays between June 24 and 28, 2015. This includes a two night stay with a breakfast on each morning and dinner at the Electric Restaurant with fantastic views over the Brayford Waterfront.
Asylum VII, Steampunk Festival – 29th-31st August 2015
Voted as 'the most Steampunk city in the world', Lincoln is hosting Europe's biggest Steampunk festival over the bank holiday weekend in August. Asylum VII celebrates the era of steam power in the late 19th century and attracts visitors from all over the world, who dress up in fantasy neo-Victorian costumes. Castle Square will play host to a free Steampunk market called The Bazaar Eclectica, offering a host of interesting and quirky art and food products for sale. The festival will also include a fringe-style programme of art, literature, music, fashion and comedy that will draw in crowds from outside the Steampunk fan base.
The Old Palace Hotel provides the perfect accommodation for your stay during the Steampunk Festival weekend. Set in the heart of the Cathedral Quarter, this former residency of the Bishops of Lincoln combines modern elegance with the splendour of the Victorian and Georgian era.
Frequency Festival of Digital Culture – 23rd October – 1st November 2015
Lincoln's medieval streets will take on a modern twist in October during the city's biennial Frequency Festival, a celebration of digital culture. To coincide with the 800th anniversary of Magna Carta being sealed, this year's event will explore the theme of liberation. A series of art exhibitions, installations, performances and lively debates will be held in a diverse range of historic and contemporary venues across the city.
The Holiday Inn Express is the perfect option for those on a budget visiting Frequency Festival as it's within easy walking distance of the city centre and the University of Lincoln's Brayford Campus.
Lincolnshire Sausage Festival – 24th October 2015
If you're a foodie, why not combine your visit to the Frequency Festival of Digital Culture with a visit to the 13th Lincolnshire Sausage Festival. Following its renovation, Lincoln Castle is playing host to the event, which celebrates the county's most iconic food product. Live cookery demonstrations, children's entertainment and live music are on offer, as well as plenty of food stalls selling various types of sausage, making this a must-visit event for any meat connoisseur.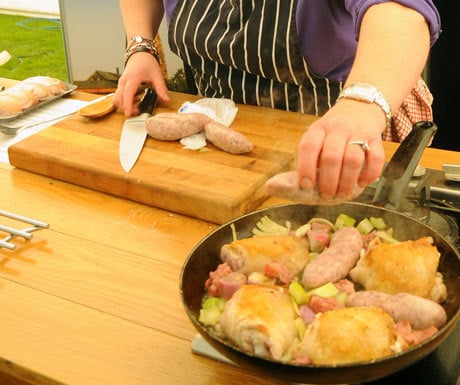 Washingborough Hall Hotel is a stunning boutique hotel nestled in rolling countryside. If you have any more space for delicious food, The Dining Room restaurant offers a sophisticated choice for dining out.
So, whether you're a foodie, a history buff, a Steampunk fan or a technology enthusiast, Lincoln has a festival for you in 2015.
Emma Tatlow is Manager of Visit Lincoln.
If you would like to be a guest blogger on A Luxury Travel Blog in order to raise your profile, please contact us.