There is a popular phrase in Spanish that says "de Madrid al cielo" meaning "from Madrid to heaven". It may come as a surprise to those who are not familiar with this splendid city, but one of the best qualities that Madrid has to offer is its sky. Madrid has more hours of daylight than most European cities and its sunsets can be quite spectacular.
To witness and appreciate a fabulous Madrid sunset is a must when you come to visit the city. And what better way to do that than from one of its exquisite rooftops. Take in the view of the Madrid skyline, from up high or not so high, while enjoying a glass of Spanish wine, a delicious cocktail or a tasty gourmet meal.
Spring is officially here and there is no better plan for a relaxing afternoon or a fun night out if you are visiting Madrid. Here are some recommendations:
Azotea del Círculo de Bellas Artes
Probably the rooftop with the most breathtaking views of Madrid, this incredible rooftop can be found on Calle Alcalá between Gran Via and the Cibeles fountain. Access to the "azotea" is just 4 euros and can be purchased at the reception desk of the building. Get there a bit early to avoid the long lines and you will also want to get there in time for the sunset. Order a drink, lay on a lounge chair, and have a walk around the terrace to appreciate the views from every which side. Its seasonal restaurant, Tartan Roof, opens in the spring and is an excellent choice to enjoy an outdoor gourmet meal. Whatever you choose, it is impossible not to enjoy the views!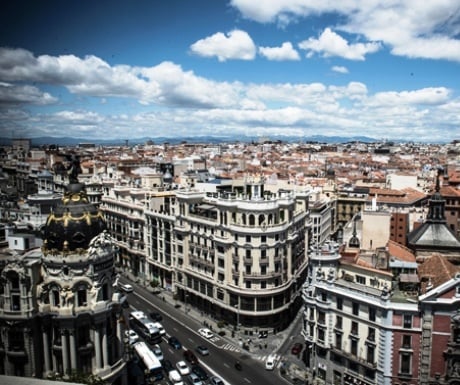 Gourmet Experience Gran Vía
Situated in the El Corte Inglés building next to Gran Via, Gourmet Experience is the right location to take a break from a day of shopping or from the crowds of one of the city´s busiest streets. Take the elevator to the 9th floor and you will find several options to choose from. It is both a shop and gourmet-style food court with different food and drink establishments. In good weather, take your drink out to the small but delightful terrace. Enjoy the views of the busy Gran Vía to one side and the winding streets leading to Puerta del Sol on the other.
La Terraza del Urban
One of Madrid´s most exclusive hotels also has one of the city´s most spectacular rooftops. The cocktails are exceptional and also pricey, but the atmosphere and views are worth it. Perfect on a summer night, this rooftop is a real luxury. Known for its very chic and modern design, the five star Hotel Urban offers a unique view of Madrid´s skyline at an excellent central location.
The Roof at Hotel ME Madrid
This ultra-chic and elegant rooftop bar is located on the roof of the Hotel ME Madrid Reina Victoria. One of Madrid´s most popular nightlife venues, it can be found in the Plaza Santa Ana and is often frequented by Spanish celebrities. It´s best to get there early as the line to get in can get rather long after midnight. Enjoy this Madrid hotspot by sipping on a delicious cocktail while enjoying the music and spectacular views of the city down below.
Gau & Café
Impossible to know of its existence by just walking down the street, Gau & Café is found on the roof of a university building. A more laid-back atmosphere in the mist of the Lavapiés neighborhood, this pleasant rooftop can be considered one of Madrid´s hidden gems. The views are quite different from the other rooftops but also quite interesting. The food has a lot of international influence and they have an interesting tasting menu for just 28 Euros.
Terraza de Cibeles
On the sixth floor of one of Madrid´s most iconic buildings, formerly the city´s main post office, you will find this rooftop and cocktail bar with beautiful views of the city. Visits to the lookout point are just 2 Euros and take you to the very top of the building. Have a cocktail, a coffee, or a gin tonic like a true Spaniard and appreciate an unforgettable moment on this delightful terrace. If you are looking for an elegant meal, there is also a restaurant on the same floor in which you can enjoy a special gastronomic experience in a unique location.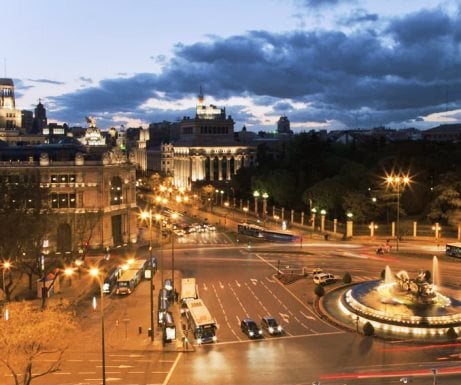 Luis Lechuga is Managing Director at Winetourismspain.
If you would like to be a guest blogger on A Luxury Travel Blog in order to raise your profile, please contact us.