It's perhaps no surprise that what I consider to be the most luxurious hotel in the Alps is located in Courchevel 1850. In arguably the world's most affluent ski resort, a resort crammed with some truly outstanding properties, the bar has been set very high. Any newcomer to the resort has to match the existing levels of excellence if it wants to be considered a contender. Hotel K2 exceeds the standards already set and is now the new benchmark for others that follow to aspire to.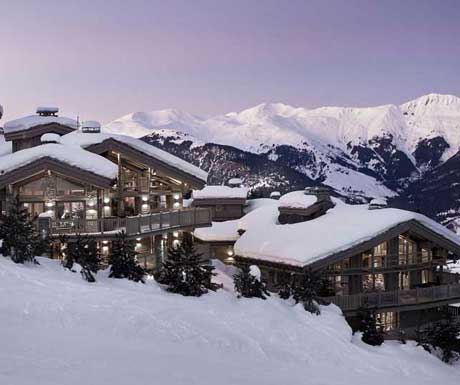 The clever thing about the K2 interiors is the use of savoyard stone and the blonde timbers that blend so beautifully together. They echo the winter wonderland landscape outside and civilise the main components, the rock and the snow, and replicate them indoors. The really clever thing is that what could give off a cold and harsh ambience is cushioned remarkably well with the other elements that are introduced to soften and warm the main canvas. Cavernous interiors with polished stone and impressive timber construction are turned into cathedrals of luxury.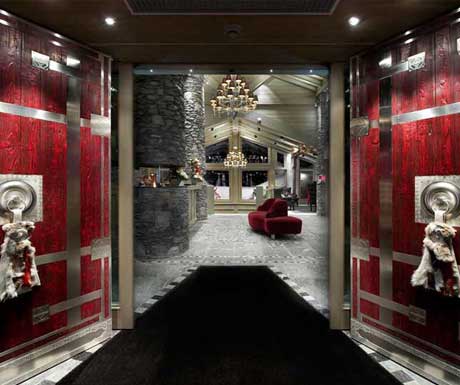 And cavernous the interiors are too. In a resort where space comes at a premium, K2 is seemingly unconcerned with such trifles. The hotel is comprised of a hamlet of 5 luxury chalets with 29 rooms in total and could almost qualify as a small village in it's own right. The K2 is nothing short of spectacular. Few hotels provide this perfect synergy of style, sumptuous luxury and stunning location. Situated in an excellent location with ski-in- ski-out access to the Cospillot piste, close to the centre of 1850 and offering magnificent views over the valley, K2 ticks all the boxes for perfect location in this world class resort.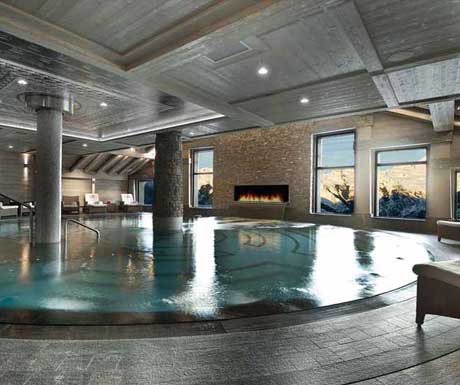 It's certainly not a new concept but staying in a chalet with all the amenities that a hotel can offer gives one the best of both worlds. Total privacy, your own space to please yourself and the first class service that a 5 star hotel can and does provide. Putting aside what the hotel proper can offer, all the rooms contain a ipad/pod docking station, LED screen, PlayStation III, a balcony or a terrace, a dressing area, a minibar and a safe. Meanwhile in the main hotel, K2 also offers it's guests a large spa with a light, water and fire theme, a superb swimming pool with stunning panoramic views, luxury boutiques, a sumptuous cinema room and a video games room. Non skiers need never leave the complex and will be thoroughly absorbed, in some style, throughout their stay.
Nicolas Sale, the hotels 1 star Michelin chef, offers creative cuisine and fine dining, combining traditional French with a fusion of flavours from afar, in the K2′s gastronomic restaurant ʻKintessence'. The inventive buffets at the ′Black Pyramide′ restaurant are available for breakfast, brunch and dinner and offer sweet and savoury delights. Lounge Bar ′8611′ is open to patrons to enjoy a fine selection of spirits, wines and snacks in a relaxing yet smart environment. For cigar enthusiasts, The Winston Klub is the place to be after a satisfying meal for a nightcap before bed. The K2 also has an extensive wine cellar with wines from around the World.
K2 has been built specifically to offer everything you could expect from a stay in a 5 star luxury hotel, nothing is left to chance and all bases are covered. K2 gets my vote, everyday of the week. The gauntlet has been thrown down, can the challenge be met? If the K2 is to be surpassed the new pretender will have to go some to top this amazing hotel.
Rebecca Taylor is Director at SkiBoutique.
If you would like to be a guest blogger on A Luxury Travel Blog in order to raise your profile, please contact us.