With the heat soaring across Europe, many 'foodies' turn to the best ice cream parlours or a beach side haunt for a deliciously refreshing cocktail and the freshest of seafood. Italy is one of my favourite places all-year round, but throughout the summer months, the vineyards of Tuscany offer fantastic tours and picnics under sheltered canopy trees in Umbria are just things one can't ignore.
This article runs through a few of my favourite places throughout Italy. Our first treat? Gelato, in the city of Rome.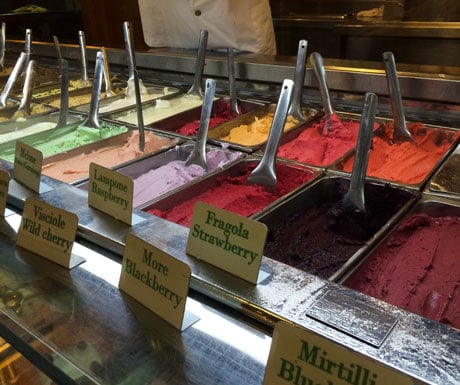 Many would argue that 'Giolitti' is Rome's best ice cream parlour. Open since 1900 and decorated in full liberty style with outside tables for people watching. The selection of ice cream can most likely be compared with the number of years the store has stood next to the Chamber of Deputies of the Italian Parliament. Flavours include Yogurt, Menta, Riso, Cassata Sicilian, Fragola, Visciolo to name a few.
While it is definitely worth a visit, Grom would be my preference. It was recommended to me by a policeman guarding parliament and is just a stone's throw from the Pantheon and opposite to Giolitti. Some tough competition. Grom is significantly smaller and more modern (open since 2002 – a good century younger than Giolitti) with the focus on the purchase of produce of the highest quality. Grom's famous flavours include 'Lemon of Syracuse IGP', Hazelnut 'Tonda Gentile' Guatemala coffee, and Chocolate 'Ocumare' of Venezuela.
Next we travel from Rome to Bologna, and across to Osteria del Sole. The restaurant has been open since 1465 and sells no food at all! What's the concept? Well, you buy your own picnic in the nearby market and bring it into the bar where the staff will provide you with cutlery for your meal. You should bring at least €5's worth of food per person and one of the few stipulations is that you need to buy your wine within the confines of the bar. It's a great place to 'live like a local' and support the community. Osteria del Sole is a journey through time around a glass of wine – bottoms up!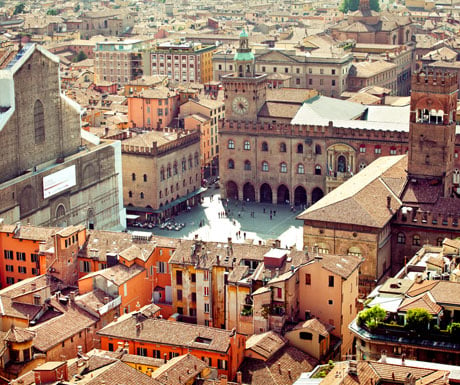 If you continue along the road and weave in and out of some of the finest vineyards, you may happen across 'Grappolo contro Luppolo', an agri bar set up by two brothers within the walls of their family winery in Piedmont. Leave your tourist book behind and nibble on cheeses and meats that are sourced within a 40km radius of the bar. Next up, meet the brother's 'nonna' who is famous for her hazelnut cake and wash it down with wine produced on site. If wine doesn't take your fancy you can choose from one of the 50 beers on offer, selected from around the world including a live brew which is made nearby. Grappolo contro Luppolo welcomes you into the family, a place I could spend the whole evening. Wine. Cheese. Heaven.
If you are the kind of foodie looking for something a little less 'earthy' then head over to Capri for lasagnetta di crudo di pesce e scampi con salsa agrodolce di agrumi (thin slices of homemade pasta with raw fish and scampi and a sweet and sour, citrus fruit sauce) at 'Ristorante Mamma'. The restaurant was launched two years ago by chef Gennaro Esposito whose restaurant in Naples 'Torre del Saracino' has two Michelin stars. On the 4th November 2014 – Mamma isola di Capri followed suit and was also awarded its first star. The philosophy? 'Soul just like mom used to make'. The view from the restaurant overlooks the Bay of Naples and the food is so fresh that the kitchens have no cold storage or freezers. Mornings begin with a trip to the market.
Travel through time from 1900 to 2015 with my top restaurant choices in Italy. The country has so much history and culture to offer that I have tried to match this to my favourite restaurants by mixing the old with the new. Hopefully, this gives you the opportunity to live like a local.
Celine Renaud is Head of Sales for Leo Trippi.
If you would like to be a guest blogger on A Luxury Travel Blog in order to raise your profile, please contact us.