India is an incredible country packed with diverse things to see and do. To accomplish everything in one trip is nigh on impossible, so you need to pick your battles and aim for the best bits first to ensure you don't miss out. We all know about the Taj Mahal and beaches of Goa, but we've put together some slightly alternative gems that you should add to your list if you're planning to visit North India…
1. Dine at Bhairo restaurant stay at Taj Lake Palace
The old adage runs "location, location, location" and few would argue there is a better location than this in all of India… The Taj Lake Palace floats like a white marble mirage in the middle of Lake Pichola looking out over Udaipur and its lakeside City Palace. Dining at Bhairo, the Taj Lake Palace's romantic rooftop restaurant provides an excellent meal with an unrivalled view over this majestic setting. Often described as the 'Venice of the East', the city of Udaipur is, without a doubt, one of Rajasthan's most beautiful cities and the Taj Lake Palace, built in 1743, was once the summer home of the Maharana of Udaipur. Only approachable by boat from a Venetian style jetty, a stay at the Lake Palace feels as glamorous today as it must have done in its royal hey-day. The ultimate luxury lair, the Taj Lake Palace was also one of the locations featured in the classic Bond film 'Octupussy'.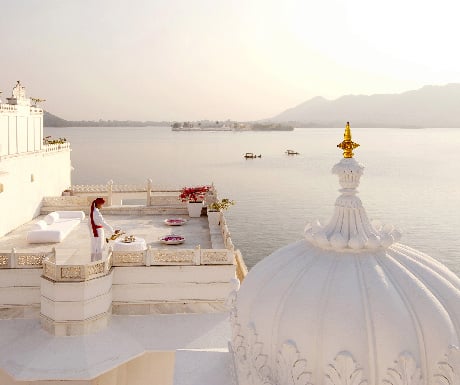 2. Explore the soul-stirring scenery of Ladakh; stay at The Ultimate Travelling Camp
With brilliant sunshine, stunning clear blue skies and ubiquitous Buddhist culture, Ladakh is one of the most captivating and magical places on earth. For a luxurious yet authentic taste of this unique Himalayan region, visitors can't do better than a stay at The Ultimate Travelling Camp in Thiksey, Ladakh, which runs from June to September. Launched in 2013, India's first truly mobile luxury camp follows an exciting calendar of destinations and festivals encompassing mountain, desert, jungle and countryside. Guests of the camp get the chance to explore off-the-beaten-track places while staying in true nomadic style but with the luxury of a maharaja on an expedition. Each of the tents feature en suite bathrooms, private decks, and a private butler.
3. Sail down the Narmada River; stay at Ahilya Fort
India is a country built on rivers as they are essential sources of water, transport and commerce. In the tiny city of Maheshwar, all city life revolves around the Narmada River and a boat ride provides the best possible insight to the community's daily life. Away from the masses, this location truly captures the "essence of India" with its delightful quirky charm and stunning beauty. Watch the dhobi wallahs washing endless bundles of laundry in the waters, drift past the ghats where cremations have been held for centuries, and gaze out at ancient temples where the devout make their offerings to this day. Owned by Indore's royal family, Ahilya Fort is perched high above the Narmada and it is as enchanting as hotels come. With pale old stone floors, ancient shuttered doors, carved arches and unusual bathrooms, it is un-commercial and steeped in character – one of Ampersand's secret gems!
4. Take a cow dust tour in rural Rajasthan; stay at Amanbagh
The everyday life of rural India is all too often overlooked by visitors and yet 70% of the population are still rural agrarian communities. With a stay at Amanbagh, guests can embark on an Ampersand favourite: the evening Cow Dust Tour. As the sun sinks, local herders accompany their cattle back from the fields while the young children frolic in the pools and run along the beaten footpaths with sticks and hoops. All this activity kicks up clouds of fine dust, which is then brilliantly illuminated by the slanting, golden sunbeams that silhouette all involved. This is India at its most beautiful and romantic. We would also highly recommend a sunrise yoga session on the plinth of an abandoned temple in the deserted city of Bhangarh. You can feel the countryside wake up and see the colourful local ladies at their most regal walking whilst effortlessly balancing huge containers of water on their head. Nestled in a desert oasis, Amanbagh is a haven of tranquillity and luxury. Time spent here is all about taking in the natural beauty of Rajasthan and the local way of life.
5. Discover a candy-coloured gem in the desert; stay at Lakshman Sagar
Delve deep enough into the Thar desert and you'll be surprised to find a small lake with a collection of quaint, boho-luxe cottages set around it. Set in a heritage fort-cum-hunting lodge, Lakshman Sagar is beautifully secluded in the desert wilderness two and a half hours drive from Jodhpur. The rustic feel and roughly hewn walls are offset by candy-coloured blue and pink accents and the whole property exudes small-scale boutique charm. Each of the 12 private villas are decked out in colourful ethnic Rajasthani décor and come with a tear-shaped plunge pool or a fishing deck overlooking the lake – the perfect hideaway for some back-to-basics romance. Everything inside the cottages is sourced from the local surroundings and villages – milk urns have become lanterns, old cooking utensils hold toothbrushes and the cottages are kitted out in vibrant Rajasthani colours. The overall effect is that of a luxury eco-lodge and would make for a very intimate honeymoon.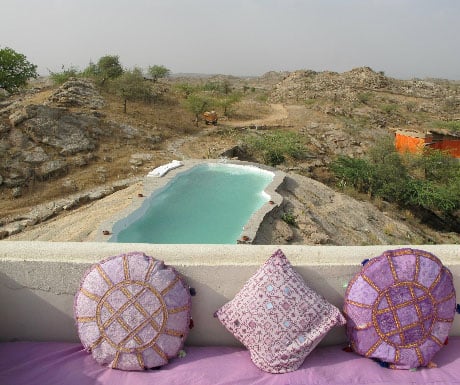 6. Zip-line over Mehrangarh Fort and hide out in a hip haveli; stay at Raas
Whizzing over the majestic Mehrangarh Fort and snatching speed-blurred views of Jodhpur's sky-blue city walls nearby is definitely a highlight of visiting North India. The backdrop is incredibly dramatic and movie buffs will be interested to know that scenes from the Batman movie, The Dark Knight Rises were filmed at this fort. Built in the 17th century by Maharaja Jaswant Singh, the fort is 400 feet high and ziplining across each of the six wire routes provides spectacular views of the fort's ruins and emerald green moats beneath you. Perfect for daredevil sightseers and certainly the most spine-tingling ways to see Jodhpur. Located amid the colourful old quarter of 'The Blue City' at the foot of the Fort, Raas is a soothing 31-room sanctuary built around an immaculately restored haveli. In our opinion, one of India's coolest and most intimate little boutique hotels – a great place to enjoy the hustle and bustle of Jodhpur without feeling at all ruffled by the crowds.
7. Magical morning tour of Mumbai; stay at Taj Mahal Palace
The eclecticism and the industrious nature of Mumbai's inhabitants is what contributes to the unique culture of the city and, when observed in the early morning, is quite exhilarating. Exploring Mumbai by dawn allows visitors to experience bustling city of Mumbai wake up. Hundreds of newspaper vendors sort out papers in 7 different languages, auctioneers frantically gabble fish prices, a herb market sprawls across a chocked bridge and organised chaos breaks out with the arrival of over 100 tonnes of vegetables, fruits and meat at the markets. The scenes at dawn truly define the mercurial character of Mumbai and, best of all, as you walk the same lanes a few hours later, you find no evidence of the morning's hustle bustle. The iconic and historic Taj Mahal Palace is an institution and one of Ampersand's top 10 city hotels. To be able to just step out of the hotel and walk around the Kala Ghoda district or hop into a café is one of our favourite things to do in Mumbai. Find yourself in an ever-changing, progressive and fashionable urban area and feel the pulse of 21st century India.
8. Go glamping in a 1920s-style colonial tiger camp; stay at Sher Bagh
Nothing is more romantic than sitting by a fire in the wilderness, under a huge star-studded sky with the person you love. North India has an incredible selection of tented camps and Sher Bagh is our pick of the bunch. Nostalgic canvas tents right out of a 1920s colonial hunting camp, bespoke 'Tigertini' cocktails with breathtaking sunset panoramas and oil lamps hanging from branches lighting up the beaten earth paths. Sher Bagh captures a lost luxurious era yet simultaneously manages to be a contemporary hotel. The charming and elegant staff provide the most attentive service – and this all takes place in the heart of the dense forest of Ranthambore National Park inhabited by tigers, sambar deer and sloth bears. If all the tiger spotting gets too much, retreat for an indulgent treatment in the hotel's spa tent.
9. Bed down in a twinkly heritage palace hotel; stay at Samode Palace
When night falls and the flames are flickering on the countless little candles that illuminate Samode Palace, this crumbling regal building glitters like a desert mirage stood before its striking mountainous backdrop. Proudly retaining all its original Rajput splendour, Samode Palace is one of the few luxury hotels in Rajasthan that has managed to maintain a real sense of authenticity. Each of the rooms is unique and have been recently-renovated with a vibe of regal Indian lavishness. The quaint village of Samode makes for a wonderful stroll followed by a champagne cocktail on the candlelit terrace by the cliff-facing infinity pool.
10. Food tour of Calcutta; stay at the Oberoi Grand
Calcutta is a city of heady smells wafting out of packed restaurants. This evocative city was the British colonial capital in India and it plays host to arguably the most diverse and evolved of India's many cuisines. The people are simple obsessed with food! Ampersand's bespoke Indian food tour is a brilliant way to time spent exploring Calcutta's famed architecture and intoxicating culture, as well as discovering its delicious cuisine. Besides traditional Bengali food, guests will taste the best street food on offer ranging from Jhaal Muri (a vegetable, rice and coconut snack) to the Kathi rolls (an Indian take on a wrap). Guests will also experience the legacy of the British through the Anglo-Indian cuisine, as well as discovering the surprising and appetising 'Indianisation' of Chinese food. There's really no better way to get a taste of modern India.
James Jayasundera is Founder and Managing Director of Ampersand Travel.
If you would like to be a guest blogger on A Luxury Travel Blog in order to raise your profile, please contact us.