By
Michael Wilkens
on Sep 14, 2015 in
Asia
,
California
,
Europe
,
Fiji
,
Indonesia
,
Italy
,
North America
,
Oceania
,
Regions
,
Seychelles
,
USA
,
Western Europe
Sometimes you just need to get away from it all, even if it's just for a long weekend. These are the trips that refresh and rejuvenate your soul – so don't let them to break your back with a heavy bag. Your revitalization should begin when you pack and continue as you walk past the luggage check-in with your stylish carry-on. We recommend that you leave your worries and baggage fees behind, and pack only a lightweight carry-on before jetting off to any of these destinations.
Napa Valley, California
Wine country requires nothing more than casual clothing and a curious palate.
Think resort attire, a sun hat for vineyard tours and perhaps a dressier (but not formal) outfit for that steak dinner in the wine cellar. Spend a few days here in early September when the grape harvest is beginning and leaves are turning golden yellow. The weather is still warm, but not hot. Nights may be a bit cooler, requiring only a light sweater that won't take up much room in your carry-on.
Seychelles
To feel truly removed from it all, consider Fregate, a private island resort in the Seychelles.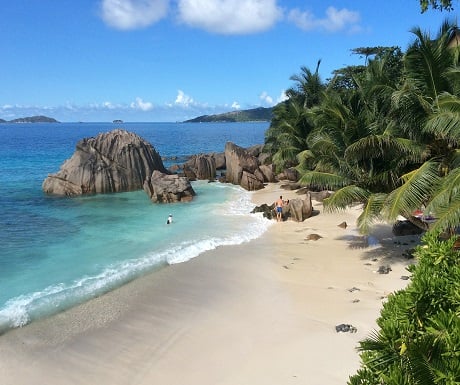 A picture-perfect destination, Fregate boasts seven glorious beaches for just 16 residences. Since you will have the island practically to yourself, pack whatever you want. You're here to unwind, and you won't need much. Snorkels, masks and fins are available aplenty – as are amazing views below and above the water.
Fiji
Spend your days and nights lounging ocean side in fantastic Fiji.
Bathing suits are de rigeur, of course – as long as you're on a public beach. How you dress around your over-the-water bungalow is pretty much up to you. Ladies will want a sundress for exploring the towns, while men can pack linen shorts and shirts. Fiji is seldom formal, and even the most amazing eateries rarely require anything but a healthy appetite for seafood and your credit card. But gents should bring a pair of long pants anyway to "dress up" for dinner, and women are advised to wear something other than a bikini to local churches, villages and the better restaurants.
Bali
Restore your body and spirit in Bali with a spa vacation.
Your wardrobe will vary between plush robes and swim attire most of the day, so your suitcase need only carry a few casual outfits for dining on delicious, freshly prepared organic meals. Ladies will likely want to go native and pick up a batik sarong or two, and gents will want to choose at least one of the amazing handmade batik shirts as well. Don't worry about looking like a tourist: You are!
Positano
Positano, a seaside Italian town, combines Italian charm with amazing nature.
You'll want to pack a sturdy pair of walking shoes along with your nice loafers. After all, this is Italy. Even though you hit the trails during the day, going out for dinner means putting on some nice duds as well as tucking into outstanding cuisine. Be sure to explore the colorful, bougainvillea-lined streets. Breath in the fresh scents of lemon and salty sea air, and don't miss out on southern Italian specialties. Have a limoncello while you enjoy the view perched atop the cliffs. Your getaway wardrobe will require casual walking clothes as well as smart-casual evening clothes.
Michael Wilkens is Founder of Wilkens.
If you would like to be a guest blogger on A Luxury Travel Blog in order to raise your profile, please contact us.