Malta is not just a hot destination of sand and sun. You have many options to choose from: history to nature, hiking in the green countryside to diving in crystal clear blue waters, exploring caves and coves. There's plenty to explore in Maltese islands.
We recommend three of the best luxury hotels that we experienced in three distinctive locations to satisfy different tastes from the busy trendy harbour towns of Sliema to the historical capital city of Valletta and finally discovering nature and stunning landscapes in the small peaceful island of Gozo. You can be rest assured that all of them offer excellent services and provide the best local traditional cuisines.
Fortina Spa Resort is a unique five star hotel ideally located in the heart of Sliema on the sea front with a stunning view of Valletta and St Paul's church. It is only minutes away from the ferry terminal, which goes to Valletta and all boat cruises go to Gozo and Camino and around Malta. The Point, Malta's biggest shopping mall is just behind the hotel. The trendy shopping streets of Torri and Bisazza are only a few minutes walking distance from the hotel.
Guests can enjoy a memorable stay in spacious air-conditioned rooms, equipped with satellite TV, mini bar, coffee maker and Kettle with a fine selection of teas and coffee either with a view into the tropical garden or with a direct view of the sea.
The hotel focuses on health and wellbeing, with five swimming pools, state of the art spa; a fitness center equipped with the latest equipment, medical and dental clinics plus physiotherapy and rehabilitation centers. Spa Santé is an ultimate relaxing environment with a variety of treatments on offer. The facilities include a whirlpool, reflexology basin, Kneipp walk, aqua meditation, laconium, ice grotto, steam room, sauna and fun showers.
The ambitious idea of wellbeing can also be found in bedrooms if you wish to polish yourself. The 36 spacious bedrooms accommodate a double shower steam room, a therapeutic massage bath with several programs, a Dermalife machine to cleanse the body and a hot tub Jacuzzi placed behind the bed next to the window, opening to the garden. Nine of them even have a small private pool and balcony.
All this is complemented with a view to offer cuisines for lunch and dinner from all over the world. There is the choice of six international restaurants from Italian to Chinese, Indian to Thai and Mediterranean, serving good quality foods indoor or outdoor in the garden.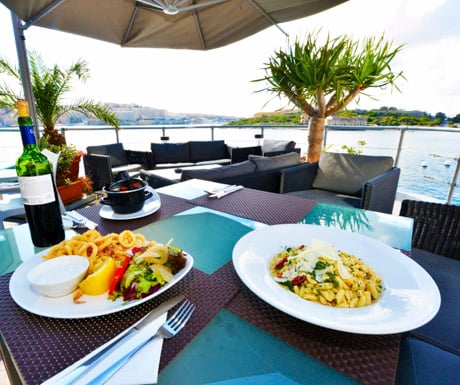 Michael Zammit, the owner of Fortina also owns the Captain Morgen and Red Hop on Hop Off buses. Therefore, guests get complementary tickets for a day bus tour of Malta and 2 hours cruise around Valletta and three cities (Cospicua, Senglea and Vittoriosa).
Fortina also enjoys easy access to the rocky seafront beaches just outside the hotel for swimming and snorkeling. Only five minutes walking distance from the hotel, Diveshak, a long-standing dive center offers diving courses and adventure dives from beginners to advanced for all ages by experienced qualified divers.
The glamorous five stars Phoenicia Hotel located next to the city walls and by the entrance gate of Valletta, Malta's capital city, is a historical building, built as the country's first luxury hotel in 1947. One of the treasures of the city, hosting celebrities and politicians, still operates with very high standard of service and remains luxurious.
The façade of the building, a Grade 2 national monument is an impressive display of art and architecture adding to the character of the hotel on first impression. The chic entrance leads into the Palm Court Lounge, a large lobby with a piano bar at the center, opening into a large dinning room with a beautiful terrace overlooking 7.5 acres of gardens and the grand harbour of Valletta.
The hotel is ideally situated in very close proximity to the ancient city of Valletta, a UNESCO world heritage site, packed with houses, buildings and magnificent churches built of limestone. It is a rich cultural city full of interesting stories, ranging from the Knights of St John to defence against Ottoman forces, being conquered by Napaleon to welcoming British forces to kick out the looting French army.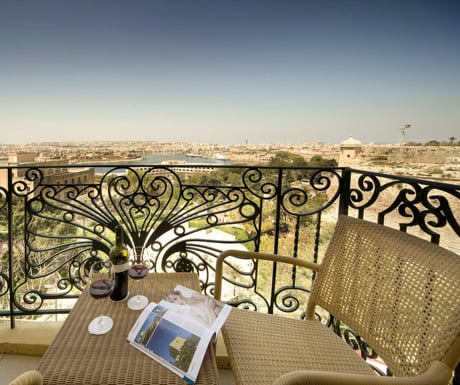 The garden is a peaceful and charming corridor of trees which is a pleasure to stroll along. A variety of organic vegetables and herbs are grown to be used in the hotel's kitchen. Saul Halevi, the renowned executive chef of the hotel who created this small farm, looks after it to ensure guests get the best taste of the local produce, with daily fresh fish from the nearby fishing village of Marsaxxlokk and the island of Gozo.
The beautifully designed garden leads to the swimming pool and the Bastion pool bar and restaurant next to the rampart walls of the city. It is a perfect location to relax, swim and have a light lunch served by friendly staff during hot summers.
Guests also have the choice of dining in the award-winning Phoenix Restaurant with a wide variety of Mediterranean and Maltese cuisine. Or you can try Pegasus restaurant, which offers a lovely atmosphere to enjoy traditional dishes, made of local vegetable produce and seafood.
The Phoenicia has a reputation for a perfect place to celebrate weddings with a choice of seven venues including a ballroom with 284 Sq. Meters floor area with capacity of up to 800 people.
It is ideally located for visitors to tour all attractions in Malta and it is only 10 minutes drive from Medina, Malta's first capital city captivated with a mixture of Roman and medieval styles with fortification walls.
The luxury five-star Hotel Ta' Cenc & Spa is located in the small village of Sannat in the high hills of the island of Gozo in a natural setting surrounded by fiona and flora, overlooking stunning cliffs and blue sea.
The privately owned grounds of the hotel extend over 400 acres into the beautiful countryside which blends into the historical character of the island. The stay in Ta' Cenc is an ideal location for lovers of nature and adventurous explorers to experience memorable days. The Hotel also asserts its own picturesque rocky cove with clear waters, a perfect setting for snorkeling and diving.
The hotel rooms are charming bungalows dotted throughout a large garden surrounded with flowers and shrubs filled with fragrant scents. The one storey rooms in natural setting harmonies very well with nature and surrounding landscapes. All 83 air-conditioned rooms have a TV, mini bar and Kettle with a fine selection of teas.
Ta' Cenc has two swimming pools for adults and children surrounded by landscaped bungalows. The gym is located in the spa centre that has a heated indoor and outdoor pool combined with Jacuzzi, steam room and sauna. The spa is a relaxing place in a natural environment with a wide variety of treatments on offer.
The hotel has three restaurants. Dinning outdoor at Il-Carrubo Restaurant under a 400-year-old carob tree with a variety of traditional Maltese and Italian cuisines along with Gozitian specialties in a romantic setting. Il-Terrazzo is a Mediterranean restaurant, serving a variety of traditional cuisines on the terrace overlooking the hotel's vast garden leading into Gozo's scenic horizon. The Kantra Beach Club is a bar and grill restaurant at the edge of the water near a rocky cove, serving fresh grilled fish with variety of pastas and salads in breathtaking scenery.
Gozo is a small island but it has a lot to offer from 7000 year-old temples to historical small towns and magnificent churches and many incredible coves and red sandy beaches. It is an ideal place for scuba diving.
Ta' Cenc Hotel is only 10 minutes drive from the medieval town of Rabat (known as Victoria), the capital of Gozo. You can stroll through narrow cobbled streets, which zigzag around a lively and sociable town to find from fresh local produce and cheeses to antiques, crafts and handmade knitwear. During the summer the town becomes colourful with various religious fiesta and weekly firework shows.