Everybody has heard of Hanoi and Saigon, and the names Halong Bay, Mekong Delta and Hoi An may ring a few bells too. But beyond Vietnam's most famous spots there are a huge variety of fantastic and far less visited destinations that showcase the country's incredible diversity of landscapes, from tropical islands to vast cave systems and towering limestone karsts.
The following are five locations that, whilst not "off the beaten track" per se, feature relatively rarely on standard tourist itineraries – despite being some of the most beautiful spots in Vietnam!
1. Cat Tien National Park
Cat Tien National Park, also known as Nam Cat Tien, is one of the most important swathes of jungle left in Vietnam. Covering 72,000 hectares, it is one of the most biodiverse habitats in Southeast Asia and provides a haven for all sorts of fascinating wildlife.
These days it is almost unheard-of to spot any of the large mammals that once called Cat Tien home, including wild elephants, tigers, leopards and rhinos (the latter of which went extinct in 2010), but the region's excellent conservation facilities offer visitors the chance to stay in eco-lodges and encounter rescued bears and gibbons.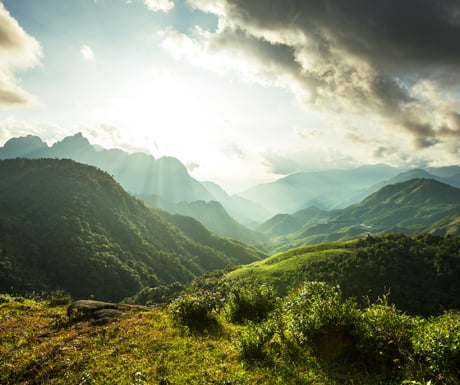 2. Phu Quoc
If you're looking for an island getaway that has all the mod cons but without the reckless development and heaving crowds that plague Southeast Asia's more famous beaches, Phu Quoc has the answer. It's not deserted by any means, but despite its gradual rise in popularity, the island still retains its stereotypical beauty: clear waters, white sand, and large areas of dense rainforest ripe for exploration.
3. Ninh Binh
The locals call Ninh Binh "dry Halong Bay" – and it's not hard to see why. Sheer-sided, verdant limestone pinnacles, just like those that have made Halong Bay famous, rise directly from the flat valley floor – itself a sea of green and yellow rice paddies. The Tam Coc area of Ninh Binh is particularly spectacular, and best appreciated from the deck of a longboat as you float through the valley along the river.
4. Mai Chau
The charming town of Mai Chau is becoming more well-known to travellers, but remains a beautiful and authentic place to get a taste of life in rural Vietnam. This is the home of the Black Thai and White Thai tribes – ethnic minorities who have kept their own distinct cultures for generations – and there are some fantastic opportunities for hiking and cycling amongst the lakes, mountains and rice paddies that surround the town.
We suggest spending the night at a traditional stilt house, where you'll sleep in basic but comfortable accommodation, enjoy home-cooked food and maybe even witness a traditional dance performed by your hosts.
5. Phong Nha
Few people realise that Vietnam is home to some of the most spectacular cave systems in the world. Most of these are to be found in Phong Nha National Park, in central Vietnam, where the limestone hills are so riddled with cave systems that many remain unexplored. In fact, Son Doong, the largest cave in the world, wasn't even discovered until 2009!
A visit to Son Doong costs upwards of 3,000 USD per person, but is absolutely worth every penny. If that's not quite within your budget, however, Phong Nha is home to numerous other extremely impressive caves – including Paradise Cave (known for its incredible rock formations) and Hang En Cave (rumoured to be the setting for the next Star Wars film).
All five of these destinations are every bit as impressive as their more famous counterparts, and would make a fabulous addition to any Vietnam itinerary.
Alastair Donnelly is Director at InsideAsia Tours.
If you would like to be a guest blogger on A Luxury Travel Blog in order to raise your profile, please contact us.