The Big Apple is home to an array of famous landmarks, from the Empire State Building to the Statue of Liberty. But there is a wealth of underrated attractions in New York left untapped, which we're sure will breathe new life into your vacation. So, if you're keen to avoid the city's tourist traps and experience a different side of New York, we're here to help. Our list of underrated New York attractions is sure to get your getaway off the right start!
Did you know if you're visiting the Met, your ticket also extends to The Cloisters? Located in the Washington Heights section of Upper Manhattan, the Cloisters is a scenic museum that showcases medieval architecture whilst overlooking the Hudson River.
Between 1934-39, a collection of stunning European abbeys were disassembled and shipped to New York and now make up the bulk of the Cloisters museum. It's a bit of a trek to get there, but well worth it.
Although tour buses will pass through Brooklyn, the suburb is really worth exploring on foot. Packed with plenty of good restaurants and shops, Brooklyn is essentially a quieter New York without the foot traffic.
In recent years, Brooklyn has become a go-to spot for the younger crowd and is now home to a variety of clubs and trendy rooftop bars – if that sort of thing takes your fancy!
Walking over the Brooklyn Bridge is definitely a memorable experience too, and boasts one hell of a view.
A big hit with students and artists, Washington Square Park is the perfect spot for an afternoon of picnicking and sunbathing. Just a quick walk from East Village, once you arrive at Washington Square Park you'll be able to cool off by the famous fountain or enjoy one of the many attractions which pass through the park, from live music shows to local artists working on their latest creations.
No matter whether you're travelling in the summer or winter, Washington Square Park is a great alternative to Central Park.
Over the years, New York has provided a port of entry for immigrants, and the Tenement Museum is a peek into the life of the folk who crossed the sea to make a new life for themselves. Learn about how immigrants lived after moving to New York with a guided tour around the museum or simply wander around the building at your own leisure. The Tenement Museum is housed in an apartment block that has seen over 7,000 immigrants come and go since the 1900s.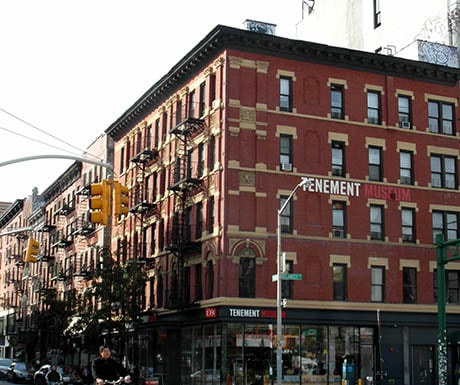 Knowledge is at your fingertips when you step into the grand New York Public Library. Founded in 1895, the New York Public Library is a stunning example of architecture both inside and out, making for one rather incredible reading nook! Have a wander around the grand halls, admiring the frescoed ceilings and tall stacked shelves of books, before settling in with a good book for the afternoon.
Matthew Coe is Online Marketing Manager for Wanderforth.
If you would like to be a guest blogger on A Luxury Travel Blog in order to raise your profile, please contact us.