China remains an enigmatic location for many travellers, particularly those looking for luxury, but it is home to some of the most incredible destinations and experiences for those who like to enjoy the finer things in life. Below are 11 locations that any luxury traveller will be impressed with when they visit tremendous China…
1. High tea overlooking Lijiang – Amandayan, Lijiang
Nestled into the hillside, the idyllic Tea House at Amandayan has a perfect vista across the traditional rooftops of Dayan village and the surrounding scenery. Sip on a steaming cup of Oolong tea as you marvel at the old gate opening onto the ancient gardens of Wenchang Temple across the serene courtyard. The old nobility of China considered the consumption of good tea as a mark of their status and you will certainly feel like a Chinese Emperor atop your kingdom from this privileged spot amongst the ginkgo trees.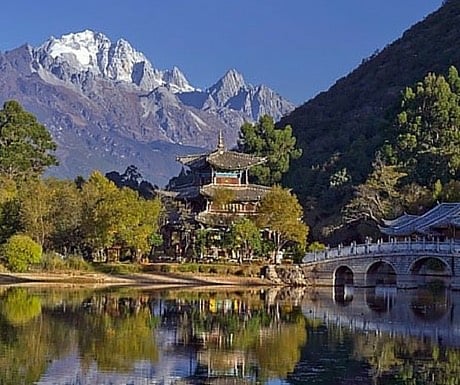 2. Al fresco cocktail at The Peninsula Bar, overlooking the night skyline and the Bund – Shanghai
Stepping out onto the 14th floor of Sir Elly's Terrace at The Peninsula Hotel in Shanghai after nightfall, cannot fail to deliver one of life's "wow" moments. What awaits is a shimmering 270-degree view of the dazzling and glamorous lights of Shanghai's iconic Pudong skyline. Sip a classic martini atop this 007 scene and you will be immersed in the City in the Sky and all that it offers.
3. Private picnic and hiking on the secluded ancient remains of the Great Wall of China, Beijing
Words can't do justice to the Great Wall of China. You need to feel it beneath your feet to really be able to appreciate its true might and to marvel at how an ancient culture managed to build such a structure without any modern equipment. The oldest parts of the Wall are more than 2,000 years old and it is a matchless privilege to tip toe along them, explore each nook and cranny and be in the utterly unique position of using your chopsticks to have lunch atop this wondrous wall.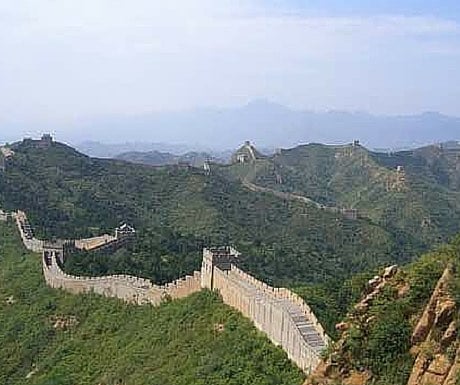 4. Secret entrance to The Summer Palace – Aman Summer Palace, Beijing
The Summer Palace dates as far back as 1153 and is a mystical wonderland that transports you into the realms of the Qing Dynasty. Each pillar along the Long Corridor tells a different tale in its intricate drawings and it is possible to find yourself bumping elbows with numerous other visitors as you try to immerse yourself in the palatial experience. Other people do not present a problem when staying at the Aman Summer Palace. It is truly special and unique to be able to gain access to this UNESCO World Heritage site when the tourist gates have closed and you can be led down through the Aman hotel to your own private entrance. Don't forget the secret knock on the door as you return otherwise you may find yourself spending the night in Emperess CiXi's chamber…
5. Private tai chi class from one of the world's masters – The Temple of Heaven, Beijing
Being greeted by your tai chi master in his outfit of silken gold immediately introduces you to the energetic world of tai chi. With a focus on calmness and meditation, the traditions of Tai Chi reach far into history. What better place to have your first taste of this traditional Chinese art form than in the ancient grounds of the Temple of Heaven. It may seem alien at first, but as you settle into the 'zen zone' you will find yourself becoming more deeply ensconced in this rather remarkable activity. You are now a part of authentic Chinese life, we don't think that you will find yourself 'Parting the Wild Horse's Mane' in Hyde Park.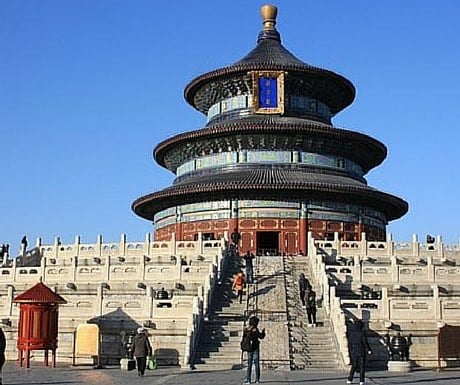 6. A "spa bath" from the comfort of your hotel room after a long day on your feet – The Peninsula, Shanghai
Dim lights, mood music, Oscar de la renta bubble bath… Slide down into an uninterrupted bathing time accompanied by a soundtrack of calming melodies. The Peninsula has delivered the ability to be able to visit the spa without ever having to leave the comfort of your own room. The press of a few strategically placed buttons and you are well on the way to easing your muscles and soothing your cares into the clouds. *NB this must take place with no guilty conscience. After all… You're worth it.
7. Holding a baby panda – Chengdu
Native to China, pandas are the most wonderful creatures. With soot in their eyes, the cubs tussle with each other as they play and being able to hug one into your arms is everything you could possibly hope it would be. Like holding a cup of tea, a baby panda will warm you to your core and leave you smiling for hours after. This is luxury in the luckiest sense.
8. Out of hour access to the temples of Fayun village – Amanfayun, Hangzhou
Fayun village has an ethereal quality to it. Imagine walking down a cobbled stone pathway that is flanked by a trickling stream with images of Buddha carved into the rock edges of the escarpments around you… Monks pass you by as they go to worship at the temples and incense emerges from the pagodas. Amanfayun offers luxurious, unique and out of hour access to this ancient site. You can explore the grottos at your own will as the sun rises and then stroll back to your hotel for a leisurely breakfast. This is both a remarkable and a notable experience.
9. Peking Duck at The Country Kitchen, Beijing
This isn't just any duck. It's Peking Duck. It's not just any destination either, it is Beijing. The birth place of this deliciously decadent dish. Your own personal chef will carve the local delicacy tableside. With warm and perfectly soft, pillowy pancakes to encase your crispy skinned meat and its crunchy cucumber counterparts, you will be satiated long after the meal has ended.
10. Bamboo rafting down the Yu Long River, Yangshuo
A clear blue sky, a perfectly symmetrical reflection in the water and you. All be it on a slightly shaky bamboo raft. Yet, somehow, being paddled down the Yu Long River by your own personal boatman and lounging back into your chair to take in the impressive surrounding landscapes is a tremendously delightful experience. Sometimes going back to basics is really what matters. Luxury is in the experience and this is a near perfect one.
11. Breakfast at The Upper House, Hong Kong
With stunning views of Hong Kong's Victoria Harbour, The Upper House has one of the finest seats in the city. With its tables tucked into exclusive alcoves and floor to ceiling panoramas of Hong Kong, your Chinese breakfast dumplings will never have seemed so extravagant. The combination of fresh, seasonal cooking, modern and chic interiors and unsurpassed city views, makes Café Gray Deluxe the ultimate in breakfast destinations.
James Jayasundera is Founder and Managing Director of Ampersand Travel.
If you would like to be a guest blogger on A Luxury Travel Blog in order to raise your profile, please contact us.