Taipei, the capital of Taiwan, is a fast growing and bustling metropolis that's famous as a 'foodie' destination; from night markets offering colourful street food to fine dining restaurants, it's packed with culinary options fuelling the city's food obsession.
Quite simply, people in Taipei are really passionate about food, all kinds of food.
You may not know it but Taipei, home of people who eat oyster omelettes, beef noodles, roast suckling pork and fishball soup amongst other meat based dishes is also a vegan haven; vegetarians and vegans will not only find good plant-based food in Taipei, they'll be spoilt for choice with everything from local favourites to world class international cuisine. If you are vegan, vegetarian or just someone who likes to eat meat-free dishes for your health or to have a lesser impact on the environment, then our 4 luxury hotels in Taipei that welcome vegan guests are for you.
Taipei's best luxury hotels offer a great opportunity to experience delicious plant-based cuisine, whilst enjoying everything that a luxury hotel has to offer and the perfect base to explore this vibrant part of the world. The following hotels have been tried and tested by travellers with dietary requirements to make sure that you will be well catered for during your stay and that your trip to Taipei is one to remember.
Starting in the Central Business District, Le Méridien Taipei offers a great base to explore the surrounding city; with 160 modern and sophisticated rooms and suites each containing signature beds and (seriously awesome) 'rainforest showers', your stay will be a comfortable one for sure, you can make the most of your time by opting for a hassle free limo service from the airport to arrive relaxed in the comfort of your chauffeur driven BMW.
Enjoy the health club with indoor pool and choose from the various food and beverage outlets including the extensive breakfast at 'Latest Recipe', iconic flavours of Cantonese cuisine at 'My Humble House' or enjoy a cocktail or two in the chic and stylish 'Latitude 25'.
Breakfast at 'Latest Recipe' is a vegan's dream, partly because of the excellent service where you'll get a personal tour of everything available on the extensive buffet, but also because they'll make a selection of dishes to order including local favourites (veganised) as well as a variety of food from other countries.
But if you prefer a simpler breakfast experience, there are plenty of opportunities to create your own delicious start to the day by customising your congee (traditional rice porridge), making your own healthy soba noodles or creating a colourful salad with some of the top quality ingredients from the salad bar.
Roasted pumpkin, marinated tomatoes and spiced orange segments anyone?
The top class luxury Mandarin Oriental Taipei opened in June 2015 at what is billed as "the city's most prestigious address", it promises to "set new standards for hotel luxury" and it certainly delivers this and more.
You can expect classic and sophisticated design features combined with the highest levels of customer service. Enjoy attention to detail at every turn, ensuring you feel relaxed and can enjoy an unforgettable experience during your stay. Everything is of the finest quality from 480 thread count linen in beautifully appointed rooms and suites to a state of the art, luxurious spa; you'll find it hard to leave this superb hotel once you've checked in.
The vegan food matches the rest of the hotel so expect to eat refined, high quality dishes that are thoroughly enjoyable to eat. Whether it's a civilised breakfast served on the finest china or perhaps evening canapés with a Champagne cocktail in the Oriental Club, the Mandarin Oriental staff will identify that you are a vegan guest and make adjustments for you accordingly.
Before you leave the Mandarin Oriental, you should certainly make a reservation at Ya Ge, the hotel's exclusive fine dining Cantonese restaurant.
The surroundings are elegant and the food is healthy, light and fresh. The finest quality ingredients are cooked with a light touch, using traditional techniques to create a whole menu of vegan delights; eating plant-based food is no problem here. Drink exquisite teas and enjoy dishes like 'Tomato, Mountain Yam, Pumpkin Broth' where velvety pumpkin flavours are combined with fresh tomato to create a colourful and light plate of food. Mushroom lovers will be delighted with dishes like 'Mushrooms, Tofu, Braised' where a variety of delectable Chinese mushrooms are served braised with layers of dried beancurd skin to create a feast for the tastebuds.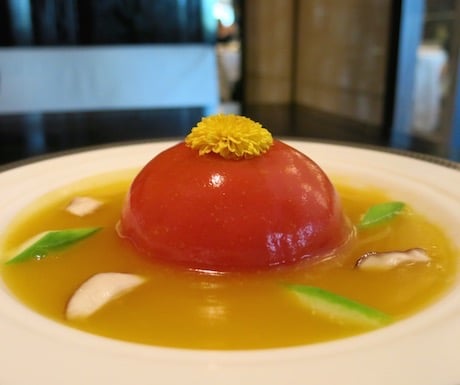 In a different area of the city, the Regent Taipei is well established on the Taipei luxury hotel scene, having been in operation for 25 years; you can expect well polished service, huge and luxurious suites and rooms and some of the best food in the city (yes, even for vegans). The location is central and key visitor attractions such as the Museum of Contemporary Art and many of Taipei's best shopping opportunities will be right on your doorstep but don't be surprised if you struggle to leave, especially once you've discovered the spa.
This urban retreat is one of the best hotel spas we've experienced with vegan friendly treatments using natural plant-based oils, delivered in amazing spa treatment rooms equipped with steam room, shower, sauna and jacuzzi bath to relax in after your massage.
Food wise, it's hard not to love what the Regent Taipei has to offer. Silks House, their beautifully designed restaurant located within the hotel, offers outstanding Cantonese and Szechuan fusion food that is both exciting and delicious. Eat a vegan set menu that is bursting with flavour, that will surprise and delight in equal measures and (most importantly) will satisfy every vegan foodie bone in your body.
'Sautéed pumpkin with chilli sauce' is a seriously flavour packed plate of sweet roasted pumpkin slathered in a rich, sweet, spicy, sticky sauce with a smudge of purple yam, a preserved tomato (so good) and a Taiwanese bun and is the kind of thing you can expect on your vegan menu.
Vegans can also partake in the theatre of food being cooked in front of you at Robins Teppanyaki, another one of the Regent Taipei's great restaurants which seem to be well set up for vegan guests. Watch your friendly Teppanyaki chef chop, slide, toss and sizzle your food in front of you with a bit of the famous flair and personality that these chefs are known for. Accompany their creations with a trip to the incredible salad bar that boasts top quality ingredients sourced from within Taiwan or let the team prepare you a set menu; either way you will be full of great vegan food but the end.
Neighbouring the iconic Taipei 101 building, the Grand Hyatt Taipei is the last (but not the least) of our 4 luxury hotels in Taipei that welcome vegan guests. It's a modern hotel with contemporary, chic design throughout but also very evident in the recently refurbished rooms. As a vegan guest you will be pleased to see June Jacobs Spa amenities in your bathroom, not just because these top of the range products are great to use but because they are vegan, a rare but appreciated find in a luxury hotel.
Food-wise, the Grand Hyatt Taipei will not disappoint, from creative canapés served in the Grand Club to an Indian feast at breakfast time in the main 'marketplace' restaurant.
The breakfast choice was particularly extensive, it's advisable to get a member of staff to show you around to highlight everything you can and cannot eat, although don't be disappointed if you don't get around to eating everything in one sitting. Live cooking stations complement breakfast buffet favourites giving you the opportunity to dine around the globe eating everything from vegan burritos (pair with one of the 5 homemade vegan chilli sauces) to fresh wok-fried Chinese noodles.
Other places to try out their vegan food expertise include the Grand Club where the chef will make vegan options such as vegetable filled savoury pastry bites, Chinese dumplings and traditional Taiwanese steamed buns.
As well as being huge food lovers, Taiwanese people are legendarily friendly and welcoming, which might go some way to explaining why they are really open to the idea of veganism. There is a growing population of local people in Taipei who are choosing not to eat animal products as well as the people that travel to this energetic city from other parts of the world and wish eat vegan and vegetarian whilst there. Because of this the number of places to eat good vegan food is growing but our 4 luxury hotels in Taipei that welcome vegan guests have definitely got it covered when it comes to the finer (vegan) things in life.
Paul Eyers is Founder of Vegan Food Quest.
If you would like to be a guest blogger on A Luxury Travel Blog in order to raise your profile, please contact us.