Croatia has 8 beautiful national parks and this is a well known fact, but what makes them special? If I had to summarise it in one word it would be 'diversity'. The national parks of Croatia offer a variety of landscapes, from beautiful islands of crystal clear Adriatic sea, inland lakes with stunning waterfalls and misty mountains – all of that in one very small geographical area.
If you are looking for a good reason to visit Croatia, it would be well worth it just because of those miracles of nature. You don't need to go around and see all of them… although I would. Find what you like the most – I am sure there is something for everyone. So let's see what makes each of the 8 national parks in Croatia so special and help you decide which one is right for you.
1. Plitvice Lakes
This one is a must see. It has been on top 10 lists to visit in the world lots of times. It is large in more that one context. It is among the oldest national parks in Europe and is a UNESCO World Heritage Site. Plitvice is an almost unreal combination of woody mountains and 16 lakes that are sorted in cascades creating beautiful waterfalls. A combination of azure to green, grey or blue, white or brown colours, it is a special place to visit throughout the year. Autumn colours are my favourite.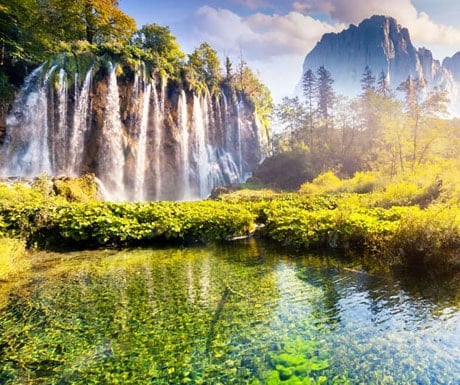 2. Kornati Islands
Gems of Mediterranean – that's how I would describe this national park and it's not overstatement. It is a collection of 89 islands, islets and reefs and a crystal clear sea with a rich marine ecosystem. There is probably no better place for your vacation if you are a fan of sailing. During the Summer sailors can enjoy an almost ideal northwest wind called 'Maestral' in Croatia. One of the most special things are vertical cliffs up to 80 meters high facing the open sea that can be nicely seen from an airplane.
3. Paklenica
This rock climbing haven in the heart of the mountain Velebit rises above the Adriatic Sea. It is a combination of Mediterranean and continental vegetation (black pine and beech forests) that is changing as you climb or descend through the park. Paklenica encompasses two big canyons – Velika and Mala Paklenica – with cliffs up to 400 meters high that are the main attraction of the park. If you are not a rock climbing fan, canyon Velika Paklenica offers a beautiful trekking trail. If you are close to the City of Zadar, I would say this is a must-see place.
4. Risnjak
This is a national park of diversity on its own: unattached nature, and a geographical and geological phenomenon. This mountain range was named after the lynx, in Croatian "ris", and its easy to conclude that the lynx is a common inhabitant of the park. It is located on the border where the Alps meet the Dinaric mountain range, also well known as the Dinaric Alps. It is very easily accessible and very popular among mountaineers who enjoy fantastic views of the Adriatic Sea islands from the high peaks. The Kupa River source is one of the special highlights of Risnjak. It is the deepest Croatian well spring, close to 321 metres above sea level, and turquoise green and blue in colour.
5. Brijuni
This archipelago of 14 islands is home to a harmony of man, animals and vegetation. Brijuni is also known as an exclusive resort for the political activities of Marshal Josip Broz Tito. Again, like all other national parks in Croatia, this national park offers a diversity of flora and fauna and because of this people talk about it as "heaven on Earth". There is even a safari park on the island of Veliki Brijun with deer, zebras, ostriches, giraffes and other exotic animals.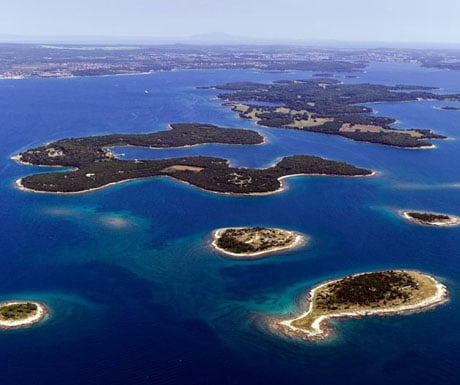 6. North Velebit
There is some magic on the mountain of Velebit that can't be described easily with words. When you spend a few days on that mountain, you just feel good; it is a perfect place for Croatian mountaineers to get a refresh from a daily routine. Maybe this has something with mystical legends and fairy tales around mountain Velebit. Northern Velebit is unique because of its diversity of flora and fauna which can be seen in a botanical garden located in a completely natural environment. One of the most special features of the park are karstic formations of 'Hajdučki and Rožanski Kukovi' as well as the pothole 'Lukina Jama'.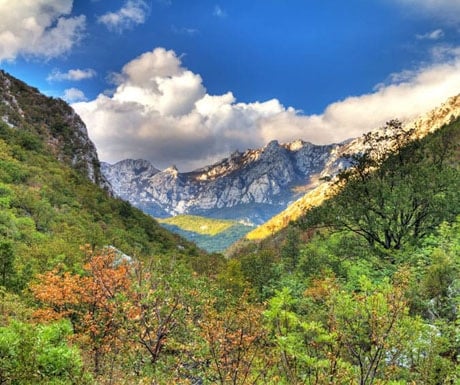 7. Krka
This waterfall paradise is located 10 km north of Šibenik and named after the river Krka which offers one of the most beautiful river scenes in Croatia. One of the most popular waterfalls is called 'Skradinski Buk' and you can even have a refreshing swim there. Lots of people are not sure where to go if you want to see waterfalls in Croatia: Krka or Plitvice. Both are beautiful – Krka has a more Mediterranean feel but as I said if you want to take a swim in among an area of waterfalls, maybe Krka is better because in Plitvice this is not allowed.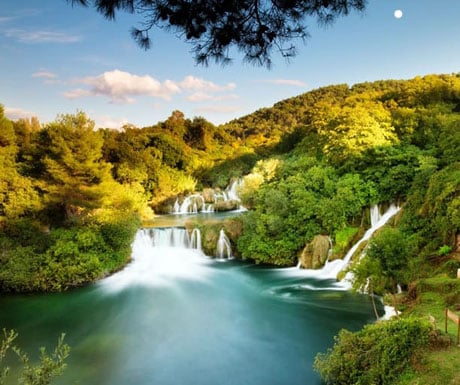 8. Mljet
I saw it from the air the first time when I was on a panoramic flight from Zadar to Dubrovnik. Since then, when I think about Mljet National Park I see a fantasy novel location. All the islands in Croatia are nice but Mljet if different; it has a lake in the middle of it with a small island with a castle. There are some beautiful stories about Mljet – one of them is that Mljet was part of Odysseus' route and that the nymph Calypso kept him in captivity there. I am a pilot so maybe I am not objective but I think it is truly special to see this wonder of nature from the air.
I hope you will find some of this interesting information about the national parks in Croatia and that it will help you decide which one to visit.
Grgo Miocic is Director at Adventure Driven Vacations.
If you would like to be a guest blogger on A Luxury Travel Blog in order to raise your profile, please contact us.