5 facts you need to know about a specialist tour operator
Tour operators  are often asked by prospective clients "What exactly is a Tour Operator? or "Why should I book with a tour operator rather than direct with the hotel and airline?".  We have listed 5 facts you need to know about tour operators showing how they are able to secure the best pricing and other benefits.  Often the importance of protection is overlooked when booking a holiday – For example, what happens if the hotel suddenly closes or perhaps your connecting flight is running late and is no longer connecting? Booking with a tour operator gives you protection, inside knowledge and ultimately peace of mind allowing you to sit back, relax and enjoy your holiday.
1. Best price
Tour operators negotiate rates directly with the hotel, typically these will be 15-20% lower than the rate the hotel will charge the public for a direct booking.  In exchange for the discount, the tour operator will promote the hotel by including it in their brochure or on their website, they also manage the booking process on behalf of reservations.  Most tour operators will pass on some of this discount to clients, especially if selling the hotel as part of a packaged holiday.  Often tour operators will negotiate an offer from a hotel which they can promote to their clients and certainly the more specialist operators build up a good relationship with hotel management which can lead to "added value" offers being applied such as sunset cruises, dinner on the beach etc.  These are little extras usually not available on direct bookings.
2. Flights
Airlines offer tour operators what are referred to as IT fares, IT stands for Inclusive Tours and these tickets are cheaper than the fully published rates available directly with the airline.  Typically, they can also be held for longer before being paid for in full which sometimes gives tour operators more flexibility if holiday plans have to change.  Tour operators also have a good understanding of the importance of minimum connection times at airports, this minimises any risk of a passenger being left behind if an inbound flight is delayed, they will usually be able to issue the tickets as "through ticketed" which means if there is a missed connection, the airlines will ensure the client is booked onto the next available service to the final destination.
3. ATOL & ABTA protection
When a tour operator sells a holiday with more than one element it becomes a package and the operator is then obliged under EU law to provide proper consumer protection.  If the holiday is made up of a flight from a
UK
airport combined with a hotel, then this will be protected under the operator's ATOL (Air Travel Organiser's Licence) which means in the event of the operator's failure, the Civil Aviation Authority will ensure clients are repatriated or refunded for any out of pocket expenses incurred.  If the holiday is without flights, but comprises two elements such as a seaplane transfer in the
Maldives
and a hotel, then this may form a package and will require alternative protection with for example ABTA.  If booking a single element with a tour operator, there is no legal requirement to provide any protection, however it is good practice to do so and always worth checking with the operator before booking.
4. Support should the unexpected happen
The best laid plans can go awry, a hotel may have to close unexpectedly, for example, due to a hurricane, or a flight may be cancelled due to poor weather or an ash cloud.  If the elements of the holiday which are no longer available are booked through a tour operator, then you can rely on the operator or their local reps to make sure you are taken care of and usually they cover the cost required to put things right.  They should also have a 24 hour helpline which ensures that help is available to you at the end of the phone, whatever time zone you may be in.
5. Knowledge and personal service
A good tour operator will be knowledgeable about the destination and should be aware of details of the hotels they offer.  This means that you will be sure to have all the information you need to make an informed decision about where to stay.  Even if it is a hotel you have visited before, there may have been changes which you need to be aware of, so still worth a call to make sure all is as you remember!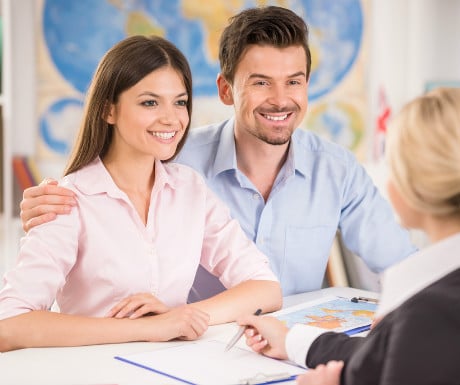 Images #2, #3, #5 and #6:
Shutterstock
Emily Whittington is Marketing Manager at Tropic Breeze.
If you would like to be a guest blogger on A Luxury Travel Blog in order to raise your profile, please contact us.
Did you enjoy this article?
Receive similar content direct to your inbox.