A spectacular city, in a daringly dramatic location, romantic Ronda is a must for anyone who loves beauty, history, culture, romance, delicious food and a taste of Spain's Andalucian lifestyle. Perched on a plateau above a deep ravine, this captivating place is named Ronda because it is "surrounded" by the mountains of the Serrania de Ronda.
Did you know that Ronda wasn't a secret to Julius Caesar, as it was he who first declared it to be a city way back in the latter part of the 4th century AD? In fact it was during the 9th century BC that it was originally established. Much of its glorious old town, that you can see today dates back to Islamic times, when it was a wealthy, important cultural centre. Filled with palaces and mosques, it also attracted its fair share of bandits because of its riches, which makes it even more romantic and colourful in Spanish folklore.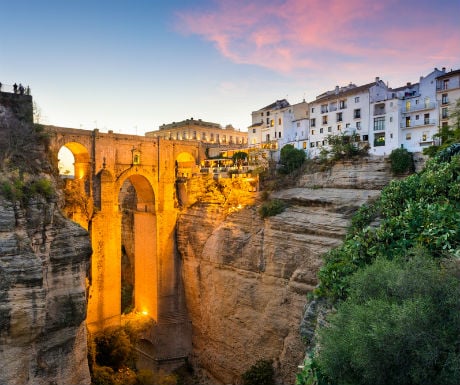 Apart from Ronda's obvious majestic monuments and breathtaking views, to truly experience the local feeling, ideally you should try to embrace its vibrant culture and traditions, like its music, wine and Andalucian horses! But first let's head to its old quarter.
Ronda Arabic Baths – Baños Ärabes
The Arabic baths in Ronda are the best preserved in all of Spain. Located in San Miguel, the old Arab quarter of the city, these, and the gorgeous old quarter, shouldn't be missed. Later, you can head to the Aguas de Ronda, which is an authentic Arab Baths experience, just a a bit further up the road from the original ones.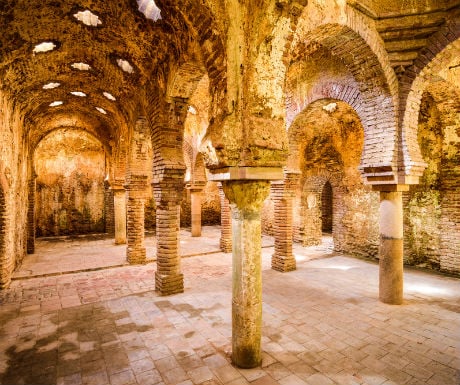 Idyllic walk and views – Puente Viejo
Built in 1616, the Puente Viejo (old bridge) can be reached by meandering through the charming old quarter, to the ancient stone steps near the Arabic Baths, which will take you down to the bridge, that is pedestrianised these days. Be sure to make a note of this, as it's especially idyllic on a roasting hot summer's day, as it's lovely and cool there, plus you can see some beautiful Andalucian horses.
Ronda Guitar House
Enjoy the magic and mystery of the Spanish guitar, with daily concerts by the world-class musician and composer, Paco Seco. Paco and his lovely English wife, Lucy, are renowned for their warm welcome. Ronda Guitar House is a little oasis, not far from the Bull Ring, where you can enjoy a delicious glass of wine, while you listen to a mesmerisingly talented musician. There are also guest musicians every so often. The establishment has the status of a museum, with a marvellous array of world musical instruments on display, including handmade guitars and zithers. This is a unique experience that shouldn't be missed.
Savour the wine route
Now that you've seen the Andalucian horses and heard the magical music, it's time to sample the local wine on the Ronda Wine Route (Ruta del Vino). This entire route – Serranía de Ronda Wine and Winery Route – actually covers ten wineries and a range of wine-related activities, in the districts of Arriate and Ronda. In Ronda you can head straight to the Bodegas La Sangre Ronda, as that is where you'll find not only the winery, but also the Wine Interpretation Centre. The Bodegas use traditional methods, while respecting nature. Learn about the local wine there and get a real taste of Ronda.
Follow in Orson Welles' footsteps
Did you know that Orson Welles requested that his ashes were to rest in Ronda? Naturally enough this is related to this quote of his: "A man is not from where he is born, but where he chooses to die." I imagine that in life, he would have spent his fair share of time in the most picturesque, tranquil spot of Ronda, the square – Plaza Duquesa de Parcent. Surrounded by an abundance of monuments, this is a peaceful, shady place to sit a while, listening to the fountain and admiring the beautiful monuments. Iglesia de Santa Maria del Mayor and the Town Hall are two of the highlights.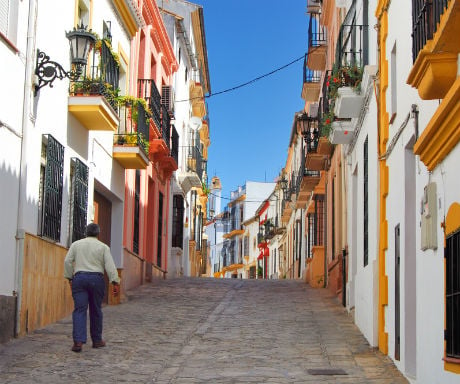 Casa del Rey Moro mansion and gardens
This impressive mansion is first referred to back in the 18th century, and since then has undergone restoration work a few times. Spend time in the gardens, which lead to La Mina (the mine). This is a 231 step Islamic staircase, which is impressively carved into the rock and will take you down to the river.
Mondragon Palace
A 13th century palace that used to be home to King Abomelik, who reigned at the time that Ronda was capital of a large Al-Andalus kingdom, today Mondragon Palace is home to the municipal museum. While there try to put aside some time to spend in the truly outstanding gardens with amazing views.
Ronda's medieval walls
Ronda's medieval walls, gates and arches can't be missed – in Spanish, you're look for the Murallas y Puerta de Almocábar. The impossible to miss long stretches of impressively, impregnable stone that surround the old city of Ronda, take a bit more than an hour to wander around. Some of the most outstanding sections can be found at Almocabar, located in the Barrio San Francisco, and Calle Goleta, close to the flour mills ruins, in the river Tajo gorge.
Plaza de Socorro
This is the main meeting point in the centre of town, with cafés, restaurants and shops all around a fountain, which features a statue of Daniel and the Lions. Adjacent to the pedestrian shopping street and above an underground car park, it's a good place to sit and drink coffee and do a spot of people watching. but beware of the tourist traps. It's not ideal for a meal!
Jardines de Cuenca – Cuenca Gardens
From the Cuenca Gardens, you will get a different perspective of Ronda, along with magnificent views. The gardens are distributed over a series of terraces, located on the River Tajo's ledges.
Walk the Tajo gorge – Springtime bliss
If you have time, walk down into the gorge along the Camino de los Molinos. The views are the best to be had. In Spring the whole valley floor is awash with flowers.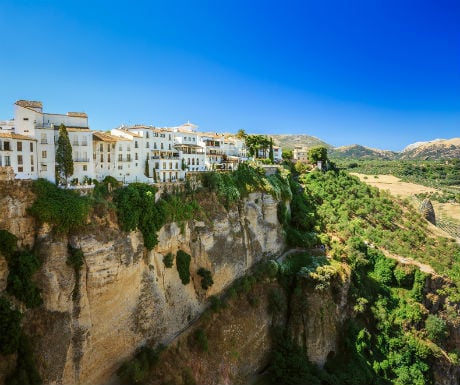 Alameda del Tajo – beautiful views & ducks
Alameda park has beautiful views, along with some lovely afternoon sunshine and some ducks to feed! The sunniest place in winter and the coolest in Summer
Museo Lara – artefacts and a mermaid
Last but not least, Lara Museum is a hidden gem with some very peculiar and interesting artefacts, including a mermaid!
Where to stay
A few minutes walk from the Bandit Museum, is the charming, luxurious boutique Hotel San Gabriel. Originally built in 1736, this is originally a family home that has been converted into a 21-room hotel. This is an elegant example of the saying – "Mi casa es su casa" – "My house is your house."
This is by no means a definitive guide to the spectacular, romantic city of Ronda, but I hope I've whetted your appetite to visit this wonderful highlight of Andalucia.
Jackie de Burca is Co-owner of Catalonia Valencia.
If you would like to be a guest blogger on A Luxury Travel Blog in order to raise your profile, please contact us.