Denver, Colorado is a spirited city offering something for everyone. It is a family friendly town with an amusement park and Children's Museum. Adults will find plenty to explore including romantic Larimer Square, a robust microbrewery scene, the Denver Performing Arts Center, and upscale shopping at Cherry Creek.
The mountains are close enough that you can also spend time immersed in nature. Denver is famous for its agreeable weather with at least 300 days of sunshine per year. This means you can enjoy biking around the city with Denver's bike sharing system B-Cycle, and numerous outdoor pursuits in addition to getting a healthy urban fix. Here are three luxurious downtown accommodation options for your next trip to the Mile High City.
Located in the heart of downtown Denver, the Four Seasons is an obvious choice for the luxury business traveler. But the secret is that it's a wonderful hotel for families too. With extras like mini robes and the fabulous tents they put in rooms with children, this hotel is welcoming for all family members, including Fido.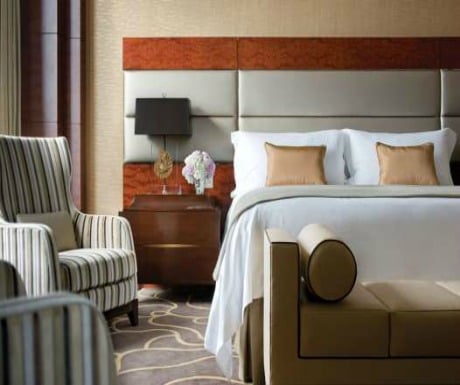 Rooms are modern with earthy tones and textures like sandstone and rich wood. Oversized windows offer mountain and city views in complete comfort. Landscaped with flowers, aspen and juniper trees, the rooftop pool is a great way to unwind after a long day of sight seeing or business. The blue mosaic tiled pool is a cooling oasis on a hot Colorado day. You can enjoy a local craft brew on the terrace while taking in the sunshine and cityscape.
Be sure to visit the spa and have a signature treatment like the Evergreen Massage which taps into the resources of the native landscape by utilizing the medicinal properties of evergreen tree oils along with energy healing sticks to make tension fade. Dine at Edge Steakhouse, which has plenty of food for vegetarians, like a delicious Kale Salad and fantastic desserts. But if you are really into your steak, you might want to opt into their Knife for Life program and get your very own steak knife, engraved and placed on display in the restaurant's knife cabinet to be used on every visit.
There is much to do within walking distance, but if you would like to venture out a little farther, there is a complimentary car that will take you to restaurants and attractions within three miles.
The Denver Ritz Carlton is a AAA Five Diamond hotel that offers plush surroundings and comfort. Rooms are spacious and decorated in blue, white and gray. The best feature at the Ritz is the Club Room with the comforts of home and an exceptionally welcoming in-the-know staff that will help you with what to see while you're in Denver.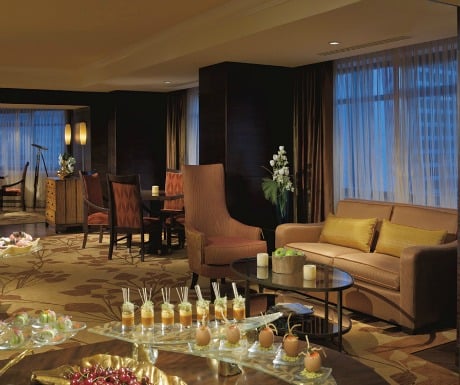 Enjoy breakfast, snacks and evening appetizers in a atmosphere that fosters mingling with other guests. If you are there for business, there are private meeting rooms at your disposal. You can head to the newly renovated spa, or opt for an in-room treatment for some relaxation. The location is perfect for enjoying downtown, and there is a complimentary hotel car available to help you get around the city.
The Westin Denver Downtown, Pikes Peak Suite
The Westin has a conference center and is a great choice for business people. But if you want to luxe-out, stay in the Pikes Peak Suite. A spacious corner suite that has hosted its fair share of celebrities has a large living space with a huge wall to wall marble bathroom. The best feature of this room is the spectacular views of the city, including the clock tower, which is up close and personal from the french balcony. The Westin has a heated indoor/outdoor rooftop pool and terrace with views of the mountains and city.