Right now is one of the most festive seasons in Washington D.C. No, it is not because of the current presidential race, or even because it is spring. It is most admired because of the beautiful cherry blossom trees. From approximately late March, until early/mid- April, these cherry blossoms can be seen throughout the nation's (US) capital. I was fortunate enough to comb the District of Columbia and surrounding communities during a recent visit to the Arlington, Virginia area, and took in all the beauty.
Tidal Basin
It is impossible to spend a weekend in Washington D.C. this time of year, and not pay a visit to the Tidal Basin. Rows of cherry blossom trees outline the inlet, offering spectacular views of the Jefferson, Washington, FDR and Martin Luther King Jr. Memorials. Visitors have the option of walking the length of the basin, or renting a paddle boat, depending upon the winds, to zoom in on the sea of soft pink and white cherry blossoms. Though it was cool outside during my recent visit, there was a warmth that the flowers emitted. I snapped pictures at each step, convincing myself that the newest image I descried was better than the last. Several pictures later, I had to force myself to move on from the man-made reservoir, to the next location. As part of the West Potomac Park; the Tidal Basin transforms each March and April into a floral wonderland, attracting visitors from around the globe.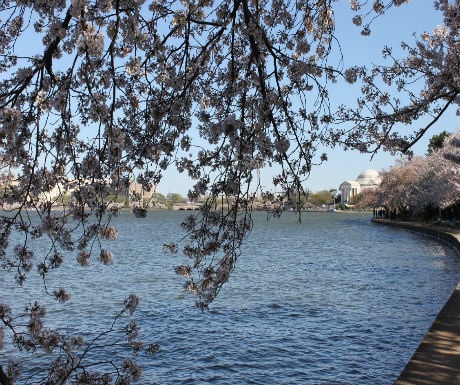 A blanket of blossoms
Although the Tidal Basin is the most popular location to witness a blanket of cherry blossoms in full bloom, they can also be seen in other parts of the District of Columbia and surrounding areas; from Silver Spring, MD to Potomac Park. I can even recall passing by some in Arlington, Virginia, on the way in and out of Ronald Reagan International Airport. The over 3,000 gorgeous cherry blossom trees were a gift to the US in 1912, from the people of Japan. Since that time, they have continued to remain a celebrated staple in metro D.C.'s landscape, each March and April. Guests can also view cherry blossoms at the United States National Arboretum, at local parks, and even on Capitol Hill. I snagged some pretty amazing snapshots on random streets, so it was worth venturing out. I found visual maps online that pinpoint cherry blossom sites throughout the District and neighboring cities to help.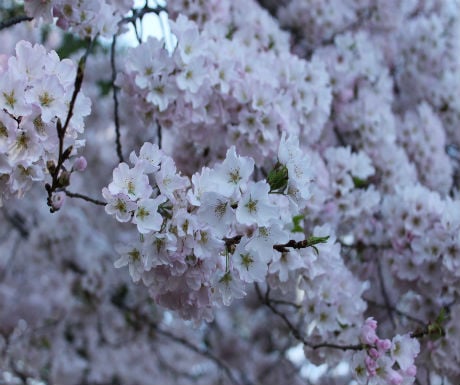 Cherry blossom spirit
The National Cherry Blossom Festival is a three week long fete that commences in March. The entire District and surrounding areas get in on the festivities, offering a range of events and offerings. Each year, there is an opening ceremony, a blossom kite festival, waterfront fireworks and more. Additionally, several restaurants place special cherry blossom themed dishes, desserts and drinks on their menu for a limited time, in the spirit of the season. The energy and excitement can be felt just about everywhere you go. On Saturday, April 16, 2016, the National Cherry Blossom Festival Parade will take place in Washington, D.C, followed by the Sakura Matsuri Japanese Street Festival. It is not too late to get in on this year's fun with a quick trip to Washington D.C. Seeing the cherry blossoms in person and participating in local events is a must-do.
Average peak bloom is 4th April, but it varies from year to year depending upon the climate. Full Bloom is what the 1.5 million visitors annually hope for, because this means that roughly 70% of the blossoms are at peak. My last minute trip proved to be perfect timing, because the cherry blossoms were at peak, making for some amazing captures. Regardless of when you decide to visit the area during cherry blossom season, there is much to do and see, so you will not leave disappointed.
Many hotels offer cherry blossom-themed packages and display freshly picked flowers throughout their halls, rooms and lobbies. During my brief stay, I lodged at the luxurious Ritz Carlton hotel in Arlington, Virginia. A short drive over to Washington D.C., this upscale establishment is centrally located to all the iconic monuments and museums. The Pentagon City Metro is just steps from its entrance, and the Ronald Reagan International Airport (DCA) is a few miles away. My Club Level accommodations were plush and concierge service was superb, offering a level of sophistication and class that is hard to duplicate. I also dined with colleagues at the acclaimed fyve restaurant on site, and spent time shopping with friends at the fabulous, adjoining Pentagon City Mall. This is a fantastic option for upscale amenities and accessibility during your stay.