There are many reasons Bora Bora is such a favorite honeymoon and anniversary destination with my clients – who wouldn't want to wake up to surreal turquoise water, snorkel and dive with manta rays, and enjoy the privacy of your very own overwater bungalow?
In case your other half or family still needs to be persuaded, here are my top 5 reasons to visit Bora Bora:
1. Enjoy stunning views
Bora Bora's lagoon features some of the most amazing colored turquoise water you'll see anywhere, thanks to being very sheltered from the sea, and very shallow in many places. In fact, you can often see incredible color variations between the turquoise shallow and dark blue deeper water.
If at all possible, also reserve a bungalow or villa with an unobstructed view of Mount Otemanu, which rises majestically from Bora Bora's main island. But even if your view is of the lagoon and beach with swaying palm trees, count yourself lucky – the tropical colors are so vivid, it's a bit like in the original Wizard of Oz movie, when the opening sequence in black and white gives way to technicolor in the land of Oz.
2. Stay in an overwater bungalow
Some resorts do have some accommodations on the beach, but if you're going all the way to Bora Bora, stay in its most iconic accommodation, an overwater bungalow or villa. This is a good reason to go as a couple on honeymoon or to celebrate an anniversary, as the best overwater bungalows have Polynesian flair, but are also luxuriously appointed and very private.
If you do visit Bora Bora as a family, as we did, wait until your children are old enough to know not to go in the water unless you're with them, for obvious safety reasons.
3. Go snorkeling and diving
The views from your overwater villa are only half the story – wait until you see the underwater world! Bora Bora has some of the largest manta rays I've seen, and it also has many eagle rays, stingrays, small reef sharks (they actually tend to be shy of humans), moray eels, and many kinds of tropical fish. I particularly recommend Pure Snorkeling by Reef Discovery for snorkeling, and Dive N'Smile for scuba diving. Both had very friendly, professional guides who cater to very small groups and cared about our experience.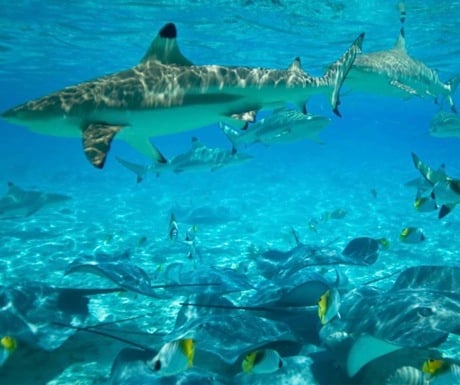 4. Stay at the Four Seasons Bora Bora
Where you stay matters, and my top resort recommendation for Bora Bora is Four Seasons Resort Bora Bora, both for couples and families. From the airport lei greeting with a smile and comfortable cruise to the resort in a custom yacht to the white sand beach, beautifully appointed villas, friendly staff, and many complimentary extras (complimentary spa facilities – plunge pool, sauna, experience shower, relaxation room; complimentary kids' club; complimentary tennis; complimentary Polynesian dance show and cooking demonstration), the resort differentiates itself.
5. Savor French-inflected cuisine
Some critics have pointed out that there isn't as much variety in cuisine as they'd hoped for. Well, let's be realistic – Bora Bora is remote, with much of its food imported and flown in–it's not London or NYC, so you can't just pop around the corner for Chinese dim sum or Spanish tapas.
That said, I personally really enjoyed our meals, particularly the fresh seafood and the fantastic pastries, desserts and homemade ice creams and sorbets. Bora Bora's fresh seafood of course gets credit, but so do French methods of preparation and attention to presentation, as well as taste. But don't feel that you need to dine at your resort's fine dining restaurant to enjoy great cuisine; at least at the Four Seasons Bora Bora and InterContinental Bora Bora Resort Thalasso Spa, we also enjoyed delicious meals in the comfort of our overwater bungalow.
Hilary Stockton is the CEO at TravelSort.
If you would like to be a guest blogger on A Luxury Travel Blog in order to raise your profile, please contact us.