Putting aside all the obvious reasons for visiting this tear-drop island: breath-taking scenery, tropical climate, exotic paradise a million miles away from home… Sri Lanka is an island which really has it all. Here is why we think Sri Lanka is so wonderfully family-friendly, with our top 5 places not to be missed…
Getting around Sri Lanka is slow, but great fun. The diversity of the landscape means you'll never hear the dreaded "are we there yet?", because no matter whether you're experiencing lush countryside dotted with swinging monkeys, coconut trees at every turn, bustling towns selling anything and everything, colourful tea plantations, dramatic waterfalls or a glimmering coastline – it's all incredibly exciting. Bus drivers are straight out of Fast & Furious, and although you may have to change a few times, routes are remarkably well connected and you wouldn't normally wait for more than 10 minutes at a terminal. Whilst you could explore every inch of the island by bus, trains are less available. However, they cover all the most scenic routes and a 3-hour journey will go by in a flash when you're snapping away at the dramatic landscape, munching on snacks sold by loud vendors who hop on and off when trains pull into stations. The Colombo-Matara route makes its way along the famed western and southern coast, dotted with the island's best beaches.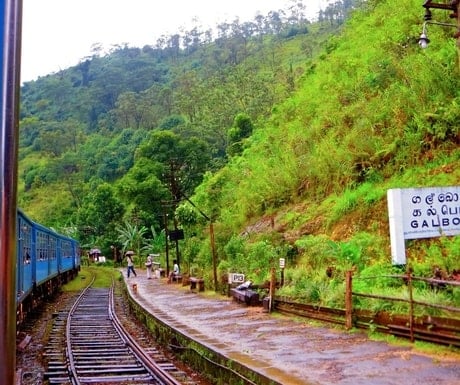 Once you've experienced public transport, a car and driver are a fantastic way to get from A to B. They're easy to find, reliable and incredibly good value. The great advantage is stopping when you're passing through a fabulous market, or when you're feeling peckish and find a P&S. Tip: always be on the lookout for P&S, a great chain of local restaurants that does fabulous rice, curry and short eats. It's incredibly clean, well presented and excellent value, as 200 rupees/£1 will buy you lunch. Hiring a driver is also a great way to get an insight into local life; Sri Lankans are incredibly friendly and if you learn a few Sinhalese words, you will find you've made a new best friend and will be "chatting" away for the entire journey!
The colonial city of Galle, halfway point on the Colombo-Matara train line, is the perfect first stop. The elegant Amangalla oozes un-clichéd colonial charm, whilst the food at the Galle Fort Hotel is fantastic as you sit on the terrace and watch the world go by. It also has a picture perfect swimming pool. The shopping is excellent; the streets packed with cafes, terraces and boutiques are pleading to be explored. The whole family is bound to find something to bring back home from Barefoot, and Stick No Bills has fantastic vintage travel prints of Sri Lanka. Galle is one of the few places in Sri Lanka with a restaurant and café scene, so it's definitely worth making the most of this city!
Follow your stay in Galle with an entertaining hour's tuk-tuk ride to one of the south coast's most beautiful beaches – Mirissa; family friendly with an expansive bay and beach shacks dotted down the stretch of golden sand. With so much choice and little obviously differentiating one beach shack from the other, it can be difficult to know where to stop. Zephyr is a personal favourite and a great place to settle down for the day. It offers sunbeds and ice cold beer for the grown-ups, and exceptional fresh juices and shade under trees for the smaller ones. The food is great too: slightly more inventive than its neighbours, including exceptional tempura prawns. There is also a variety of activities for those who get itchy feet: the area is famous for whale watching tours, fishing, diving and yoga classes on the beach. Mirissa is extremely laid back and you can easily while away the time, hopping from one side of the beach to the other, jumping on waves and enjoying nightly barbecues.
After a spot of civilised city culture in Galle, and beach life in Mirissa, take a car and driver and visit Udawalawe National Park, the best park for elephant spotting, en-route to the Hill Country. You should aim to get to the park for 4 o'clock, as come early evening elephants come to take their bath in the lake; the sight is truly magical. Jetwing Kaduruketha is a good place to end the day, situated in an idyllic position an hour south of Ella with a wonderful infinity pool and exceptionally charming staff. From there, spend a day visiting Buduruwagala rock carvings and Diyaluma waterfall before catching the bus an hour up the road to Ella, where you'll drive past Ravana waterfall. You'll be passing through the un-touristy Wellawaya, which has some great fabric shops and a lively market.
The Ella-Kandy train journey in the hill country is in every guide book for good reason, but I would suggest breaking up the journey, by travelling from Ella to Nanu Oya by train (the closest station to Nuwara Eliya) and then Nuwara Eliya to Kandy by bus. The train and bus routes are different and doing it this way gives you the best of both worlds – the train journey covers the country's most scenic landscape and the bus is fast and equally breath taking as it meanders its way past waterfalls, tea plantations and local villages. You could even fit in a visit to Mackwoods Labookellie Tea Centre for a tour of its production site and an obligatory cup of delicious Orange Pekoe. The bus drives straight past it and it is easy to hop on and off.
There is no shortage of cultural sights in Sri Lanka, and it is definitely worth including a few to your itinerary. From Kandy, it's only a few hours' drive to the island's cultural centre. Sigiriya fortress, an impressive 200 metre tall rock where 1200 steps will take you to the very top, has the most exceptional views. Although not initially the most obvious choice for a child friendly activity, it is in fact worth the effort and great for the adrenalin kick. It also makes ending the day at the pool that much sweeter! The neighbouring temple Dambulla, consisting of 5 caves, is equally challenging with 400 steps uphill, but arguably more impressive than Sigiriya and one of the most magical temples in Sri Lanka.
Above all, Sri Lanka will provide you with a luxury experience: the luxury of lazing on a beach that dreams are made or by an infinity pool in a secluded villa surrounded by palm trees; the luxury of sipping fresh king coconut juice straight from the fruit and climbing a 200 metre sacred rock; the luxury of stumbling across unspoilt locations and glimpsing a real insight into everyday life; the luxury of almost everyone you meet being so welcoming an friendly; the luxury of being spoilt for choice. Sri Lanka is an island of diversity, where everything is offered and thus offers something for everyone, both big and little.
James Jayasundera is Founder and Managing Director of Ampersand Travel.
If you would like to be a guest blogger on A Luxury Travel Blog in order to raise your profile, please contact us.