Millions of tourists from around the world flock to Thailand each year for its gorgeous beaches, dazzling Buddhist temples and delicious spicy food. But an increasing number of visitors are returning home with a lot more than a collection of Instagram-worthy snaps and an enviable tan. For those looking to change their lives for the better, Thailand offers an array of options to help you along on an improved physical, psychological or spiritual path. Here are four of the best located in the lush hill country of Northern Thailand.
Set on 63 acres of rolling farmland, lakes and fields outside of the charming town of Chiang Rai, New Life Foundation is a personal growth and development community based on the Buddhist principle of mindfulness. People come here from all over the world to address issues such as burn out, stress, depression, addiction and relationship problems. Residents combine two hours of community work per day – anything from caring for the cows and ducks, earthen building or sustainable farming to helping in the office – with a busy programme of yoga, meditation, workshops, art therapy and one on one life coaching.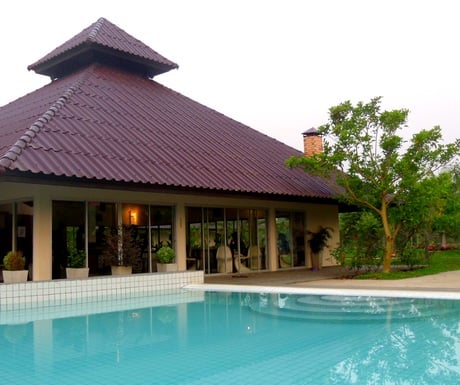 Led by a Belgian former Buddhist monk, the non-profit centre offers comfortable en suite rooms, healthy vegetarian meals and comes complete with a salt water swimming pool and steam bath.  Its calm, positive and supportive environment is the ideal setting for anybody wanting a break from life's everyday stresses and a chance to work on their personal development.
If you want your holiday to pack a punch – literally! – Gym Bangarang in Mae Sai may be just what you are looking for.  Bangarang offers fitness holidays including weight loss programmes, Muay Thai training and general fitness.
Most participants choose to live in the comfortable onsite rooms to immerse themselves in their new routine and make the most of the balanced, nutritious meals available.  Proper nutrition is taken very seriously here; the team know that a healthy diet is vital to reach any fitness goal and they believe in working with clients to find out what foods work best for them, arming clients with the knowledge they need to continue the gains made at Bangarang long after they've returned home.
The owners/trainers at Gym Bangarang include and ex US Marine and a British ex professional footballer.  They oversee a team consisting of certified personal trainers, a pilates instructor, professional Muay Thai fighters and a professional MMA fighter.  Clients can also work in groups or individually with the gym's clinical hypnotherapist and certified motivation coach.
In addition to working out in the gym, guests are regularly taken off-site to experience the many activities available in the area, including kayaking, climbing and hiking.
Gym Bangarang is geared up to work with people of all fitness levels so if you're desk-bound, over weight and eager for a new, healthier lifestyle this could be the holiday that gives you the kick start and knowledge you've been looking for.
The off-the-tourist-trail town of Fang, in the north of Chiang Mai province and close to the border with Burma, is the setting for this unique programme.  Like many other places in Thailand, guests come to learn and practice meditation, but at Wat Sriboonruang they also experience day to day life at a Buddhist temple which is very much a part of the local community.
Visitors at this beautiful wat are guided in their meditation practice by English speaking monks, can accompany monks on their dawn alms rounds, eat with them, and join in the evening chanting in the ancient Pali language.  Young novice monks come to the onsite school from nearby temples and guests have the opportunity to interact with them and to teach them English.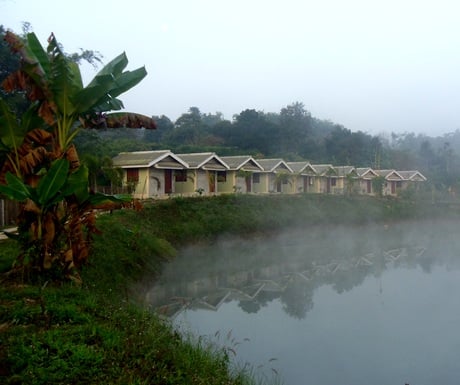 Stays can range from a few days to a couple of months and can also include a silent meditation retreat at the temple's gutis (monks' huts), situated a short walk from the temple, overlooking a picturesque and misty lake.  Male guests also have the chance to ordain as a novice monk, something that most Thai men do for a short spell at some point in their lives.
The temple stay programme and meditation retreats are open to guests of any religion or none and are the perfect way to learn to mediate and experience the many health benefits of regular practice.  It's also a unique way to experience day to day Thai life in a small town far from the tourist crowds.
The luxurious Cabin Chiang Mai is the place to come if you want expert help to change your life.   The world renowned centre specialises in treating addictions, trauma, depression and obesity in a tranquil riverside setting just outside the city of Chiang Mai, the former capital of the ancient Lanna kingdom.
The international team of specialist counsellors, psychologists and psychiatrists work alongside personal trainers, and yoga, meditation and mindfulness teachers to provide a holistic approach that arms clients with the skills they need to return to daily life ready to face their challenges with renewed strength and vigour.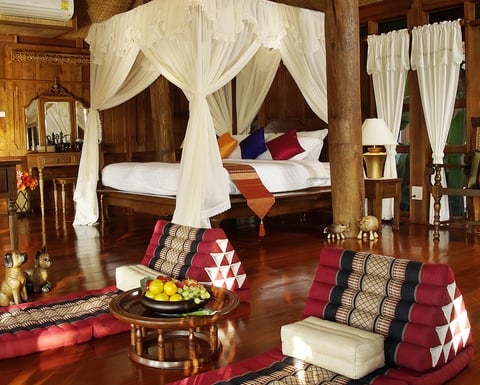 Client accommodation at this former holiday resort consists of traditional, dark wood Lanna-style rooms with four poster beds as well as more modern spacious and bright rooms.  Guests have access to the onsite pool and gym and there are weekly excursions to explore this beautiful part of Northern Thailand.
The Cabin's treatment programme is intensive but does allow time for relaxation and reflection.  It can be truly life-changing to put yourself in the hands of their world-class professionals and it just might be the best use you ever make of your holiday time.
Candice Bain is Founder at Desert to Jungle.
If you would like to be a guest blogger on A Luxury Travel Blog in order to raise your profile, please contact us.