At the delicate age of 13, I visited the Greek islands for the first time in my life. I have never recovered from the experience, nor do I want to! The breathtaking natural beauty, that typical blend of bright white and azure blue that embellishes so many of the buildings, the curious, friendly Greek people, that are so proud of their culture and heritage – and the enchanting aroma of the pine trees.
My early Greek island memories include the first wine tasting tour of my life, our hilarious efforts to keep up with the professional Greek dancers, and those cheeky, handsome Greek waiters, who always seemed to be so sure that my Mother and I were sisters, and certainly that we couldn't be Mother and daughter!
I have spent decades of my life adding to my Greek Island memories, and I still have many islands yet to visit. The Greek islands are life-giving and life-affirming at the same time. Here are some of my favourites – it's not a definitive list, and it's arranged alphabetically. I'll be delighted to see your comments and your own personal favourites, if you feel so inclined.
1. Amorgos – The Big Blue, natural beauty, ecology & tradition
Famous as one of the main locations where the amazing cult film, the Big Blue, was shot, Amorgos is a little piece of paradise in the Cyclades. The island's natural beauty is inspirational. Its most famous sight is the Monastery of Hozoviotissa, which is built into the slopes of rock, affording breathtaking views out over the sea. Amorgos is strong on tradition, which visitors can feel both in the architecture and spirit of the people. Amorgos is also very focused on its environment.
2. Crete – port of Chania & other lesser known beauty spots
Of course Crete is overrun with tourists, so it's easy for the educated traveller to decide to give it a miss. However the Cretans still have a number of wonderful spots for us to visit, such as the beautiful port of Chania, the village of Loutro, the Samaria Gorge, and Falasarna beach to name a few. Crete has its fair share of beauty spots and the island has been getting a good reputation for food, for some years now.
3. Corfu – for families, culture and beauty
Steer clear of the overdeveloped parts of the island, unless of course that's your thing! Be sure to check out Corfu old town, which a UNESCO World Heritage site. Spend some time in beautiful Paleokastritsa bay, and head inland to sample life at a different pace. I was lucky enough to become good friends with a family on the island, so I would often get taken out for boat trips and meals with other Greek people. They are such genuinely friendly once you don't behave like a typical tourist, but more like an open-minded traveller.
4. Delos – the whole island is a UNESCO World Heritage Site
A boat trip from Mykonos will take you to Delos which was the birthplace of Apollo. See amazing ruins of statues, temples, a theatre and mosaics. You won't be able to stay overnight on Delos however.
5. Hydra – romance, donkeys and a yachting paradise
Forget about renting a car when you go to Hydra. The transport system consists of around 500 donkeys, as cars are banned. The wealthy past of this island is evident in the lavish stone mansions that were crafted by Italian artisans. Hydra is one of Greece's most romantic destinations. Winding streets take you through picturesque neighbourhoods and up towards the top of the town. Summer sees plenty of sailing boats, yachts and impressive motorboats. Sophia Loren starred in the 1957 movie – Boy on a Dolphin, which was filmed on Hydra.
6. Kefalonia – gorgeous beaches and wonderful wine
Two of the main ingredients for many people's holidays are the beaches and the tipples to be enjoyed in the locality. Kefalonia certainly ticks both of these boxes with gorgeous beaches and the island's Robola winery produces wonderful wine. To top this off the island is lush, with great diving and snorkelling, a strong culinary tradition and decent nightlife. Chuck in a few picturesque villages, some sea turtles, monk seals and you can start to sense the essence of the largest Ionian island.
7. Milos – a little bit of paradise
A small island with around 70 beaches, where the Venus de Milo statue was discovered, Milos can be discovered in the south west of the Cyclades. The views are stunning, on this lunar-landscaped island. Lots of the beaches are challenging to find, so even in the height the season they are almost deserted.
8. Mykonos – cosmopolitan, where tradition meets glamour
Being named after the grandson of Apollo isn't a bad start, and after this Mykonos, in a strange way is not unlike Sitges. It seems to be one of those places that blends together seamlessly a whole melting pot of different types of people. I'm not comparing Mykonos to Sitges visually, but purely in the sense that they both have a strong gay reputation, yet both places are equally loved by families and all sorts of travellers, including celebrities. This island parties hard, is full of chic, but is bursting at the seams at the height of the season.
9. Paxos – stunning beaches and vineyards
Head 14 kilometres south of Corfu to the cluster of islands, Paxos. Only accessible by boat, as even the biggest islands are too small to have an airport, the islands take up a space of around 19 km2. The larger islands are Paxos and Anti Paxos, famed for its wine and two of the most beautiful beaches in the Ionian Sea. Paxos has endless olive groves, and pebbled beaches, whereas Anti Paxos is basically one big vineyard, with those superb beaches. According to Greek mythology, the islands were created when Poseidon struck Corfu with his trident, so that himself and his wife could have a bit of peace and quiet.
10. Rhodes – lovely Lindos, an acropolis & Rhodes old town
Rhodes is sadly often associated with its party resort of Faliraki. But there's so much more to Rhodes than this. The old town is superb, and even a day trip to see that is worthwhile. However the pedestrianised, winding maze of cute, narrow cobbled streets that make up the village of Lindos tells a very different story. But even that is not the full story – Lindos is actually an acropolis that rests on an imposing rock, with an amazing history and mythological story behind it.
11. Santorini – although you've seen it a thousand times, it's still beautiful
The most photographed Greek island, Santorini, brings back hilarious but slightly scary memories of my first very uphill donkey ride, complete with luggage and a Mother, who was more panicked by the steep ride than me, but was trying terribly hard not to appear to be. If you don't like heights this may be best avoided, although the adrenaline and relief on dismounting are rather euphoric. I probably don't need to introduce Santorini to you, but just in case – it is actually a group of islands rather than just one. The main island in Thira. There are four more and all are active volcanically. For beauty and fun, Santorini is hard to beat.
12. Symi – impeccable architecture and a beautiful romantic harbour
The colourful perfectly formed harbour of Symi is breathtaking. Chic boutiques mingle with pastel coloured houses, bars and tavernas to form a wonderfully romantic scene. The impeccable yet crumbling Neoclassical architecture reminds us that around 100 years ago Symi was one of the wealthiest Greek islands.
13. Tilos – wildlife and adventure
Even in the height of the season Tilos doesn't get too busy. So if you're looking for peace, with a dollop of wildlife and adventure, this Greek island is for you. If your luck is in you could get a selfie with a dwarf elephant!
14. Zakynthos (Zante) – beautiful beaches
Zakynthos is famous for its beautiful beaches and Shipwreck Bay, which you can only reach by boat. On the south of the island there are a few spots that are for the more boozy brigade. If you prefer to avoid this head to the north, or the south-east where loggerhead turtles breed, on the golden sand of Gerakas beach.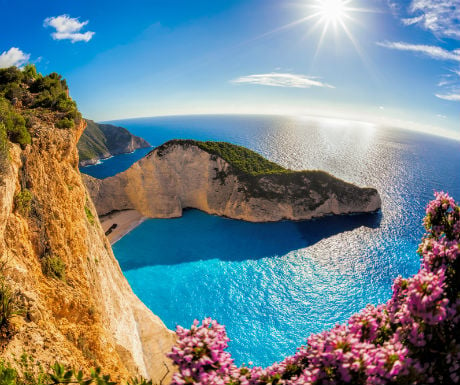 Images: Shutterstock
Jackie de Burca is Co-owner of Catalonia Valencia.
If you would like to be a guest blogger on A Luxury Travel Blog in order to raise your profile, please contact us.