Which Maldives island is right for you?
We've just got back from a whistle-stop tour of the
Maldives
, visiting no less than 9 different island resorts. When you choose a holiday in the Maldives, you're likely to be going for the talcum white sands and crystal clear waters found almost nowhere else in the world. Whilst there's no denying that all resorts do deliver amazing beaches, each island offers a different experience and all have their own pros and cons.  So how do you decide which one is right for you? We've put our heads together to give you the lowdown based on our recent trip…
Komandoo Island Resort – best for couples looking for a quiet holiday
The rooms are comfortable and well kept. There's a calm atmosphere throughout the resort – probably due to the lack of children – it's strictly adults only. There's a house reef on both sides of the island, with an astonishing amount of marine life and coral (and easy to swim to from the beach). The sunrise side is calmer (better for snorkelling), whereas the breeze on the windier sunset side is very welcome when the sun is hot. If you're looking for a small, relaxing, romantic resort, Komandoo is tough to beat!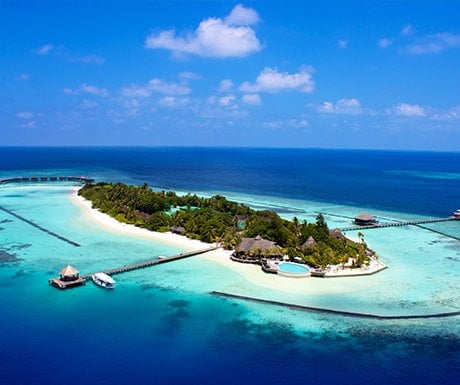 Kuredu Island Resort – best for people that want to do more than sunbathe
You get a lot of bang for your buck at Kuredu. It's larger and livelier than some of the other resorts, with entertainment every evening including the famous White Party on Fridays. There's also a golf course,
scuba diving
lessons and a complimentary sunset cruise (where, if you're lucky, you'll see dolphins). Worth noting the kids club is only open during the Easter, Halloween and Christmas holidays. There's a house reef on one side of the island for snorkelling (you're in danger of being swept away with the current if you swim on the other side!). Not the best house reef in the Maldives, but pretty good – especially if you're not a snorkelling aficionado! We'd recommend staying in the Beach Villas upwards, as the Bungalows are quite basic.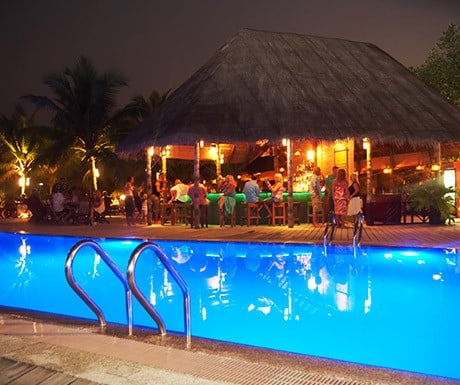 Palm Beach Resort – best for Europeans
There's a very Italian feel to this resort. There's Italian food, a lot of the evening entertainment is in Italian, and a lot of the staff are Italian. So if you're looking for a little piece of Italy in the Maldives, it's perfect!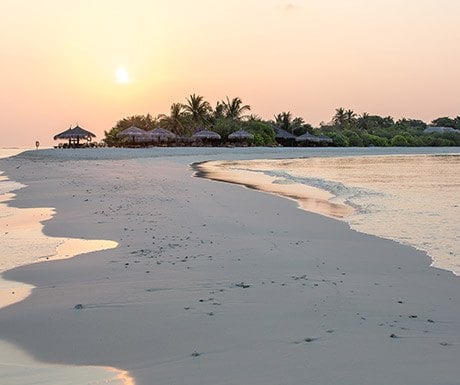 Atmosphere Kanifushi – best for all inclusive options
We really liked Atmosphere Kanifushi. We felt very welcome from the moment we arrived. There's plenty going on (with a DJ playing 6 nights a week), but it still has a relaxed, easy-going vibe. It manages to appeal to both couples (there's an adults only pool) as well as families, and they happily co-exist here. The only downside is that the house reef requires a boat trip to get to, but this is complimentary and operates twice a day. The all inclusive package is one of the best in the Maldives, with your mini bar replenished twice a day (with full size bottles of wine, no less!) and premium brands too. It also has the longest beach… an amazing 2km of heavenly talcum soft sand.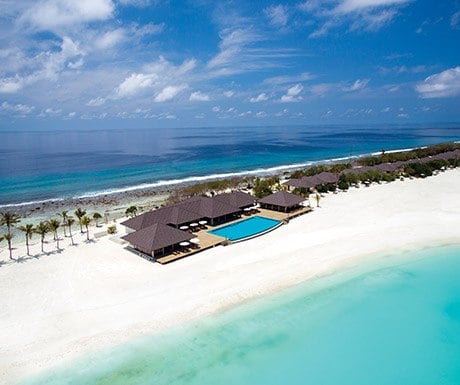 Oblu by Atmosphere at Helengeli – best 4 star resort
We were impressed with the accommodation and facilities at this 4* resort. It's pretty small, but that means everything is within easy reach. Great for snorkelling and diving because it's got a really good house reef, wrapping the entire island. We liked the open air bathrooms at Oblu – you didn't feel at all exposed but it was amazing to shower under the stars! Around the island it definitely felt more reasonably priced (reflecting the 4* rating) but we felt the accommodation and service was almost on a par with some of the 5* resorts we visited.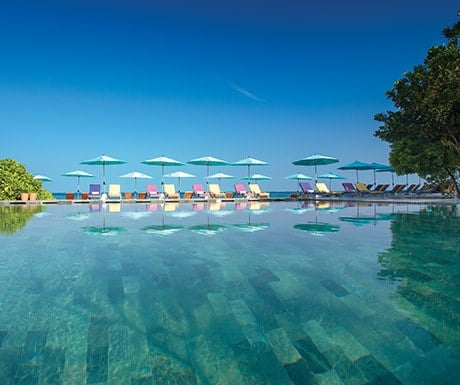 Centara Ras Fushi – best house reef
The house reef stretches all the way around the island, and is easily accessible from the beach (with free snorkelling equipment provided). The rooms are fresh and modern. The whole resort is adult only, so it's popular with honeymooners. Whilst it's usually a no brainer to go all inclusive in the Maldives (it's not like you can leave the island to dine elsewhere…) the drink prices are very reasonable for non all inclusive guests.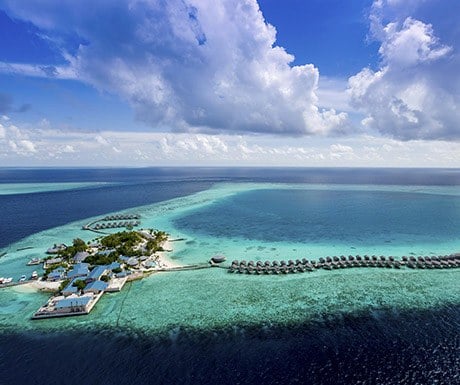 Centara Grand Island – best for families, especially teens
Newly refurbished, the rooms are nice and airy. The kids and teens clubs are excellent, with a dedicated teen lounge featuring pool table, table tennis and mocktails.  There's a house reef all the way around the island, with access from the beach – and snorkelling equipment is complimentary. It's a great choice for a luxury family holiday. That said, we also met lots of honeymooners during our visit who (without exception) were all raving about it too! There's a shipwreck offshore for scuba enthusiasts. It's worth upgrading to the Island Club package, because you get almost everything included (including a scuba diving trip, a spa treatment and boat trips).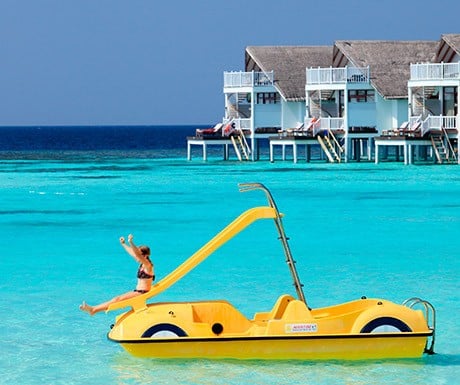 Paradise Island – best for 'low budget'
The beach was absolutely fantastic, but let's face it, it's almost impossible to have a 'bad beach' in the Maldives! If we're being honest, we felt like this resort could do with updating. That said, the spa area is lovely with lots of lush vegetation and relaxing water features. Plus, it's only 15 minutes away from Male, so handy for the airport.
Jumeirah Vittavelli – best for luxury
This was our favourite of all the islands we visited (also the most expensive, and 'you get what you pay for' is certainly true when it comes to Maldives resorts!). The experience starts with a luxury speedboat transfer. One of our most memorable moments was the fish feeding, where reef sharks and manta rays came right up to the shore in droves. There are boutiques for picking up essentials, free bikes you can borrow to get around the island and a beautiful house reef. Incredible underwater scenes are within an easy swim from the beach. There's a free kids club for ages 3 – 13, and a sumptuous spa for grown-ups. As you'd expect from an Arabian hotel chain, the service goes above and beyond. There are lots of little touches that make all the difference, like finding a cooler filled with ice cold water bottles around the pool, or a complimentary bottle of Prosecco in your room.
Have you visited the Maldives? Let us know how you found it in the comments below.
Spencer Groves is Commercial Director at letsgo2.
If you would like to be a guest blogger on A Luxury Travel Blog in order to raise your profile, please contact us.
Did you enjoy this article?
Receive similar content direct to your inbox.