With a huge coastline and plenty of gorgeous beaches, we should expect beautiful and charming accommodations in Brazil. In fact you will find luxury resorts and hotels all over the the country, especially on the beaches. More than 45 famous hotels brand stamp their names on the best resorts and V.I.P. hotels. Selecting one may be overwhelming. To help you out, we hand-picked amazing resorts with incredible gastronomy, located in ecologically protected areas, places that offer you impeccable services, and exclusive ocean front bungalows. If you are looking for an adventure, time to relax, or privacy, take a look at the list we put together for you. The top 5 best luxury resorts that time and time again, will make you want to return.
Ponta dos Ganchos
When it comes to Brazilian resorts, Ponta dos Ganchos is simply the best of the best. It's the place to see and be seen by some of Brazil's most famous celebrities. This small stretch of land is paradise on earth, a modern day garden of eden. Composed of two tropical islands connected by private bridge, Ponta dos Ganchos is surrounded by lush, deep green forests, and a transparent turquoise ocean – to say it's breathtakingly beautiful would be an understatement. This resort is the very definition of serenity and relaxation. It has 25 bungalows, each with a unique view of the Emerald Coast. It is also equipped with a Spa (exclusively designed by Christian Dior), tennis courts, hiking trails, and a heated intuity pool. Whatever you choose at Ponta dos Ganchos, you won't be disappointed!
Tips: The best resort in Brazil. The breakfast is unbelievable, 8 course menu and always r a new menu. You can arrive at the resort by a helicopter. Is the most exclusive and luxurious resort in Brazil. Offers a romantic and private dinner for one couple in a private island. Make sure you order a lunch in your room and eat the the balcony. Do not forget to let us know the results.
Nannai Beach Resort
The Nannai Resort & Spa, located just 54 km from Recife, offers a peaceful yet luxurious getaway, right in the heart nature. The entire resort was constructed with natural, organic materials. Resort guests are able to choose from two types of apartments, or from four types of bungalows. The beach view bungalows and the villa suite are equipped with a private veranda, gazebo, pool, TV, DVD player, air-conditioning, ceiling fan, sofa-bed, clock-radio, hair dryer, telephone, mini-bar and electronic safe.
To ensure their guests' entertainment, the Nannai Resort & Spa offers a variety of activities, including a large pool, heated jacuzzis, tennis courts, beach soccer and volleyball areas, putting green, children's center, game room, zip line, fitness center, sauna, aquatic sports (kayaks, snorkeling and boat trips), water aerobics, dance classes, and this list goes on and on. Breakfast, lunch and dinner are offered at the on-site restaurant which serves regional cuisine, and features a large selection of fine wines. Whatever it is need, the Nannai Resort and Spa has you covered.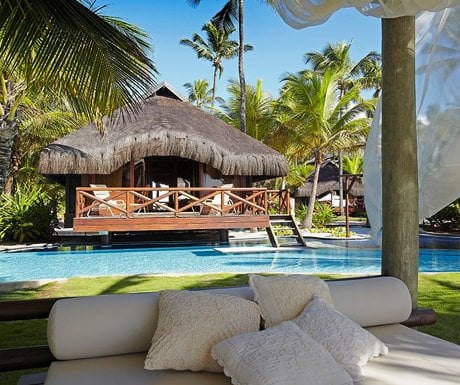 Tips: The natural pools are formed in front of the resorts are a great to see the color fishes. The best bungalows are Master and premium. Both located in front of the beach.
Kiaroa Eco Luxury Resort
The Kiaroa Eco Luxury Resort, French Polynesian for "Black Pearl", is located on the Maraú Peninsula, one of the most beautiful places in Brazil, complete with crystalline water and natural turquoise pools. To experience this breathtaking natural beauty, boat trips and diving options are available to guests.
The Kiara is surrounded by widely untouched, pristine natural areas, with the nearest village containing just 500 inhabitants. Designed to be an extension of nature itself, it's the ideal choice for those seeking relaxation in an exotic, ecologically friendly environment, without sacrificing luxury and comfort. The resort offers an array of apartments and bungalows, each uniquely designed and decorated. The pool, Kiaroa´s most exceptional feature, is 800m², equipped with wet decks and paradisiacal oasis in the center. Tennis courts, beach volleyball, and luxury spa treatment are all offered at this resort. The Kiaroa is a simply unique, unforgettable, natural experience.
Tip: Try the Tapioca and fried earth banana at the breakfast. Also enjoy the 4 spa treatment areas. For lunch we recommend the Tetiaroa restaurant and eat on the beach
Txai Resort Itacare
The Txai Resort is situated on the beautiful Itacarezinho Beach, only 15 km from downtown Itacaré. Txai Resort offers a diverse array of beautiful private bungalows spread throughout the surrounding coconut grove, equipped with air conditioning, luxury furniture, mini-bars, and even a personal safe. Guests can enjoy a delicious meal at the onsite restaurant which serves authentic Bahian cuisine for breakfast, lunch, and dinner. For guests' relaxation and enjoyment the hotel provides a health center, complete with exercise equipment, massage services, internet access, and sauna. There is also a gorgeous, modern pool on site, equipped with a large spacious deck which overlooks the Atlantic Ocean below.
Tips: visit the waterfalls close to resort and enjoy the fresh water and crystal clear water of the beaches in front of the resort. The beach town of Itacare is also a great opportunity to by souvenirs and see the local life.
Tivoli Eco Resort at Praia do Forte
In Brazil, to the north of Salvador, there exists an idyllic place, perfect for a luxurious romantic getaway. The Tivoli Eco Resort, located at Praia do Forte, is a Five-star Bahian hotel where the rustic northeastern architecture is in harmony with the stunning natural scenery surrounding the resort. At Tivoli Eco you'll find a tropical destination to fit any and all of your needs: getaways, romantic honeymoons or a solo trip to enjoy nature and tranquility. Enjoy the extensive range of luxury spa treatments, and don't forget to relax among the colourful gardens and natural pools in Vila Praia do Forte. Tivoli's five star restaurant promises a culinary journey through the exotic flavours of Northeastern Brazil, blending touches of the sea (or frutas de mar, as they say in Brazil) with rich coconut milk, making some of the most unforgettable tastes imaginable.
Tips: Visit the Beach village of Praia do Forte and the turtle conservation Tamar. Also there a charming fisherman village where you can buy souvenirs and lots of local restaurants to try the delicious local cuisine.
Luiz Alegre Silva is the Founder at See You in Brazil.
If you would like to be a guest blogger on A Luxury Travel Blog in order to raise your profile, please contact us.