Special feature: Amanbagh, Rajasthan, India
Departing Aman-i-Khas in Ranthambore, we drove nearly four hours north to
Aman
's other Indian outpost, 
Amanbagh
, set at the foothills of the Aravali Range, a lush, green landscape in otherwise arid Rajasthan. Recent improvements in Indian infrastructure have made this hotel slightly more accessible than before, now only a two-hour drive from the Rajasthani capital city of Jaipur – but when it opened, this modern interpretation of a haveli, or traditional Rajasthani mansion, was truly secluded, hours from even the villages and towns of Ajabargh and Alwar. Still, even today, the rural retreat, set within the walls of a former hunting grounds, maintains an air of solitude, as the sound of chirping birds and chattering of monkeys interspersed with the silent still of nature takes over from any audible sounds of vehicles, mankind or civilisation.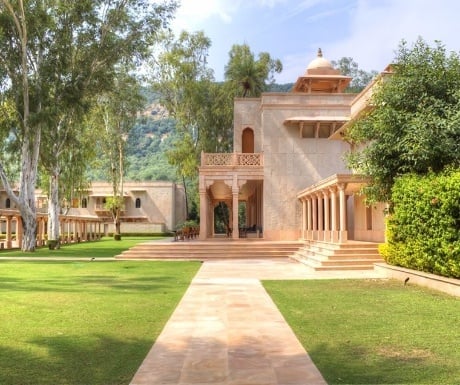 At Amanbagh, there is as much or as little do as you wish. A vastly different experience from many of
India
's and Rajasthan's top luxury palace-hotels, a stay here can be a relaxing retreat or an extended cultural tour exploring the dark legends of the haunted fort, and the charming hospitality of the villagers nearby, or another safari as the resort sits only a short drive from Sariska National Park, which features more wildlife as well as a healthy tiger population (many of whom have been relocated from Ranthambore National Park).
Following long drives and an enjoyable but exhausting stay at Aman-i-Khas (where we awoke early every morning –
read our review here
), we decided to do as little as possible at the 40-room Amanbagh, which means 'peaceful garden' in Sanskrit. We were welcomed to the foyer with a traditional Indian ceremony with an ancient Sanskrit well-wishing prayer that is commonly used in welcoming guests to a home, and shown to our accommodation. Our pool pavilion, the highest category of rooms at the resort, feature a 203 sqm (2,185 sqft) standalone mini-haveli with Mughal-inspired domed cupolas, a spacious garden courtyard (occasionally populated by monkeys) and a 9m x 3m swimming pool (kept cool in summer and heated in winter), a large bedroom, foyer and bathroom, at the centre of which lies an enormous bathtub carved from a single slab of Udaipur green marble. Hilariously, but certainly required at Amanbagh, each pavilion or haveli is equipped with a large 'monkey stick' that can be used to tap the floor to ward off intruding and curious monkeys that can congregate in the back garden.
The retreat is designed by my favourite architect and designer, Ed Tuttle, creator of many Amans, and his masterpiece is always the main pool and structure – here, a modern interpretation of a haveli in pink marble sandstone finish reflected beautifully in a calm 33-metre-long emerald-green marble pool. Both the main structure of the resort and the rooms are decidedly luxurious, but finished with touches of Aman's signature restraint that mix understated luxury with minimalism, often with hints of traditional influences or modern takes. The resort itself sits within a walled compound, a verdant oasis of palm, fruit and eucalyptus trees. Keeping in theme with Amanbagh as a relaxing retreat, the resort has wellness immersions that include yoga and meditation classes and several South Asian spa treatments that have been around for millenia, and rejuvenation through Ayurveda – a term combining 'life' and 'science' in Sanskrit, and an experience which is all-encompassing including Ayurvedic spa therapies, a meal plan and yoga and meditation based on your type (determined by the Ayurvedic physician).
For the more actively inclined, rural Rajasthan is a special place, and an underrated area when it comes to tourism in India, much of which we got to see and experience with brief stops during our long drives. Excursions at Amanbagh include a tour to nearby temples, a wildlife outing to Sariska National Park and a trip to Ajabgarh Fort. But visitors are certainly urged to visit the supposedly haunted 17th-century Bhangarh Fort, which tells a chilling tale of a curse that wiped out the entire town of Bhangarh, such that no one is allowed to remain in the precincts of the fort at night – as suggested by a notice from the Archaeological Survey of India. The 'Sunset Cowdust Tour', another of Amanbagh's key excursions, starts in the late afternoon and offers the chance to visit the nearby village and enjoy a cup of afternoon chai with the locals and the women dressed in a range of bright coloured saris (which the region is famed for), who exude warmth and genuine hospitality.
Food at Amanbagh, in classic Aman-style, is a refined take on homely regional Indian cuisines that sticks deeply with its roots, with a focus on Rajasthani fare. The only restaurant at the retreat, housed in the main structure, overlooking the pool with pockets of outdoor seating, serves seasonal specials from the resort's 8,000 sqm organic gardens. The gardens also offer a chance to experience cooking workshops in authentic Rajasthani village style.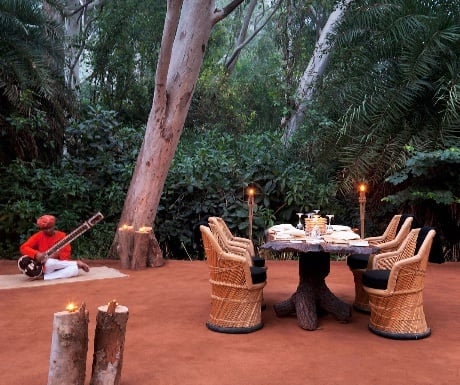 But while dining in the serenity of the main pool sounds enticing, it is the private dining venues at Amanbagh that elevate the resort to its position as one of India's finest. While our private dining experience was a special set up featuring a traditional Rajasthani thaali (plate) in our pool pavilion due to inclement weather, we did get a chance to scope out the other private dining venues, including: Jhilmil Baada, an open ground amid tall elephant grass and bamboo mashaals, where the royal cooks once served sumptuous feasts from the hunt to the Maharajas decorated by lanterns and fire; picnic options include the wilderness of Sariska National Park or the mud-walled guwaadi near the garden or near Bhangarh; but the resort's most splendid experience is the ancient chhatri, a dome shaped pavilion or canopy, near Ajabgarh dam.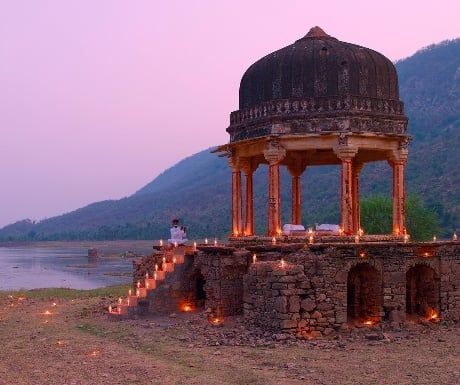 After early morning safaris and long hours though, we were quite happy at Amanbagh to sit by the pool, sipping their finest homemade ginger ale in the warm sun. For travelers to India looking to extend their stay in India or experience something beyond Rajasthan's series of forts, palaces and fort-/palace-hotels, Aman's wildlife tented camp and retreat is the perfect alternative or addition to the traditional Rajasthani itinerary.
Disclosure: Our stay was courtesy of Amanbagh.
Did you enjoy this article?
Receive similar content direct to your inbox.