You can have a surprisingly upscale experience in the rainforest, even when you're deep in the Amazon. The following is a list of some of the loveliest places to stay while you're on a trek through one of the most biologically diverse environments in the world.
These types of lodges have meals included as part of your stay. You'll get to try some exotic ingredients prepared by an experienced chef. Guests also get to select from guided tours with nature experts, who can give you a compelling introduction to the wildlife as well as the indigenous people.
1. Cotococha Amazon Lodge, Ecuador
At Cotococha Amazon Lodge, you can choose from 3 and 4-day trips. During a 4-day stay, your trip will include a visit to the AmaZOOnico Animal Rescue Center, where you'll get to see rainforest wildlife up close. Jaguars are some of the rarest species you can see at the center. Your tours will also take you to meet a Quichua family. On your visit, you'll learn about how these indigenous people survive in the rainforest.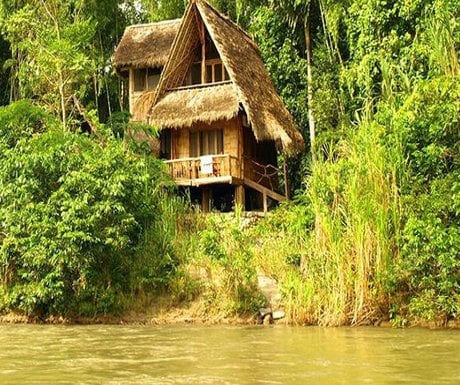 2. Posada Amazonas Lodge, Peru
Posada Amazonas Lodge is near the Tambopata Reserve, a gigantic reserve with lakes and rivers. This reserve is also home to the Ñape Ethnobotanical Center, where you will meet with a traditional Amazon shaman and see a demonstration on medicinal plants.
The lodges here are made with sustainable local materials, and you can unplug from modern amenities. You also have the choice to reserve a superior room that comes equipped with electricity and Wi-Fi access.
3. Inkaterra Reserva Amazonica Tambopata, Peru
Inkaterra Reserva Amazonica Tambopata is one of the most luxurious lodges you can find in the Amazon. During your stay here, you can visit the ENA spa for massages and exfoliating treatments that incorporate Amazonian ingredients. In addition to a picturesque outdoor dining room, there's also a daily teatime. Learn from on-site nature experts about the wildlife that surrounds the lodge, and listen to the rushing waters of the nearby Madre de Dios River.
4. Inkaterra Hacienda Concepción Tambopata, Peru
This hotel is on grounds that used to serve as a cocoa and rubber plantation, in the small town of Puerto Maldonado. From Puerto Maldonado you'll have easy access to the Tambopata Reserve. You can go on guided hiking tours and nighttime boating tours. There is a large, central lodge where guests can sip cocktails and socialize.
5. Inotowa Expeditions Lodge, Peru
While you're here you'll have access to bikes and kayaks that you can take on self-guided tours of the surrounding rainforest. Sign up for a boating tour on La Torre Lake, Cocococha Lake, or Tres Chimbadas Lake. The lodge has spectacular grounds and has a covered area where you can unwind in a hammock.
Zach Smith is CEO of Anywhere.
If you would like to be a guest blogger on A Luxury Travel Blog in order to raise your profile, please contact us.