Sunshine, superyachts, and Saint Tropez: can there be a more wonderful combination? But for many, the dream of a Saint Tropez yacht charter hovers just out of reach. Until now.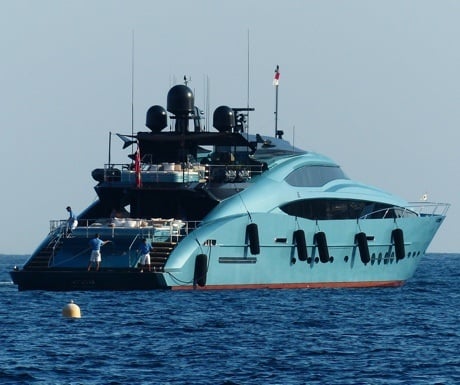 We know that not everyone has the time or funds for a leisurely week-long superyacht charter along the French Riviera. But that certainly doesn't mean you can't enjoy the best bit of all: a weekend superyacht charter in Saint Tropez. In Saint Tropez, you have a magical stretch of the Riviera which combines all that's special about the Cote d'Azur: a rolling Mediterranean landscape, soft white sand beaches, picturesque Provencal villages, glamorous boutiques, Michelin-starred restaurants, hedonistic nightclubs — and a whole lot of celebrity sparkle.
So if you want to experience the best of the French Riviera by yacht, but only have a weekend to do it in, then a Saint Tropez weekend yacht charter is your dream solution.
Here are our suggestions for how you might want to pass your weekend on a superyacht in Saint Tropez.
Friday
12 pm: Join your yacht in Saint Tropez port at lunchtime, and after exploring the yacht and admiring your stateroom, settle into a soft lounger on the sundeck as the yacht makes the short cruise to the famous Pampelonne Beach. Drop anchor and enjoy an unforgettable lunch on deck cooked by the yacht's private chef, and then spend a happy hour on the yacht's water-toys.
3pm: Go ashore to stroll along the beach, and stop in for a rose' at Bagatelle, Saint Tropez' hippest new beach club. If you want to get the party started early, head to Nikki Beach, where the DJ beats turn up the heat on the summer afternoon and vintage champagne sprays through the air like rain.
5pm: Get back on board and use the short journey time back to Saint Tropez port to get dressed up for your first night out in Saint Tropez. Ease into the evening with cocktails and canapés on the sundeck, enjoying the late afternoon light as it paints the pastel facades of the town golden and the sailboat masts chime around you in the warm summer breeze.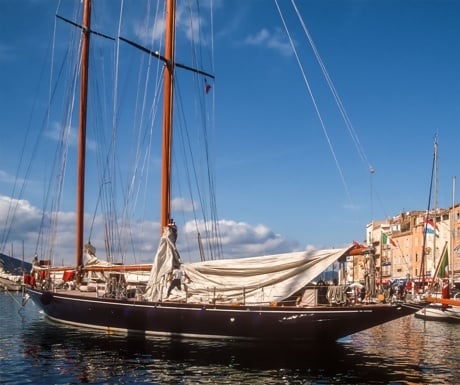 7pm: Step ashore and join the buzz and glamour of a night in Saint Tropez. Begin with an aperitif at Bar du Port, which hums with activity as the evening gets underway. In summer the atmosphere is electric in the early evenings as celebrities are spotted and old friends reunited, reminiscing about past summers and the legendary parties of Saint Tropez.
8.30pm: For dinner, follow in Picasso and Charlie Chaplin's footsteps and dine at Auberge des Marches, Saint Tropez' oldest restaurant. This is Provencal food at its finest, with delicate oven-baked fish with lemon and olives washed down with local white wine. You can't help but feel the beauty and history of Provence in this place as you dine under the lush grape vines on the terrace or in the dining room amongst thick wooden beams and pale stone walls.
10:30pm: After dinner, join the frivolity at the famous Brasserie des Arts, where music and happy people spill out across the pavement on summer nights.
12pm: If you're still full of energy and want to indulge in some of the famous Saint Tropez nightlife, there are three infamous clubs to choose from. The longstanding doyenne of the nightclub scene is Caves du Roy (referred to as 'Caves' by those in the know), where celebrities gather for a champagne-spraying fit of debauchery and dancing in a cavernous room at Hotel Byblos. The VIP Room is also a hedonistic haunt of the A-List, with a plush green and purple velour décor that somehow only works in a place like Saint Tropez. La Bodega de Papagayo is the final club on the list, with a famously hot and sweaty dance floor which heaves with beautiful people in the summer months. Dance until the early hours before walking back, tired and happy, to where your yacht sits lit up against the night, the glow of the Mediterranean dawn staining the distant horizon.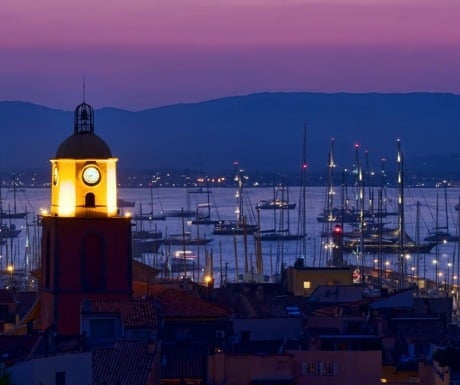 Saturday
10am: Wake up late in the Caribbean-like paradise of Ile des Porquerolles, where the captain has moved the boat while you were sleeping. Dive off the swim platform into deep cool waters to clear your dusty head, before returning to the yacht for a sumptuous buffet breakfast on deck. Either go ashore to walk among the tranquil pines, kayak around the coastline, or zip around on the jetskis, tracing giant circles around the yacht. After a leisurely morning, enjoy a fresh-grilled seafood lunch as you cruise back to Saint Tropez, admiring the magnificent scenery of the Gulf of Saint Tropez.
2:30 pm: Indulge in an afternoon shopping spree. The high-end shopping is concentrated around the 'golden triangle' which runs between Place des Lices, Rue Gambetta, and Rue Allard, where you'll find the glamorous flagship stores of Chanel, Dolce Gabbana, Louis Vuitton and Hermes. However, what makes shopping in Saint Tropez even more special are the local brands which carry that un-fakeable Saint Tropez mystique— whether it's a pair of swim trunks from Vilebrequin, a pair of sandals from Atelier Rondini, or a colourful necklace from Gas Bijoux.
4:30 pm: Round your relaxing day off with a spa treatment, either in town at the iconic Hotel de Paris, or up at on the hill at La Reserve, where an 800 square metre spa is a temple to wellbeing and offers breathtaking views across the coast.
6pm: Take a table at Le Senequier on the port, soaking up the afternoon sunshine as you enjoy some of the best people-watching on earth.
7pm: Head back to the yacht to get the party started on deck with cocktails, then dress up in your finest and head out for dinner. After last night's rustically delicious Provencal experience, tonight we suggest a journey into high French gastronomy at La Vague d'Or at La Pinede, one of only two 3 Michelin-starred restaurants on the French Riviera. Take a table in the opulent dining room, or dine on the large terrace among the pines on a warm summer evening, drinking in the mesmerising view across the Gulf of Saint Tropez.
11pm: If you want to carry on the mood of refinement into the late evening, drop by Octave Café, an elegant piano bar playing jazz music to an appreciative crowd of celebrities and locals. You may even see a celebrity take the stage — Liza Minelli has been known to get up and sing a few songs here.
12:30 am: Return to your yacht for a nightcap, or bring a few friends back to keep the party going.
Sunday
8am: Your yacht charter is drawing to a close, so get up early and head to Place du Lices for a coffee and croissant and to watch the locals playing pétanque under the plane trees. Have a stroll around town, enjoying the sleepy Sunday morning vibe, before heading back to the yacht for a cruise back to Pampelonne Beach for one last dose of sunshine and sea. Your yacht charter will conclude at 12pm, but keep the glamour going after you disembark with a long rose' lunch at the iconic Club 55 beach club, before heading to the airport and returning to reality.
As you see the French Riviera drop away below you and the plane turns its wings for the French Alps, you'll have a mindful of memories from your action-packed weekend in glittering Saint Tropez.
Alexander Coles is Co-Founder at Bespoke Yacht Charter.
If you would like to be a guest blogger on A Luxury Travel Blog in order to raise your profile, please contact us.