Top 10 museums on the French Riviera
The French Riviera is one of Europe's best destinations for cultural heritage, art and design with several world-class museums and historic sites with beautiful collections. From museums filled with artistic curiosities to important exhibits of maritime heritage, enjoy our definitive guide to ten of the best French Riviera museums.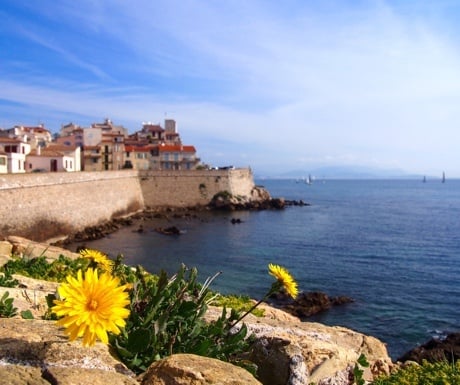 Musée International de la Parfumerie
Located in Grasse, originally a town that specialised in tanning leather, this niche museum built around the town's medieval remparts and an eighteenth century heritage-listed mansion focuses on the development, preservation and promotion of perfume.
Now considered the perfume capital of the world, Grasse's journey of scent is told through interactive displays of textiles, bottles, videos, panels and artwork. The museum's collections have been enriched by vintage perfume bottles from various civilisations, Marie Antoinette's beauty travel case and engaging olfactory scent stations. The connection with floral fascination extends to annual flower festivals in the town and regular events that partner it with the Jardins Musée International de la Parfumerie (JMIP) in Mouans-Sartoux.
Musée Océanographique
Set in a spectacular building perched on the cliffside of 'Le Rocher', the
Musée Océanographique
in Monaco is a museum dedicated to maritime heritage and marine research.
Inaugurated in 1910 by Prince Albert I of Monaco and once overseen by Jacques Cousteau who acted as the Director for thirty years, the collections showcase over 6000 live marine species, a shark lagoon, thousands of specimens of natural history, models, ethnographic objects and items from underwater exploration. The building is part of the Oceanographic Institute and is one of the most important aquariums in the world for conservation in the marine world, including research used in the repopulation of coral reefs and preserving endangered species such as clown fish, the Banggai cardinalfish and seahorses. The museum is designed to offer visitors the opportunity to learn about marine ecosystems by offering educational activities and workshops aimed at bringing children closer to ocean conservation and marine science. Special mention should be made to ensure you visit the panoramic terrace on the rooftop for spectacular views over Monaco, and that the museum is closed during Monaco Grand Prix.
Musée Matisse
Nice is home to several of the French Riviera's most unique galleries and museums such as the Musée des Arts asiatique nearby to the Nice Côte d'Azur Airport and the Musée d'art moderne et d'art contemporain (MAMAC) in the heart of the city. However, a short trip out of the central city allows visitors to experience fine collections of art at the
Musée Matisse
in the hilltop area of Cimiez.
Housed in a rust-red Genoese mansion with a magnificent trompe l'oeil facade, the museum has one of the world's largest collection of works from all chapters of Henri Matisse's career. Alongside examples of his first paintings, you'll find studies from his self-proclaimed masterpiece – his decoration of Chapelle du Rosaire in Vence – and designs from his paper cut-outs in later life that he deemed "drawing with scissors". Due to its location, a trip to Musée Matisse is splendid when combined with a visit to the adjacent archaeological museum and amphitheatre. Ardent Matisse fans can see his grave in the cemetery nearby.
Musée Picasso
The
Musée Picasso
(Picasso Museum) is one of the French Riviera's best-known attractions, nestled in the light-filled Château Grimaldi in Old Town Antibes. Pablo Picasso took up a studio there in 1946 and it's easy to see why the views of the salt-blasted remparts and Mediterranean light on the Cap d'Antibes inspired a flurry of artistic creation from him. Today, the collection of paintings, photographs, drawings and ceramics spreads over several floors including his Ulysse et les sirènes and iconic La Joie de Vivre hanging in his old studio space on the second floor.
Other artists are represented in the museum; Le Concert, the wall-sized painting by Nicolas de Staël was completed at Staël's house on the remparts on Promenade Amiral de Grasse and the museum's outdoor terrace highlights sculptures by Joan Miró, Bernard Pagès and Germaine Richier. Get up early, wander along the superyacht quays as the light brightens the town remparts and browse the nearby Marché Provençal first which is a delight to visit.
Musée Renoir
French Impressionist painter Pierre-Auguste Renoir purchased a park, Domaine des Collettes, in the town of Cagnes-sur- Mer and spent the last twelve years of his life there in his house amidst the orange groves, olive trees and umbrella pines. After his death, parts of the land were sold off until the town purchased his remaining estate in 1959 with the intention of transforming it into a museum. It serves as a snapshot in time with an opportunity to explore areas of his daily life such as his ateliers with easels and wicker wheelchairs, drawing room, dining room and bedrooms.
Renovated in 2013, the museum features fourteen paintings and thirty sculptures by Renoir as well as family photographs, two original paintings and sculptures donated by the Guino and Renoir families. The museum deserves the attention of tourists visiting the region; don't miss the lovely views across to the sea and Haut-de-Cagnes and the bronze Venus Victrix overlooking the expansive garden.
Musée d'Art Classique de Mougins
Founded in 2011, the
Musée d'Art Classique de Mougins
(MACM) owes its existence to the astonishing collections of Christian Levett, a British hedge fund manager and art collector. Located in the charming village of Mougins which is a cultural hotspot for its art and gastronomy, the museum has an eclectic array of paintings, drawings, and sculptures by artists such as Picasso, Andy Warhol, Yves Klein, Amedeo Modigliani and Damien Hirst displayed alongside beautiful objects from the ancient world.
Stroll the pretty village streets being stopping in to browse the collection of impressive antiquities, including Greek, Roman and Egyptian sculptures, decorative objects, coins, and jewelry, as well as the world's largest private armour and helmets collection. If your zest for classical art isn't sated, the museum is also the owner of bi-monthly magazine Minerva reviewing ancient art and archaeology.
Musée Masséna
The neo-classical villa
Musée Masséna
was originally built for Victor Masséna who was the grandson of Napoléon Bonaparte's Niçois Marshall, André Masséna. The villa edges manicured gardens on the famous seafront Promenade des Anglais beside an equally famous neighbour, the Hôtel Negresco.
Opened in 1921, opulent objects of furniture, art and history are displayed across three floors. The exhibits feature rare and interesting objects – among which are antique furnishings from the Massena family, a gold cloak worn by Napoléon's wife Josephine and documents detailing the history of Nice. Rare furniture offers a glimpse into First Empire lavishness; a pedestal decorated with gilt bronze sphinges by François-Honore Jacob (1770-1841), chief cabinetmaker of the First Empire and a mantelpiece clock by Lefèvre and Debelle. Ensure you check in advance on the Nice city website for upcoming events as the villa hosts regular temporary exhibitions and concerts, however be aware that the permanent exhibition signage is in French only.
Fondation Maeght
A wonderful contemporary art museum set close to the medieval village of Saint-Paul de Vence, the
Fondation Maeght
houses an important collection of twentieth century sculptures and paintings. Temporary exhibitions focus on art of the modern era, with a small proportion of the permanent collection on display.
The building's layout provides an outdoor setting for many of the artworks creating continuity between art, architecture and nature. Artists were invited to contribute works to the exhibition rooms, sculpture garden, the courtyards, patios, the chapel, library and bookshop. Look for ceramics from Fernand Léger, Les Renforts by Alexander Calder in the sculpture garden, the labyrinth of Miró, Alberto Giacometti's sculptures and the stained-glass windows by George Braque in the chapel.
Musée Jean Cocteau
No matter how short or long your stay on the French Riviera, the
Musée Jean Cocteau
on the seafront in Menton will ensure a memorable experience. Cocteau was a French Riviera heavyweight on the creative scene, transferring his artistic visions onto walls at the Chapelle Saint-Pierre in Villefranche-sur-Mer and Villa Santo Sospir in Saint-Jean-Cap- Ferrat.
The architecturally-striking Musée Jean Cocteau was inaugurated in 2011, founded on a sizeable donation of works from Séverin Wunderman, an American collector. Visitors can enjoy almost a thousand items by Cocteau, works linked to Sarah Bernhardt (his first great star of the theatre) and hundreds of works created by artists close to the poet including Picasso, Modigliani and Christian Bérard.
Musée National Marc Chagall
Marc Chagall's projects of colour and light are enhanced in architect André Hermant's building with understated walls and large picture windows illuminating the lithographs, sculptures and paintings. Many of the works were donated by Chagall himself; it's recommended to take advantage of the free audioguides which bring Chagall's biblical and spiritual inspiration to life in the largest public collection of works by the artist in the world. Best of all are Chagall's flagship collection of seventeen canvases representing the Biblical Message and the blue stained glass walls in the auditorium.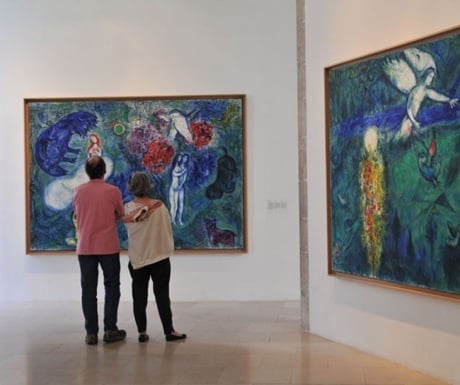 The
Musée Chagall
is not one of Nice's municipal museums, therefore it is not included in the local 'Pass Musées de Nice' (a combined museums pass); you must either purchase single entry or buy a Côte d'Azur Card which includes entry to most of the museums listed above.
Alexander Coles is Co-Founder at Bespoke Yacht Charter.
If you would like to be a guest blogger on A Luxury Travel Blog in order to raise your profile, please contact us.
Did you enjoy this article?
Receive similar content direct to your inbox.