As the world's sixth largest country, Australia's size means you can spend years exploring and still not scratch the surface of what it has to offer. Most visitors tend to stick to the ever-popular East Coast, which stretches from Cairns at the top to Melbourne at the bottom. Whether you're looking for a glamorous beach retreat, a cosmopolitan city adventure or an idyllically peaceful hideaway, you'll find it all down under. From north to south, here are five of the most unique luxury hotels on Australia's East Coast.
1. Sofitel Noosa, Noosa Heads
The upscale beach town of Noosa is billed as the Australian Hamptons, and it's not hard to see why. With world-class restaurants, a beautiful white-sand beach and celebrity sightings aplenty, Noosa is almost impossibly glamorous. While luxury hotels here are a dime a dozen, there's only one truly five-star hotel – the Sofitel Noosa.
The 176 guest rooms, villas and suites here are as spacious as they are luxurious, and the design of the hotel means they're flooded with bright Queensland sun. Based in such spectacular natural surroundings, the Sofitel Noosa offers visitors the best of both worlds: guests can sip cocktails at the swim-up pool bar, cross the road for quick dip in the ocean, and then return to the hotel for a blissful pamper in the AQUA day spa.
One standout of the Sofitel Noosa is its restaurant, the renowned Noosa Beach House from Australian celebrity chef Peter Kuruvita. Mixing fresh local cuisine and refined international techniques, Noosa Beach House has an entirely unique approach to gastronomy. The degustation menu best reflects their style, where the decadence of six delicious courses and an amuse bouche is heightened by matching wines. An unmissable experience for foodies and sun-worshippers.
2. Elements of Byron, Byron Bay
The popularity of Byron Bay transcends age, geography and culture; it's one of those places that's just as popular with backpackers and surfers as with luxury-seekers. Though its beaches are beautiful, what really makes Byron Bay unique is its laidback, haute-boho vibe. Many hotels tap into the tourist interests of health and wellness, but none do it as well, or as luxuriously, as Elements of Byron Resort & Spa.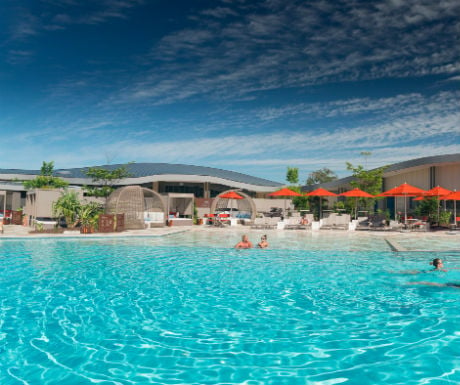 Featuring 103 private beach villas scattered through beautiful beachfront gardens, Elements of Byron offers guests an exclusive experience that's pervaded by genuine eco-conscious credentials. The complimentary sunrise yoga class, where you can watch the early morning waves crash in from the downward dog, sets you up for the day, and any anxieties that don't dissipate from this serene environment can be massaged away with a treatment at the Osprey Spa.
The lagoon pool has heated spas, hanging lounges and poolside bures, and is the perfect place to while away the day – that's if you don't fancy kicking back at the beach lounge. With a strong focus on seasonal, regional cuisine, the onsite Graze restaurant serves up mouthwatering food, and afterwards, the Drift Bar is the perfect place to enjoy a nightcap by the firepit.
3. Establishment Hotel, Sydney
Almost all international visitors to Australia will find themselves in Sydney at one point, and this sophisticated city can't be missed. There are countless luxury hotels dotted throughout this modern metropolis, but if you're looking for something truly exceptional, head to the Establishment. Located a stone's throw from the bustling harbour and Sydney Opera House, this super-stylish boutique hotel offers a city experience for the more discerning traveller.
Aside from its elegant rooms, Penthouse suites and top-of-the-range gym, the Establishment Hotel boasts many of the city's best bars and restaurants. For dinner, guests can choose between exceptional Modern Australian cuisine at est., award-winning Japanese at sushi e, or Cantonese at Mr Wong, regularly voted one of Sydney's best restaurants and almost always packed with the city's most beautiful people.
Afterwards, you can head upstairs to the achingly cool Hemmesphere cocktail lounge, enjoy more intimate drinks at Tank Stream bar, or go underground to Palmer & Co., a 1920s-style clandestine bar that's like entering a time warp to the era of prohibition. As exciting and vibrant as Sydney is, Establishment is one of those places where it can be hard to leave the actual hotel.
4. Paperbark Camp Hotel, Jervis Bay
Just two hours drive from Sydney is Jervis Bay, the jewel in the crown of the Shoalhaven area of astounding natural beauty. With calm, crystal clear waters, pristine beaches and protected bushland that's home to all manner of wildlife, it's hard to imagine a more beautiful place. Paperbark Camp Hotel, while not strictly a luxury hotel, is undoubtedly the best way to see this area.
This is glamping at its very finest – a chic, safari-style retreat which offers guests instant access to the area without scrimping on luxury. The canvas tents are situated above ground to catch the warm sea breeze, and all possess private en-suites, hardwood floors, solar powered lighting, full insect screening and high-quality linen. In the centre of the camp, among the treetops, is The Gunyah restaurant, where guests can enjoy a sumptuous candelit dinner while enjoying the sounds of the bush at night. An unusually luxurious outdoor experience.
5. The QT Hotel, Melbourne
Melbourne is arguably Australia's trendiest city – a juxtaposition of elegant Victorian architecture and soaring skyscrapers, pretty gardens and graffiti-strewn streets, vintage stores and grungy clubs – but what ties it all together is its unique sense of cool. Melbourne has many classy and good-looking hotels, but the only one that matches its inimitable style is the QT Hotel.
Located in an old cinema, the QT Melbourne is a boutique Australian hotel with effortless Parisian grace. In a city famous for its art, the QT doesn't let the team down, and eye-catching works of art (think suspended neon lights, moving abstract shapes on a screen and a wall of 6,000 books) can be found throughout the hotel. The rooms are well-appointed and just as luxurious as you'd hope – and even getting to your room is an experience thanks to the elevators that keep cracking one-liners.