By
Karyn Wofford
on Apr 27, 2017 in
Attractions
,
Going Out
,
Health & Safety
,
North America
,
North Carolina
,
Regions
,
Spas & Pampering
,
Speciality Travel
,
Travel Miscellany
,
USA
Asheville, North Carolina; an artistic town rich in locally sourced dishes, diverse culture and wellness attractions. Browse Trip Advisor, and you'll find an overwhelming list of spas to choose from. While most are pretty great, there are a few that are specifically fascinating because of their unique treatments, breathtaking architecture, or both.
Asheville Salt Cave
The concept of the Asheville Salt Cave is quite simple; you relax for 45 minutes in an unworldly room composed of large, Himalayan salt chunks. Everything in the cave is completely natural, including the water features that actually "feed' the salt, allowing it to grow. Since materials only come from nature, bacteria cannot manifest itself in the salt, making it a truly purifying experience.
The 9 foot walls are covered in a cascade of crystal-like salt rocks, while ambient light protrudes through, creating a rather calming effect. The floor is composed of loose polish and Dead Sea Salt which provides reflexology treatment to the feet.
Salt therapy improves circulation, respiratory function, immune strength, brain health, sleep quality while reducing stress, migraine occurrence, allergies, snoring, infections and digestive issue, just to name a few.
Wear comfortable clothing and prepare to relax in zero gravity chairs or cuddle up with provided blankets on the floor. Little ones are welcome to experience the cave's benefits as well.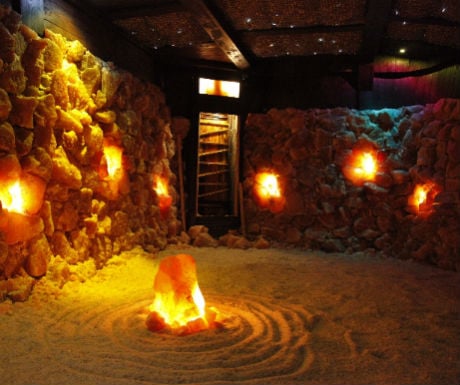 The Omni Grove Park Inn
If swimming in a mineral pool surrounded by cave-like walls, waterfalls, fiber optic stars and underwater music sounds like the ultimate spa day, then the Spa at The Omni Grove Park Inn may be right up your alley. The pool is just the tip of the iceberg; gender specific lounges feature a sauna, steam room, inhalation room, contrast pool, and vanity area complete with all the luxury toiletries you could need. Little extras like iced towels infused with essential oils and lounge snacks from nuts to teas make the experience extra special.
If you are on a romantic vacation, you can lounge together in the coed area, complete with several additional mineral pools, hot tubs with massaging waterfalls, and a heated outdoor pool with a gorgeous mountain view. Try to be there at sunset.
A variety of treatments are available in addition to spending the day enjoying spa amenities. However, you don't need to book a massage to enter, a day pass can be purchased if you just want to swim in the pools or detox in the sauna.
Still Point Wellness
If you are a fan of the Netflix hit show, Stranger Things, you already know what a sensory deprivation tank is. While it likely won't take you to alternate realities, real life "float" tanks can give your senses much needed rest by removing external distractions.
While Still Point offers your typical spa services such as massages, their flotation tank, which looks like something out of a sci-fi movie, is their most intriguing amenity. Before entering the somewhat intimidating metal room, an instructor carefully informs you and makes time for any questions you may have about the experience, then into the tank you go.
A half ton of Epsom salt allows the body to immediately float on the surface of the body temperature water. The area is dark and earplugs are provided to remove all sensory distractions. Your body taps into a deeply relaxed state as you feel somewhat cradled by the water itself. For some, it's a deeply spiritual experience, one of concentrated relaxation.
This floatation practice dates back ages; people traveled to places like the Dead Sea to reap the healing powers. Travelers still retreat to the area today. Sensory deprivation floating eases anxiety and pain, making it a popular alternative to traditional treatment and an amazing addition to a spa getaway.
Shoji Spa
Built around nature to inspire and rejuvenate, Shoji Spa delves into the calming nature of Japanese culture. Thermal, outdoor hot tubs are one of the center focuses of Shoji, as hydrotherapy is known to have rehabilitative and relaxing effects. While the warm water literally melts away stress, you are surrounded by nature and views of the Blue Ridge Mountains.
A cedar hot sauna, cold plunge pool and warm teas are part of the ancient therapy regimen at Shoji, and a variety of massages from deep tissue, Shiatsu to Thai, accompanied with Japanese herbal treatments, further relax the body and soul.
Gingergrass Bamboo Scrub, Hinoki Oil, and Japanese Grapefruit oil are some of the exotically luxurious items used during your massage or body treatment. You can also book a stay in one of the few cozy suites, but since there are only three, you'll need to plan ahead.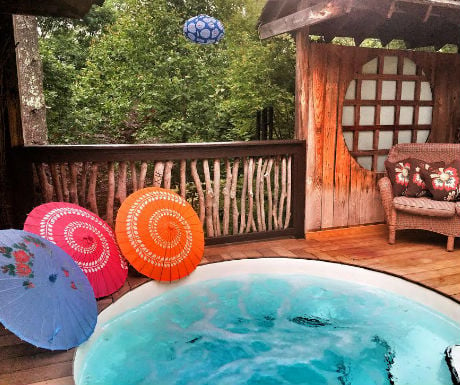 Bend and Brew
What started as a simple concept in Asheville has boomed into a full-blown phenomenon. Bend and Brew started under the notion that craft beer and yoga simply belonged together, and if you've ever been to Asheville, you understand the mentality. If I could describe Asheville in three words, I'd say "Artistic, wellness and food", and I'll toss beer into the food category.
Bend and Brew is a yoga group, so to speak, that moves around to different breweries, hosting a yoga class then tasting beer afterward. Tying beer into yoga makes exercise an even more rewarding experience. This quirky notion also brings people from one group of interests to another. It's just really fun.