Dont travel to Salento searching for Four Seasons or Mandarin Oriental Hotels, as you wont find them. Salento is all about boutique hotels, family run businesses and authentic experiences far from the madding crowd. It is all about simplicity and slow-living. I have traveled through white-washed villages and extensive olive groves to find 5 of the best boutique hotels in Salento.
Masseria Montelauro, Otranto (LE)
A restored 19th century masseria -farmhouse – located on the outskirts of the fortified coastal town of Otranto. The Owners, Elisabetta Massaro and her daughters, have created a clean yet sophisticated and blissful retreat, decorated in full respect of the local traditions and in typical Salentino Style, with its vaulted ceilings, white-washed walls and natural tones.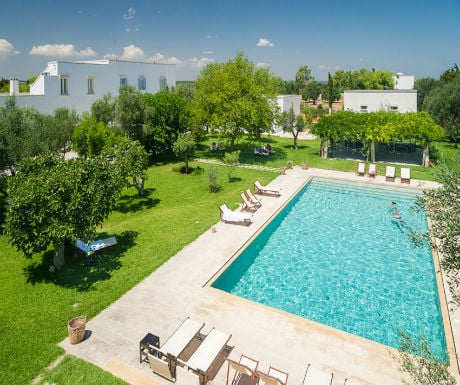 Surrounded by olive trees, orchards and landscaped gardens, the secluded hideaway offers total privacy and and attentive, personal service. Even if you are not staying at the hotel in summer, it is worth trying to book a table for a candle light dinner under the pergola.
Tenuta Centoporte, Giurdignano (LE)
Dominated by the color white, this simple yet elegant resort is located a few minutes from Otranto, surrounded by fields and olive trees. Tenuta Cento Porte was once an abbey, owned by Basilian Monks around the V or VI century. Completely restored with all modern comforts, the boutique hotel has been decorated in typical Salentino Style using reclaimedfurniture, white drapes and natural linen.
With a spa, outdoor pool with incorporated hot tub and a restaurant serving freshly prepared Apulian dishes, this is certainly an ideal location to relax or explore what Salento has to offer.
Naturalist Bio Resort & Spa, Martano (LE)
A charming eco-resort situates amid 13 hectares of centennial olive trees, Mediterranean fragrances, vineyards and organic cultivations of aromatic and medicinal plants as well as its well known aloe vera plantation.
Naturalist is located in the countryside outside Martano, at the very heart of the Greek Salento. The resort is the result of a painstaking and careful restoration of a rural hamlet. The original dry stone walls and trulli structures as well as all original features have been preserved, guiding you back in time and yet providing its guests with all modern amenities such as a picturesque wellness centre and large swimming pool.
Each of the 8 bedrooms has been individually and tastefully decorated with antique furniture, reclaimed materials and local embellishments.
Naturalist is the perfect retreat for those in search of slow living and a reinvigorating setting.
Antica Masseria del Fano, Salve (LE)
On a land steeped in history, tracing back to when the Basilian Monks used to reside here in 727AD, lies Masseria del Fano, whose name comes from a Latin noun meaning place of the gods. A good omen.
The Masseria has been completely restored by renown Salentino Architect Raffaele Centonze in full respect for the local traditions, taste and materials, including the preservation of its lookout tower dating back to 1577 and erected by the princely family, The Gonzagas. The property, surrounded by 1500 olive trees producing an award-winning extra virgin olive oil, is now a luxury resort which functions as a Bed and Breakfast or can be rented as a whole on an exclusive basis.
Masseria Appid, Corigliano dOtranto (LE)
It doesnt get more authentic than Masseria Appid, whose name derives from aGreek noun defining a type of pear fruit. Dating back to 1600, the masseria was once a fortified lookout tower. It later became the summer residence of Barons from Martano, a nearby town.
The domain developed through the centuries into a rural hamlet and in the 1980s it was acquired by Ivana and Massimo, who have lovingly and passionately transformed it into an agriturismo (rural resort). Surrounded by fruit orchards, wisteria archways and fields, the resort has gained popularity as an events destination. The excellent restaurant headed by Chef Felice Tridente has been catering for years for weddings, private functions and conferences.
Paola Fiocchi Van den Brande is Director ofPassepartout Homes Ltd.
If you would like to be a guest blogger onA Luxury Travel Blogin order to raise your profile, pleasecontact us.