It's not easy to find 5-star luxury in Cuba — the island is still developing. But you can find some of the best rum cocktails in the world here, and you'll have a taste of Cuba's glamorous past in every sip. While you're in Havana, make sure to order some drinks in the city's most storied bars.
Sloppy Joes
Like many famous bars in Havana, Sloppy Joes hit its stride in the 1930s when it served as a hotspot for Americans that wanted a break from Prohibition in the United States. Clark Gable, John Wayne, and Spencer Tracy all made appearances here. This bar shut down after Castro came to power and Americans were no longer welcome.
Sloppy Joes reopened its doors in 2013, and its restoration carefully recreated the appearance of the original establishment. As soon as you walk in, you'll notice the long, single-piece mahogany bar and cabinets well-stocked with liquor.
Floridita
Floridita opened in 1817. It is one of the most famous bars in the world, and the birthplace of the daiquiri. This bar is a favorite haunt of Ernest Hemingway. You'll see a statue of him leaning against the bar, a friendly (perhaps somewhat tipsy) grin on his face.
On a hot day, not much can compare to a cold mixture of lime, sugar, and light rum. Order a daiquiri in the spot where bartenders first perfected the recipe.
La Bodeguita
La Bodeguita is another Cuban bar made famous by Hemingway's patronage. This bar also has its own signature drink — the mojito. Bartenders prepare glasses of sugar syrup, lime, rum, soda water, and fresh sprigs of muddled mint as fast as they can to keep up with the constant demand.
It's typically quite crowded here, but it's worth a visit for the bubbly atmosphere.  While you sip, you can listen to a band playing just outside the bar in the alleyway. Over the years, guests have paid a little extra for the privilege to write their names on the walls. Look for the signatures of Hemingway, Salvador Allende, Pablo Neruda, and Brigitte Bardot hiding among them names of countless tourists.
Museo del Ron
While you're here, you'll take a tour of a distillery inside of an 18th-century museum. On this tour, you'll learn about how Cuba's distillers transform sugarcane into a smooth-tasting liquor. This tour includes a rum tasting, and after the tour, you can go to the gift shop to purchase bottles of Havana Club.
Hotel Ambos Mundos
Follow in Hemingway's footsteps to Hotel Ambos Mundos, where the author lived for years during the 1930s, and began writing his novel For Whom the Bell Tolls. You can still see his room, preserved to look as it did during his stay.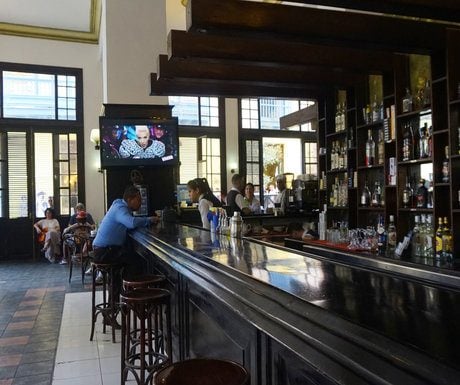 Hostal Los Frailes
Nearby Plaza de San Francisco,  you can get a drink at the cozy bar in Hostal Los Frailes. They set the atmosphere of the hotel with religious art, stained glass, and wrought iron. You'll see statues of monks seated in the lounge, and the staff here dresses up as Franciscan monks. Have a few pious sips before you wander around the lovely colonial courtyard.
Hotel Nacional de Cuba
Hotel Nacional is one of Havana's legendary hotels, where mobsters and Hollywood stars would mingle in the 1950s, before Castro's revolution. Today, you can visit the Bar La Terraza on the hotel's rooftop terrace and soak up the atmosphere and the Art Deco architecture. Before you leave, wander the Hall of History and see pictures of some of the most famous guests who stayed here during the hotel's heyday.
Zach Smith is CEO of Anywhere.
If you would like to be a guest blogger on A Luxury Travel Blog in order to raise your profile, please contact us.