Travelling alone may be one of the best ways to treat yourself, and only yourself; this is an opportunity to focus on what you want and exploit it to the maximum. Solo travelling often pulls us out of our comfort zone, and as a result it teaches us a completely new perspective of the world through the people we meet, things we experience, and it also shows us what we are capable of. Nevertheless, fantasizing about solo vacations is very rarely translated into reality because travelling alone often seems more complicated than travelling in a group. However, this doubt is easily overcome, and where better to bring these fantasies to life than in the Enchanted Islands of the Galapagos Archipelago? Below, a few of the benefits of solo travelling in this stunning archipelago are listed.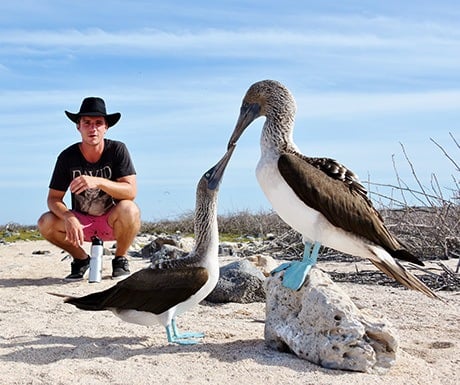 Financial advantage for solo travellers
Travelling solo is first and foremost complicated from a financial point of view; at least, normally it is. A room for one, transport for one, a tour for one…discounts are almost never offered for solo passengers and, if anything, guides charge more for one person in order to make their time worthwhile.
However, by doing the right research, visitors to the Galapagos Islands can find expedition vessels that are aware of the challenges that solo passengers face. Certain companies offer special advantages for guests travelling alone, including single rooms and a discount in the event the single rooms are already booked.
More diverse points of view, a richer experience
Once travellers get past the financial hurdle, their next concern is being alone – can the experience truly be enjoyed if there is no one to share it with? However, you will certainly have no problem finding company in the Galapagos Islands. In addition to the sociable animals that approach you as if to say hi, thousands of tourists visit the Galapagos every year from all over the world, including researchers, professional scuba divers and vacationing families. On your expedition vessel, you will meet people with a variety of interests and unique perspectives to not only be part of your experiences, but to enrich them thanks to unique opinions that you would otherwise never hear. Take the chance to put yourself out there and spend some time with people wholly different from yourself, widening your perspective on life and the way you see the world.
See the islands how you want to see them
Would you rather snorkel than go in a glass-bottom boat? Relax on the beach than kayaking? Enjoy a drink under the stars than wake up to see the sunrise? Expedition vessels offer guests a variety of options, and travelling alone allows you to mould, develop and adapt your Galapagos adventure to exactly what you are looking for. But even more so, it allows you to treat yourself more than you ever imagined. We all deserve time to focus entirely on ourselves. Every step you take through these islands will be for you, accompanied by the song of Darwin Finches and the sea breeze while surrounded by crystalline waters containing some of the richest sea life on the planet.
The Galapagos Islands have made their mark not only across the world, but also across time, shaping our understanding of life and our role in the world. Allow yourself to take a few days to feel their magic and lose yourself in your own thoughts among some of the most unique life on the face of the earth.
Adrián Peñafiel is Corporate Commercial Vice-President at Metropolitan Touring.
If you would like to be a guest blogger on A Luxury Travel Blog in order to raise your profile, please contact us.