Cigar smoking as a pastime is gaining popularity compared to five years ago. The reasons are simple – a pleasant experience generally with good friends in a relaxed atmosphere with an adult beverage. And, it is an activity that cigar smokers enjoy while traveling.
With over 2200 in attendance, The Rocky Mountain Cigar Festival held the 3rd weekend in August proves cigar lovers will go far and wide to find the next best smoke. The festival takes over the outside grounds and pool by the convention center of the Omni Interlocken Resort near Denver. Now in its' 8th year, the festival attracts participants from all 50 states in the U.S. and 16 countries. It always starts with a big cigar party the night before, then the all day festival the following day. Attendees can choose from general admission all the way up to an exclusive VIP area with its' own seating, food, and bar. And, each level of the ticket comes with a certain number of premium cigars and related goodies.
The real draw of the festival is not the big cigar names, but rather the cigars and spirits which are trying to gain notoriety with their new smokes and libations. Stopping by each of the 113 booths and vendors takes lots of sampling time, hence the all day affair.
Squeal Spiced Black Rum
Squeal Spiced Black Rum really is a bit different than other rums, with a lower sugar taste/content, but balanced by a hint of peach and vanilla. And, it's not just a trend; they have won numerous gold medals in the craft spirits division over the last two years.
Island Jim Cigars
Part of what makes a fun cigar is how the cigar is wrapped and packaged. Oozing with fun, Island Jim cigars is primarily a medium, Nicaraguan tobacco with a really zippy package. Their Leaf by Esteban is a great smoke with a unique tobacco leaf wrapper and presentation. The perfect gift for yourself?
Foundation Cigar Company
Sometimes in cigars, taking a superior tobacco and giving just a little more attention to manufacturing and the wrapper, the cigar is a hit. The Foundation Cigar Company takes tobacco from their 50-acre property in Windsor, Connecticut then sees the process from start to finish. They have popped the top on highly regarded sticks with their hand-made Wiseman and Tabernacle cigars.
Odyssey Beerwerks & Tap Room
A good cigar is optimized with a good libation. The Odyssey Beerwerks and Tap Room in Arvada, Colorado took that German tradition in beer making and gave it a mile-high kick in the hops. For a classic, the Heliocentric Hefeweizen is a good everyday brew, while the Psycho Penguin is a robust porter that exudes malt and vanilla.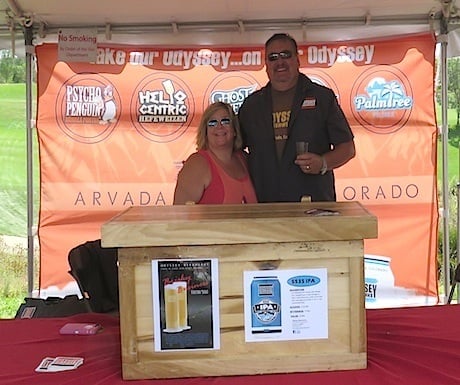 Casa Turrent
Mexico has some pretty good tobacco, and one of the largest operations is Casa Turrent, started in 1880. Known for high-end cigars at a moderate price, their 1901 cigar was #12 in the top 25 cigars this last year.
Xikar Accessories & Lighters
If you are going to smoke them, you have to light them. Xikar, the undisputed leader in lighter technology, unveiled two new products at the RMCF. The first was high-performance butane designed to give all butane lighters a hot kick, especially at altitude. Their newest lighter, the HP4 Pocket Quad, takes four flames and concentrates them at a single point for ease of lighting any cigar in just about any condition. Oh yeah, it comes in a bevy of colors sure to please any car enthusiast with the standout Daytona Red.
Yayabo Cigars
Yayabo Cigars is a boutique brand, which directly translates into we don't make everything, but whatever we make is guaranteed to be darn good. Their newest cigar is the Admiral, with the blend incorporating binder and filler tobacco harvested directly from farmland owned by Yayabo Cigars and aged for four years before being rolled. You get the feeling that each cigar has a passionate story as its' inspiration with Yayabo.