Iceland has become a much more popular destination in recent years – and deservedly so! Its landscapes are absolutely jaw-dropping, it offers out of this world scenery and, of course, the Northern Lights. Many people visit Iceland as a long weekend and base themselves in Reykjavik, doing the Golden Circle Tour and visiting the Blue Lagoon. This is a fantastic trip but if you can find a couple more days you can explore Southern Iceland and take jaw-dropping to a whole new level!
To really get the most out of Southern Iceland I so highly recommend that you hire a car. It is incredibly easy to drive around Iceland – there is one main road and everything is very clearly signed. As Iceland is so extraordinary there are many places to visit off the main road that would be major tourist attractions in other countries but are hardly mentioned in guidebooks! A car gives you access to these.
I would also suggest picking your car up at Keflavik airport and then make the 5-6 hour drive over to Hopn on the day you land. You can then work your way back across Southern Iceland.
A much higher chance of seeing the Northern Lights
A key reason many people travel to Iceland is to try to see the Northern Lights. This amazing natural phenomenon is well worth travelling thousands of miles to see! However, it is very tricky as being able to see the lights depends on many uncontrollable factors – mostly around the weather but also based on where you are located. The lights are much more about cloud cover and pollution than anything else. If you are based in Reykjavik you are far less likely to see the lights and have to rely on taking a bus trip out of town – which can be very cold and has a lower success rate.
However, in Southern Iceland away from Reykjavik you have a much higher chance of seeing the lights. Several hotels in the area offer Aurora wake up services – basically if you ask they will call your room and wake you up so you can go and see the lights when they come out. Also, at my favourite hotel for such things – Hotel Ranga in Hella – even if it is the middle of dinner the entire restaurant will clear out to see the lights and all food is put on hold! Hotel Ranga even has special warm suits for guests so you can be more comfortable when viewing the lights.
Icebergs
Southern Iceland is home to two of the best things I have seen in my travels – Diamond Beach and Jokulsarlon Glacier Lagoon. Even better these two amazing sights are literally across the road from each other! One of the things that always blows me away in Iceland is that these amazing natural highlights are virtually on the main road!
Jokulsarlon Glacier Lagoon is difficult to explain. It is essentially a lake – lagoon – that contains icebergs of all different shapes and sizes. The construction will change depending on the time of year you visit. In the heart of winter, the entire lagoon will be iced over. This has made it perfect for Hollywood and James Bond films and Lara Croft were shot here.
In summer, of course, the icebergs are not as magnificent. I went early October and this seemed to be a great time to visit. There were stunning icebergs but I was still able to take a boat ride through the lagoon to see even more icebergs. I was blown away by the colours. Of course, I had thought of icebergs as ice and begin essentially translucent. They are actually rather blue and then have quite a bit of black through them from all the lava. They resemble works of art!
Once you have visited the lagoon hop in the car and head to the other side of the road and Diamond Beach. There are 2 Diamond Beaches – separated by water and you can park on either side of the bridge to reach them. I don't think there is a great deal of difference between the two but we chose to visit the beach on the same side of the bridge as Jokulsarlon.
The Diamond Beach is black sand (again this comes from lava) and there are massive icebergs just randomly perched on the beach and some in the water. It feels more like visiting an amazing artwork installation than a beach!
If you do decide to stay at Hotel Ranga on your Southern Iceland visit (it is a great central point and has an excellent reputation for frequency of northern lights sightings) Jokulsarlon and Diamond Beach are about a 3-hour drive. I would suggest pre-booking a boat trip on Jokulsarlon so you don't have to wait around in the cold. The boat trips last about 40 minutes.
Fjardrargljufur Canyon
I randomly read about Fjardrargljufur Canyon in one travel blog when I was researching this trip. It sounded interesting so I marked it on the map and didn't think about it again until the day we visited. After all, I had never read about it being a major attraction in Iceland.
It says so much about Iceland that this stunning canyon is a tier two/three tourist attraction! The canyon is absolutely stunning. It is easily accessible from the A1 and has a good sized parking area.
Once you have parked it is then about a 10-minute walk on a clearly marked track to reach the beginning of the canyon. From there it is about another 10-15 minutes to reach the top of the canyon. There are several viewing spots on the way and I suggest stopping at all of them for photos.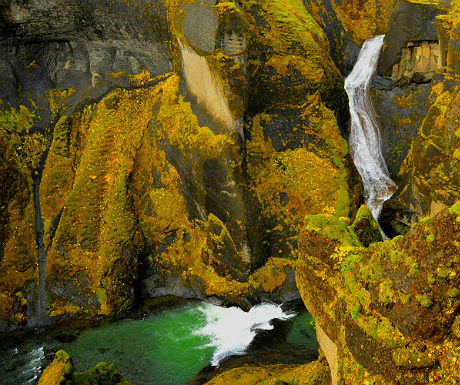 The highlight is at the top of the canyon where you can see three waterfalls intersecting. This all happens against amazing black rock and is stunning. The vista around the canyon is classic Iceland big sky and stunning.
You can still do the Golden Circle tour but with more
The Golden Circle is the quintessential Iceland day trip – it includes Geysir, Gullfoss and Pingvellir. It is a very easy trip to do on your own with a car. Personally, I didn't find Pingvellir that interesting but that is very much about preferences so do check it out and decide for yourself. Geysir is, of course, famous for its exploding, well, Geysirs. And Gulfoss is Iceland's biggest and most impressive waterfall.
When you do the trip from Southern Iceland rather than Reykjavik there are also a couple of other sites you can easily fit into the day (all the sites on the Golden Circle trip are free entry so there are no queues etc). The first of the two highlights for me was Kerio or the Volcanic Crater Lake. Again, I had never heard of this lake and stumbled upon it in another blog post.
Kerio is absolutely stunning! Get off the A1 at Road 36 towards Geysir and you will literally pass it. The lake does have a small entry fee. From the entrance, it is about a 5-minute walk to get to the lake which is absolutely stunning. The colours are magnificent! We went on a pretty lousy day in terms of light. If I can get photos this colourful in that kind of weather imagine it in good light! You can walk around the lake and then head right down to the bottom. This takes about 30 minutes if you stroll.
The second highlight was Skeljafell waterfall. We stumbled across this whilst looking for another waterfall which required a one hour walk to access (didn't fit the schedule!). The drive to reach Skeljafell was stunning. We literally did not see another car and the autumnal colours were gorgeous. Skeljafell is easy to find and has parking. From the car park, it is about a 5-minute walk and you reach this gorgeous double waterfall which we had completely to ourselves!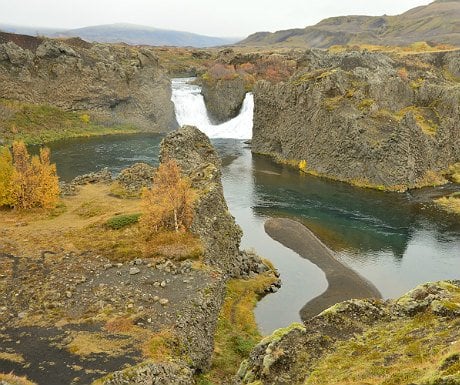 Snowmobile on Europe's largest glacier
Iceland is home to Vatnajokull, Europe's biggest glacier. It is difficult to get your head around how massive these glaciers are! The best way to experience a glacier is to join a snowmobile tour and literally motor across it! There are many tours of this type in Iceland across its major glaciers and it is well worth doing – this is not somewhere you can take a hire car!
The white of the glacier against the blue of the sky is absolutely stunning! Safety is of a high standard and you are issued with very warm suits, helmets etc etc. It is VERY cold but well worth it to drive across a glacier!
Southern Iceland is an otherworldly stunning place! Going beyond the typical long weekend in Iceland to explore its extraordinary sites is a decision you won't regret!
Amanda OBrien is Owner of The Boutique Adventurer.
If you would like to be a guest blogger on A Luxury Travel Blog in order to raise your profile, please contact us.