Discover the neighbourhoods of Barcelona
Visiting a new city can sometimes be a daunting experience, especially when you don't really know your way around. Although
Barcelona
is indeed a large city, once broken down into smaller neighbourhoods, finding your way around is in fact not such a difficult task. The beauty of Barcelona is that although the different neighbourhoods (or barris in Catalan) connect to one another, they all have their own characteristics that make them unique. To help you choose perhaps where to stay or simply where to visit during your time in the Catalan capital, we've collated an in-depth guide to Barcelona's popular neighbourhoods.
El Gòtic
The Gothic Quarter makes up part of Barcelona's Ciutat Vella (Old Town) and stretches from La Rambla to Via Laietana, and from the port to Ronda de Sant Pere. Amongst its winding streets and secret squares, there are many quirky boutiques and vintage stores, especially on Carrer d'Avinyó. Once you have explored the smaller shops, head to Portal de l'Àngel to discover the more well-known high street shops, such as Zara and H&M, and shop 'til you drop!
Barcelona is known for being home to some of the most incredible architecture in the world, a lot of which can be found in the Gothic Quarter, such as the beautiful Barcelona Cathedral de Barcelona, located in Pla de la Seu. As the oldest area of the city, you can also find remains of Roman walls just in front of the Cathedral, and many medieval buildings, as seen on Carrer del Bisbe. Plaça Reial is definitely one of the Gothic Quarter's gems. This grand square is lined with restaurants and bars, and makes the perfect place to relax and grab a bite to eat or drink on a sunny day. Another place of interest in this neighbourhood is Plaça de Sant Jaume, where the town hall (Ajuntament de Barcelona) can be found. As well as this, there are plenty of cool bars and restaurants amongst El Gòtic's winding streets, such as Bar Lobo and Sub Rosa. Filled with history and culture, the Gothic quarter is a must-visit.
Eixample
The Catalan word for 'expansion', Eixample is exactly that. Built in the 19th century as an extension of the old town which had started to become overpopulated, Eixample is Barcelona's largest neighbourhood and is split into smaller zones such as Sagrada Família and Fort Pienc, although it can also simply be classified into Eixample Dreta (right) and Eixample Esquerra (left).
Eixample Dreta is perfect for those who want to be near Passeig de Gràcia, where you can find plenty of designer and high street shops, as well as some of Gaudí's most incredible works. As well as this, Plaça de Catalunya can be found in Eixample Dreta, the city's main square. Eixample Esquerra is home to Barcelona's main university, many shopping streets, and the Sant Antoni Food Market, to name a few things. The area between the Ronda Sant Antoni and the Ronda Universitat is known as the "Gaixample", where Barcelona's LGBT community has opened many bars and restaurants. Heading further left will lead you to the grand Plaça d'Espanya, where you can find the majestic Palau Nacional and the Magic Fountains of Montjuïc, which are famous for their incredible evening light shows. Characterised by a grid pattern with long straight roads and blocks of houses, parts of the sophisticated residential neighbourhood were heavily influenced by Antoni Gaudí's Modernista movement. Eixample is a great neighbourhood to stay for both long and short periods.
El Born
Next to Parc de la Ciutadella and the Arc de Triomf, lies the charming El Born neighbourhood. Home to the Picasso museum and the beautiful Santa María del Mar church, this neighbourhood is one of the most historic parts of the city (again, part of the Ciutat Vella) and has the advantage of being very central, yet also close to the beach.
In terms of bars and restaurants, El Born is definitely one of the best districts. The exciting Passeig del Born is lined from top to bottom with bars and restaurants, making it the perfect place to enjoy some tapas and a few drinks in the evening. Discover bars such as Paradíso and Rubí Bar, hidden away amongst its labyrinthine streets. El Born also boasts many picturesque squares such as Plaça de Sant Agustí Vell and Plaça de Pons i Clerch where you can sit out and enjoy some tasty food and drink. However, this neighbourhood also offers much more! With lots of trendy boutiques and quirky stores, El Born also makes for a great area to do a spot of shopping and exploring.
Raval
A brisk walk across La Rambla from the Gothic Quarter will lead you to another part of the Ciutat Vella, the vibrant El Raval neighbourhood. This neighbourhood is bursting with energy, due to its many bars and restaurants. Carrer de Joaquín Costa is one of El Raval's most popular streets, as it is basically a combination of trendy bars and takeaway restaurants – perfect for when you get peckish after a few drinks!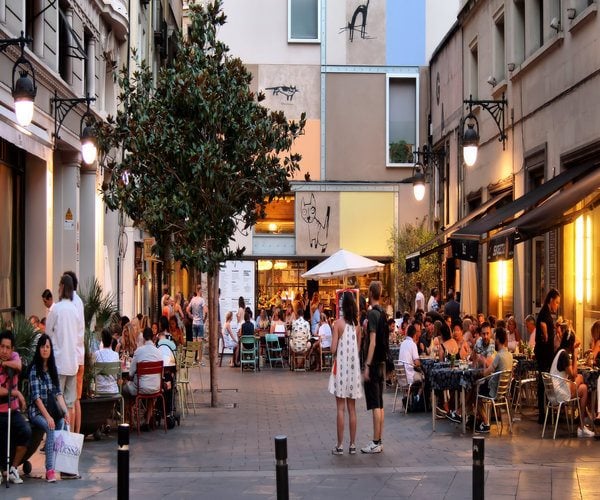 This neighbourhood also has its very own 'La Rambla', called La Rambla de Raval. Lined with palm trees, restaurants and terraces, this cool street is definitely worth checking out for some evening food and drink. El Raval is also home to two museums that are well worth a visit: the Contemporary Art Museum of Barcelona (MACBA) and the Centre of Contemporary Culture of Barcelona (CCCB). The famous La Boquería market on La Rambla is also located on the outskirts of El Raval, so be sure to head there and grab yourself some tasty fruit or other locally sourced produce – perfect way to round off your tour of this hip neighbourhood!
Barceloneta
Once a fishermen's town, Barceloneta is a vibrant hub filled with chiringuitos (beach bars), ice cream parlours and seafood restaurants. Perfect for those who want to be near to the beach but not too far from the city's old town, Barceloneta an ideal neighbourhood to stay in during the summer.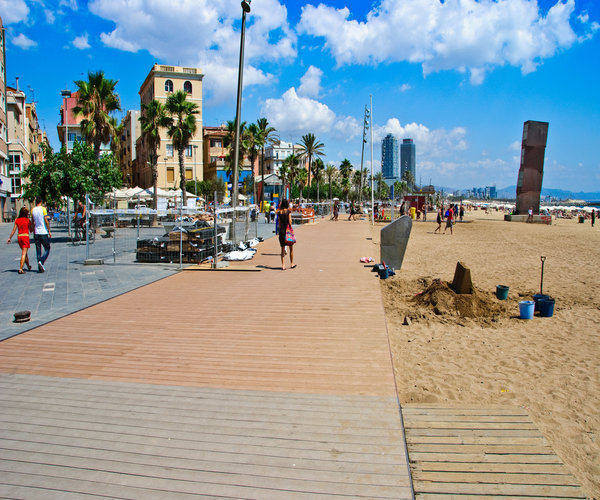 On the edge of the Barceloneta neighbourhood lies the Vila Olímpica zone where you can find Barcelona's famous beach clubs such as Pacha and Opium, as well as many other top restaurants. Port Vell is one of Barcelona's most popular harbours from where you can admire the grand yachts, go shopping in the Maremagnum centre or visit the museum of the history of Catalonia. Take a trip over the water on the Port Vell Cable Car to see Barcelona from the sky… be warned, this is not for the faint hearted!
Gràcia
Known as being one of Barcelona's most trendy neighbourhoods, Gràcia is home to many winding streets and quaint little squares, where you can find locals chatting and enjoying a drink or two. Once an independent village, Gràcia is also characterised by the multitude of independently and locally owned shops – the perfect place to buy unique items at an affordable price.
Boasting a lively yet authentic atmosphere, Plaça del Sol is definitely worth visiting. Another popular is Plaça de la Vila de Gràcia, known for its old clock tower, this charming square is filled with cafés, terraces and small shops. The best way to reach this neighbourhood is by wandering up the grand Passeig de Gràcia, home to Gaudí's Casa Batlló and La Pedrera. What's more, the architect's famous Park Güell is also situated in the upper area of Gràcia.
El Poble-Sec & Montjuïc
El Poble-Sec is one of Barcelona's lesser-known neighbourhoods to tourists, although it is located just a 15-minute walk from La Rambla. Whilst it is a smaller district in comparison to the other neighbourhoods, it's home to plenty of exciting streets and squares.
Plaça del Sortidor is perhaps one of El Poble-Sec's most popular squares, bordered with restaurants and bars. Also popular are Plaça del Ocellets and Plaça de Santa Madrona. Carrer de Blai is one of the city's most famous streets, completely pedestrianised and lined with tapas bars from start to finish. Locals sit out on tables that run down the middle of the street in between the bars each side and enjoy pinchos and beer. Pinchos are small tapas-style snacks such as chorizo, peppers, and anchovies typically served on a slice of baguette. Avinguda del Paral·lel, another well-known road in this neighbourhood, is a long avenue that runs from Plaça d'Espanya towards the seafront. The street is characterised by its energetic theatre and club scene. Another attractive factor of El Poble-Sec is that it lies at the foot of Montjuïc, a huge area of mountainous parkland, famous for being the site of the 1992 Olympic Games. Offering many sightseeing opportunities, you can also hike or take a cable car to the top of the mountain where you will find Montjuïc Castle, the botanical gardens, the Joan Miró Foundation and, of course, breathtaking views of the city! With this guide to the main neighbourhoods of Barcelona, you can get the best out of the city and discover some of its hidden gems. Whether you're coming for a long or short stay, you'll be sure to find something of interest.
Sandra Roig is Marketing Director at AB Apartment Barcelona. AB Apartment Barcelona is an apartment rental agency offering over one thousand short and long term apartments across Barcelona.
If you would like to be a guest blogger onA Luxury Travel Blogin order to raise your profile, pleasecontact us.
Did you enjoy this article?
Receive similar content direct to your inbox.