Oman and the Emirates: your luxury guide to the best of the UAE
When you hear of the
UAE
or the
United Arab Emirates
, a few things probably come to mind. The Sheikh Zayed Grand Mosque, the Burj Khalifa, ultra-modern architecture, enormous shopping centers, extravagant entertainment attractions, and a whole lot more. But aside from the well-known tourist attractions and modern-day features, the UAE is known for one other thing, luxury. A part of the world rich not just in culture, but in luxurious hotels and resorts too, each Emirate has something ultra special (and luxurious!) to offer you. Whether you're visiting for business or leisure, with friends, family, or a loved one, this special part of the world is home to some of the most spectacular and magical halal friendly getaways, you won't want to miss.
Abu Dhabi: Emirates Palace
Have you ever wished you could live the life of a King or Queen for just one day? If you're a lover of royalty and everything luxury, the Emirates Palace in the UAE's capital is perfect for you, and probably a dream come true. Lavishly designed both inside and out, this magical location is here to provide you with luxury hospitality and authentic local experiences. Defined as an unrivaled and Arabian fantasy, your 5-star stay will be one you may have believed only happened in dreams. Enjoy its pristine beach, landscaped pools, private marina, and natural bay, all while relaxing in a private and secure halal friendly environment. From the minute you step foot on the palace's grounds, you'll enter a fairytale-like scenery you won't want to leave. Expect luxurious features and amenities with every step you take, and be prepared to stand in awe as you wander through the palace's grounds. A place for leisure, business, romance, and more, the Emirates Palace is truly a must visit when in the UAE, especially if you're looking for something that promises you an 'extra special' insight into the luxurious royal life.
Dubai: One & Only The Palm
Imagine dining by Dubai's skyline. The mesmerizing views of some of the world's most famous buildings lit up with lights dancing in the sky, while their reflection glistens across Dubai Bay. A romantic and relaxing atmosphere you know you'll enjoy, one that's only capable of coming true when staying at the One & Only The Palm in Dubai. Home to what's been called the 'City of Gold', the Only & Only The Palm is a luxurious getaway in Dubai's famous Palm Island. An elegant beachfront oasis of luxurious gardens and cascading fountains are ready to welcome you at this breathtaking getaway suitable for guests of all ages and traveling for any occasion. The perfect retreat if you're looking for luxuries from head to toe, the One & Only The Palm offers suites and villas with private pools, luxuries left, right, and center, and sensory delights with their many culinary experiences and heartwarming views. It's here you'll enjoy living the 'good life' as you soak up the sun in one of Dubai's most luxurious locations, before retreating to your private accommodation which we're sure you'll agree, is among the most luxurious you'll ever get to see.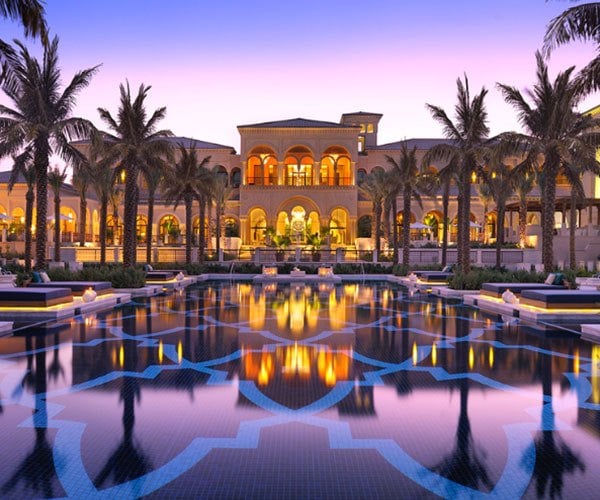 Sharjah: Sheraton Sharjah Beach Resort & Spa
Set to become the city's favorite seaside gathering place for both short getaways and extended holidays, The Sheraton Sharjah Beach Resort & Spa is a must visit when exploring the Emirate of Sharjah. If you're looking for something just as luxurious as what Dubai and Abu Dhabi have to offer, minus the hustle and bustle of the busy crowds, then Sharjah Sheraton Beach Resort & Spa needs to be on your 'to visit' list. Widely considered the nation's cultural capital, this private beach getaway provides you with the perfect holiday experience that's combined luxury and culture to its best. City and sea views provide both a lively and relaxing backdrop, while the luxury accommodation has carefully been designed to cater to both little travelers and older guests needs. From spa packages and holistic treatments to sumptuous local dining and friendly social events, this 5* resort is a retreat for all ages and any occasion. If Sharjah is on your travel list, we'd highly recommend dropping by the Sheraton Sharjah Beach Resort & Spa
for the perfect combination of luxury, culture, and dining experiences. With local flavors to enjoy and delicious fresh seafood, a relaxing beach, and 2 swimming pools, this holiday destination isn't just about unwinding in luxury and having fun, but getting to experience the cultural side of the UAE and why all the Emirates have more to offer than just fun under the sun.
Ras Al Khaimah: The Ritz Carlton, Al Wadi Desert Experience the beauty of the UAE's desert at the luxurious Al Wadi Desert Resort. Situated in Ras Al Khaimah, north to Dubai, enjoy an Emirate covered in nature and desert that has a few extra special features you'll surprisingly enjoy. Retreating to a desert may not seem luxurious enough for some, but we guarantee you'll have a change of heart the moment you set your eyes on this luxury escape. The Ritz Carlton, Al Wadi Desert is a 5-star resort offering tranquility, picturesque scenery, and rich culture. But let's not forget what makes this place extra special; home to a magical land offering a selection of private pool villas, enjoy an authentic Arabian stay as you relax in a setting far away from the busy streets and crowded city. Floor to ceiling windows allow you to feel right at home with the surrounding nature, just as your luxury accommodation provides you with the extra luxuries you seek. Offering a range of different activities such as desert trips, camel caravans, horse riding, star gazing, archery, and ultra special dining, it's here you'll appreciate an escape far from your usual city luxuries, and an experience in a desert that will leave you with picture-perfect memories you'll never forget.
Ajman: The Oberoi Beach Resort, Al Zorah An easy drive from Dubai airport, The Oberoi Beach Resort, Al Zorah is a unique, luxury destination situated among protected mangrove forest in the heart of the UAE. Home to an expansive private beach, be prepared to feel millions of miles away as you enter the private roads to this luxury getaway. Thoughtfully designed as a luxurious retreat, it's here you can step back, relax, and take all the time you need to enjoy the sophisticated and contemporary architecture The Oberoi Beach Resort, Al Zorah has to offer. Panoramic ocean views, long white sandy beaches, lagoons, and exceptional biodiversity is ready to fulfill your holiday needs. The modern villas and rooms at  The Oberoi Beach Resort, Al Zorah offers terraces facing the breathtaking beach, with a handful of luxury features such as private gardens and pools, spacious rooms, and all your expected top class amenities. The selection of dining experiences at The Oberoi Beach Resort, Al Zorah gives you the chance to enjoy a combination of flavors. Dig into the best of the UAE's cuisine, while fresh seafood, international dishes, and al fresco dining lets you satisfy your cravings with the multiple different flavors. Personalized spa treatments, thrilling water sports, and a combination of modern-day luxury and The Oberoi hospitality will perfectly complement your stay.
Fujairah: Miramar Al Aqah Beach Resort Escape to your paradise in Fujairah. The true embodiment of this beautiful Emirates' luxury, Miramar Al Aqah Beach Resort offers a warm and friendly atmosphere that has uniquely blended traditional Arabian culture with luxury modern amenities. Perfect for Muslim travelers looking to escape to a hidden paradise, enjoy the elegance of warm accommodation and luxury amenities alongside lavish dining experiences, and top-notch hospitality. With plenty of facilities available on site, expect to keep yourself busy as you enjoy water sports, gymnastics, aerobics, games and more, for guests of all ages. The accommodation at the Miramar Al Aqah Beach Resort has carefully been designed to create a warm and vibrant feel that ensures a comfortable nights sleep. Decorated in colors to reflect the sand and sea, expect to be taken back as you enjoy classic furnishings complemented with modern day conveniences. All rooms and suites at the Miramar Al Aqah Beach Resort have been spaciously built providing you plenty of room to lounge around during day and night. Dining at the Miramar Al Aqah Beach Resort is another treat that not many hotels and resorts in Fujairah have to offer. With a selection of award-winning restaurants, cuisine, dining experiences, and views, we're sure each meal will leave you filled with satisfaction.
Oman: Six Senses Zighy Bay A real treat for travelers looking to explore and discover the Omani lifestyle, Six Senses Zighy Bay is a luxurious escape on the northern Musandam Peninsula in the Sultanate of Oman. Compared to its modernized neighbors such as Abu Dhabi and Dubai, Oman is a breath of fresh, sea air, and is popular for its laid back, safe, secure, and peaceful environment. If you're looking for a place where you can sit back, relax, and literally just wait for the time to pass by, then the Six Senses Zighy Bay is for you. The beautiful setting of an indigenous village-style accommodation and private marina, with dramatic mountains to one side, and the sandy beach of Zighy Bay on the other, makes the perfect destination for couples looking for the ultimate retreat. Offering specialty villas and suites, enjoy the Omani lifestyle with an emphasis of privacy. An exquisite experience only a few get to enjoy, your private walled enclaves and personal pools provide you with the luxury and privacy you need to enjoy a romantic stay in Oman. Six Senses Zighy Bay isn't just a place to relax, it's your go-to for 'out of this world' experiences not many hotels or resorts can provide. Experience paragliding over Zighy Bay, diving and snorkeling in the home of Oman's most spectacular corals and reefs, or enjoy traditional Shua Shack Bedouin Dining for a family style, open-air experience on the beach. A destination that will definitely tantalize your senses, get ready to feel the sand beneath your toes, the taste of Oman's halal culinary delights, and the sound of peace and quiet as you relax in pure luxury surrounded by nothing but the very best.
Nabeel Shariff is the Owner of Luxury Halal Travel. Luxury Halal Travel brings together some of the world's leading hotel brands to offer Muslim travellers incredible experiences whilst observing their Muslim faith.
If you would like to be a guest blogger on A Luxury Travel Blog in order to raise your profile, please contact us.
Did you enjoy this article?
Receive similar content direct to your inbox.