7 of the most luxurious beachfront villas you can rent in Phuket
A holiday in the tropics cannot be pictured without the vibrant image of a lovely beach. On the paradise island of Phuket, such gorgeous sandy shores may be plenty, but often, they come with crowds of tourists too. Surprisingly, though the island is home to an impressive myriad of home rentals that offer complete exclusivity, the privilege of a private beachfront is a rarity among Phuket's luxury villas. You are sure to find many hillside properties that boast breathtaking views of the coastal scenery; but to many, nothing compares to waking up to the sound of the waves washing up on the shore and knowing that the sun-warmed sand of the beach is just a few steps away from the very comforts of your holiday home. Scouring the island's entire seaboard in a 360-degree sweep, here are the seven most luxurious private villas every beach-loving elite traveler would love to rent in Phuket.
1. Villa Amarapura
If you are a bit familiar with the geography of Phuket, you'd probably think that our first stop would be somewhere in the popular beach areas of Kamala, Surin, or Bangtao. It's not. In fact, the majority of the villas on our list is nowhere along the west coast at all.
Topping our list is one of the most highly-coveted holiday homes on the island, and it is found in the illustrious Cape Yamu, a privately-owned peninsula on Phuket's eastern face.
Villa Amarapura does indeed afford its own beachfront, yes, but once you discover the amenities and facilities found within its 7,300 sqm expanse, the beach will more likely seem like a bonus. It has an infinity swimming pool, a fully-equipped gym, a cinema, two separate jacuzzi hot tubs, a basketball court, a 12-foot trampoline, and if the indoor virtual golf game does not satisfy you, the villa has its very own professionally-landscaped putting green right in its yard.
2. Villa Analaya
Our next villa takes us to the very opposite side of the island, right along Phuket's infamous Millionaire's Mile. Here, the forested coastal hills of Kamala conceal what is regarded as the island's most beautiful rock beach and right beside it, rising with all majesty, is Villa Analaya.
From its royal appearance and lavish suites to the warm hospitality of its staff, Villa Analaya is almost quite literally a modern Thai palace. Cascading down a hillside on several floors, a grand stone stairway cuts through the center of the property leading guests to a marvelous infinity pool courtyard.
From there, behind a thin row of pine trees, you will find Kamala Bay where the waters of the Andaman Sea spread out as a gleaming turquoise backdrop. Facilities include a gym, a yoga platform, a trampoline, kayaks, ping pong table, and more.
3. Villa Sawarin
If you love being at the beach and if you enjoy teeing off on the green, then our next villa may rightfully just be the ideal Phuket holiday home for you. Taking us back to Phuket's Cape Yamu, Villa Sawarin is a sprawling 9-bedroom property with much extravagance to offer.
The villa is built on a rather unconventional stretch of land that comprises woodland, sloping hillside, and massive boulders. And yet, Sawarin has created more than enough space to house nine bedrooms all strategically oriented to face the sea, a home theater, a gym, a spa room, a garage for three cars, a games room, a dramatic indoor waterwall, a garden area, a separate beach house, and its very golf green right by the shore. The top floor also holds a spacious open terrace with an infinity pool, a dining pavilion, and a romantic lounge in the middle of a reflection pond with a view of Phuket's idyllic eastern coast.
4. Villa Verai
Though Villa Sawarin tops the list in terms of number of bedrooms, the claimer of our last spot, and still from Cape Yamu, is the largest in terms of area. Situated on one of the most expansive pieces of land on the estate, Villa Verai is certainly as glamorous as it is spacious. Every single room breathes with sophistication and grandiose, including six bedroom suites, a cinema, a spa and fitness room, a sauna, and a private office.
The property's most notable feature however, is its astonishing architecture. Rising on two storeys, it is almost completely encased in glass walls and crowned by two iconic Thai roof spires towering on the building's either side.
A vast garden surrounds the villa in a verdant embrace while an infinity pool stands out in a contrasting crystal blue. And beyond all these, the quiet Yamu beach awaits restless travelers in search of seclusion amidst the serenading sounds of the sea.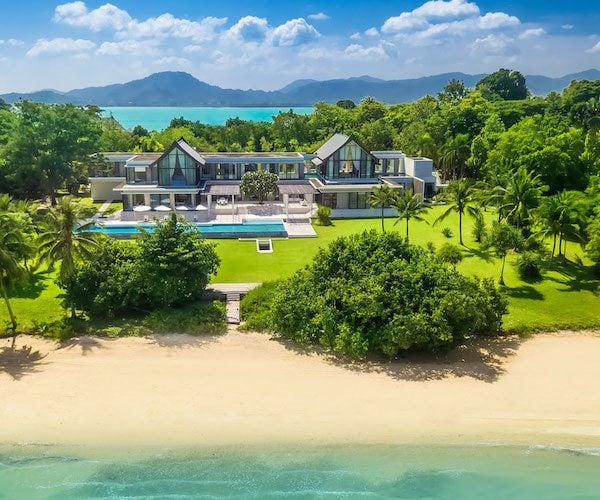 5. Villa Vikasa
Our fifth property which sums up all our Cape Yamu villas is a holiday home that perfectly combines luxuriant elegance with familiar comfort. Though cast in a spell of cool turquoise blue, the interiors of this villa welcomes guests in a warm embrace. Teak wood surfaces, stylish lighting, and comfy furniture provide accents to a classy white look.
Villa Vikasa does not lack provisions for activities too with the presence of a games room with billiards and mahjong table, a garden play area with a football net, kayaks, and a 25 meter-long infinity swimming pool.
6. Villa Nandana
The beaches of Patong and Kamala are known for their lively nightlife, dotted by trendy beach clubs, bars, and restaurants. But further north, outside the boundaries of Phuket island itself, is a vast unbroken stretch of beach with nothing but sand, forest, and a few high-end establishments. This is 10-kilometer coastline is the untouched Natai Beach in Thailand's Phang Nga Province.
Every morning, the 4-bedroom Villa Nandana watches the waves washing up on its shores and every afternoon, it gazes at the marvelous sunsets that blanket the Andaman. This outdoor paradise is complemented by its stylish interiors that feature handsome wood surfaces and elegant clean white elements enhanced by clever lighting. Walls are mostly made of glass providing generous views of the villa's infinity pool, the verdant lawn, the beach, the sea, and the ocean beyond.
7. Villa E98
We give the last spot on our list to a property whose beachfront may not exactly be as bare-feet-friendly as its predecessors but has much to boast in many other aspects. A private tennis court, a badminton court, billiards, ping pong, petanque, snorkeling and kayaking equipment – these are just some of the things you can enjoy at Villa E98, an expansive 6-bedroom estate in the rocky end of Layan Beach.
The look is clean, modern, and smart with a highlight on the LED-lit infinity pool gazing out into a stretch of greenery that extends all the way into a picturesque boulder-covered shoreline. A professional villa team which includes a chef and boat captains are ready to serve the villa's guests.
Silvan Kitma is General Manager of The Private World. The Private World is a villa rentals company offering some the most top-rated luxury vacation home rentals in the world's top tourist destinations.
If you would like to be a guest blogger on A Luxury Travel Blog in order to raise your profile, please contact us.
Did you enjoy this article?
Receive similar content direct to your inbox.