The city of Guayaquil is Ecuador's main port and also its most populous city. It is located on the coast; one of four very unique regions that this small South American country has within its borders. Affectionately called "the Pacific's Pearl" by its inhabitants, this city is another tourist hotspot that shouldn't be missed while visiting the country in the middle of the world. Ecuador's regions and cities are marked by differences not just limited to geographical conditions, but also history and aesthetics that evolved differently. Every city has its own charm and Guayaquil is not the exception.
For many, vacations almost always involve sun, beach, rest and relaxation; Guayaquil is a great base camp for beach adventures that never get boring. Also, it is important to consider that if the altitude of Quito ever becomes an issue, Guayaquil is a great option that doesn't present any breathing challenges to visitors. The warm weather, bustling nightlife and sea-level location create a welcoming atmosphere for all kinds of tourists. Some of the best things to do around this city include visiting beaches, indulging in seafood prepared following traditional -yet surprising– methods and enjoying its lively nightlife.
Every part of town has its own landmarks that shouldn't be missed. Two of the most iconic places in Guayaquil are Malecon 2000, a boardwalk overlooking the Guayas River where several of the greatest monuments attesting to Guayaquil's history can be seen; and Santa Ana's hill, another popular spot for visitors, the place where the city was born. Around these landmarks, there are museums, gardens, fountains, shopping malls, restaurants, bars, food courts and the option to go on a boat ride to enjoy the amazing city skyline. And if animals and nature are your thing, don't miss the fascinating Iguana Park, home to hundreds of friendly iguanas, or discover wildlife at Guayaquil's aviaries and botanical gardens.
A destination with such great options to discover couldn't lack great lodging. Once the list of activities have been established, visitors will want to find the perfect place to stay, not just to rest at the end of the day, but most importantly, to experience the city's vibes and learn as much as possible about its culture. Guayaquil offers plenty of options; here I mention two worthy to be considered for the best experiences in this city. At one end of the spectrum are the traditional hotels, typically part of international chains that follow high standards proven for years and at the other end are the experiential places, bolder in their offerings and adapting to new generations and new expectations focused on uniqueness and creation of unforgettable memories.
Experiential places
Experiences are expected to surprise, in a good way of course. These kinds of options don't lack the basic expected services, but they also offer well designed additional features looking to delight visitors. At the top spot is Hacienda La Danesa; one of the places joining the compromise of offering only the best memories to every guest. This luxurious hacienda is focused on creating magic around the different activities, a promise that is not difficult to visualize after watching its presentation video where the owner expresses all the emotions behind the hotel's concept. Described as a family place where visitors are invited to experience the same memories that the owner remembers while growing up in the area. La Danesa doesn't spare on details, there is always something that will make visitors feel special. Located outside the city, at one and a half hours drive, the heavenly landscapes of the coastal region transform city noise and busy pace into calm and relaxation. Rooms are beautifully decorated guarantying maximum comfort. Food is served farm-to-table and there are lots of options available to choose from. The offer is focused on experiencing some traditional activities such as preparing your own chocolate or milking cows, and also others that might be more related with personal practices such as yoga or paddleboarding.
But getting the best memories doesn't necessarily imply moving away from the city, there is an option for every taste! In some cases, the idea might be to stay as close to the city as possible and Hotel del Parque is another great choice that offers rich experiences without leaving the city. Functioning in an old and traditional building, this option offers delightful spaces that can transport visitors to a different time. Close to important city landmarks, Hotel del Parque keeps a luxurious old-fashioned style, with great comfort and options for modern travelers. Once again the special offering doesn't stop on looks; it also includes details and experiences that are perfect for discovering some aspects from the Ecuadorian culture. Taking advantage of its surroundings, it offers experiences based on history, traditions and the emblematic cacao. This is an invitation to discover the city from the inside.
Traditional hotels
Of course, the city is not short of attractions and activities to explore, so the option of staying at a place that works as a traditional hotel might be a preferred choice for many. Probably more appealing to visitors traveling for business, these kinds of hotels are centrally located and are supported by important names in the industry, which is a guarantee of good service. At the same time that doesn't mean visitors won't create great memories too. Even if these kinds of places don't include "experiences" as part of their offerings, keeping an open mind can motivate visitors to take advantage of location and still live authentic experiences. The idea is not to stay all day long in the hotel, exploring becomes essential when building good memories. Great options with this kind of concept in Guayaquil are Hotel Oro Verde, Wyndham and Sheraton.
Located at the heart of the city, Hotel Oro Verde offers quality and comfort. Having experienced people behind the whole service is always a relief when visiting a new land. At Hotel Oro Verde food is not an issue, with its five restaurants, it seems that there is something to please every taste; a great option for those who might feel uncomfortable experimenting with "riskier" food.
Whether you are in town for business or pleasure, the centrally located Wyndham hotel offers an ideal choice for easy integration into the accelerated pace of the city. The hotel's convenient location close to iconic places and offices can facilitate mobilization and having all sorts of needs covered within walking distance. This is a non-smoking high-rise hotel with convenient extras that both business and leisure travelers love.
Last but not least, Sheraton is also a preferred accommodation option in Guayaquil. At this hotel they have made sure to offer plans for every occasion, from a wedding day to New Year 's Eve, their experience brings consistency and expectations are clearly outlined.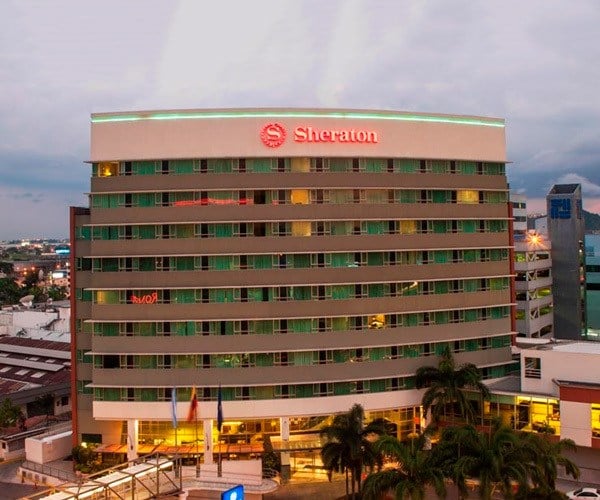 Guayaquil as a destination has a variety of options for visitors that go beyond the two main paths explored here. There are as many styles and preferences as there are travelers; we hope to have awakened your interest whatever your personal style is. Not even locals get to know the totality of a city, so there is always the possibility for you to find the perfect path to explore.
Marcel Perkins is CEO at Latin Trails. Latin Trails is an incoming destination management company specialized in bespoke tours, with a focus on offering unique experiences throughout Ecuador, the Galapagos Islands, and Peru.
If you would like to be a guest blogger on A Luxury Travel Blog in order to raise your profile, please contact us.