Bursting with sensory delights, a yacht charter itinerary encompassing Sicily and its neighbouring islands is an absolute treat. Trace the curves of this spectacular coastline to soak up stunning views across emerald waters or head ashore, where a warm Italian welcome awaits. Take time to inhale the lingering fragrance of lemon groves, tantalise your taste buds sampling exquisite local cuisine and relish the beautifully mild climate.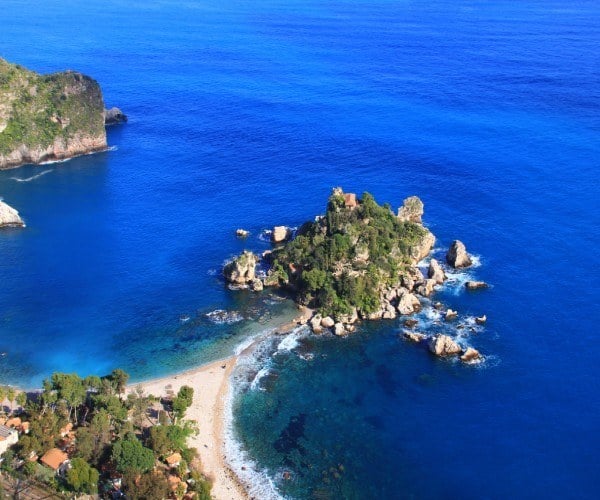 Palermo
Sicily's capital and the largest city on the island, Palermo is fringed with golden sands and nature reserves, situated in a sprawling bay underneath the limestone magnificence of Monte Pellegrino. The city beach of Mondello is an elegant seaside resort, decorated with palm-lined avenues and elegant icing sugar villas – the beautiful swathes of golden sand are a popular choice through to the evening when the waterfront lights up. Picturesque and laid back, neighbouring Sferracavallo beach boasts transparent water and great snorkelling, plus small local restaurants serving unforgettable fish dishes. The crystal waters at the authentic baroque fishing village of Santa Flavia offer undeniable charm, while diving enthusiasts will relish the marine oasis of Secca della Formiche, teeming with colourful underwater life.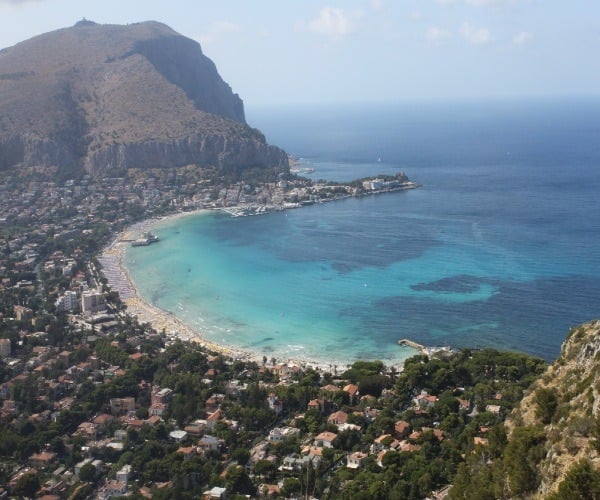 Popular for its bustling atmosphere and a steadily temperate climate, Palermo is visited by those looking to explore the cocktail of culture, history and tradition on display in the blend of Arab-Norman architecture and superb local gastronomy reflecting Sicily's rich multicultural past. Ornate Piazza Bellini and the Arab-Norman Palatine Chapel in the Royal Palace are stunning historical attractions, while the imposing Teatro Massimo is Italy's biggest opera house providing a diverse entertainment schedule. For a true taste of history, exploring the underground tunnels at Catacombe dei Cappuccini is an amazing opportunity. When the lights go down in Palermo, the bustle of modernity comes alive amidst the transcendent ancient architecture – nightlife here will not disappoint.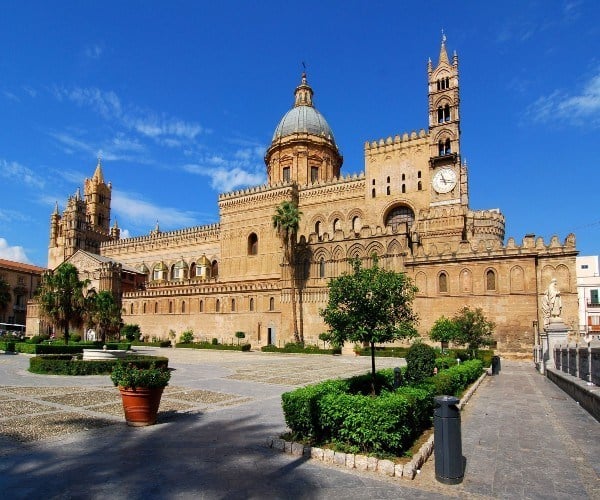 Taormina
Picturesque Taormina adorns the cliffs high above the eastern coast of Sicily, with terraces that cascade gracefully to the sea. Strewn with cobblestone piazzas, elegant shops and outdoor cafes, the array of pretty beaches can be accessed by a funicular tramway from shore, whilst there are countless fabulous anchorages for visiting yachts. Sail past scenic Isola Bella island where hidden walkways and unusual plants frame the rocky promontory. With imposing Mount Etna in the distance, admire Greek ingenuity found in the archaeological ruins, Saracen castle and spectacular ancient theatre. Cruising the impossibly blue coastal waters as the painted hillsides rise aloft, it is easy to see the inspiration that has motivated generations of artists and writers visiting Sicily.
Catania
On the Ionian Sea, overlooked by Mount Etna, then ancient port and second largest Sicilian city, UNESCO-listed Catania is bursting with grand historical delights. Monochrome palazzi towers overlook ochre-hued piazzas, while famed La Pescheria market buzzes with life. A city packed with attractions and choices, the opera season runs from October to June at the Teatro Massimo Bellini, which is well worth a visit. Cuisine is the pride of every true Sicilian and this home of 'Pasta a la Norma' does not disappoint in delicious local fare. Scala dei Turchi is a perfect beach surrounded by unique white limestone rocks and boasting two private clubs that attract a bustling crowd. Alternatively, trendy Lido Azzuro is a popluar sandy stretch, complemented by waterfront bars that transform at sundown when DJ's arrive to set the scene.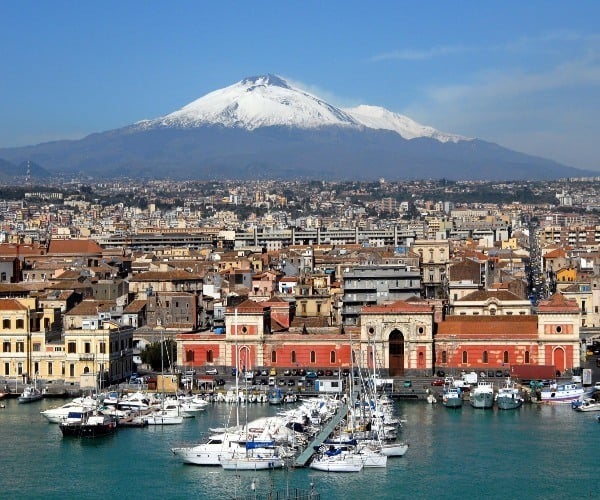 The Egadi Islands
Filled with laid-back appeal, the Egadi (or Aegadian) isles, on the eastern Sicilian coast, boast a seductively calm and typically Italian atmosphere. Butterfly-shaped Favignana is a picturesque fishing island, brimming with quaint piazzas and a relaxed pavement-café lifestyle. Discover the long history of the native Florio family and tuna fishing at the fascinating local tonnara museum, also exhibiting the oldest bottle of wine in the world! The majority a protected nature park, nearby Levanzo is dotted with charming whitewashed houses that cluster the main waterfront at Cala Dogana, providing an exclusive setting for visiting yachts. A must-see on this island is the Grotta del Genovese, best accessed by yacht, where Paleolithic cave etchings depict ancient tuna fishing dating back 10,000 years. Peaceful Marettimo has a natural draw, with countless walking trails ashore and crystal-clear coastal waters filled with fabulous diving and snorkelling sites. The sprinkling of tiny neighbouring islets, most notably Formica and Maraone, simply add to the magic of sailing this lesser-known and strikingly beautiful archipelago by yacht.
The Aeolian Islands
The remote island of Filicudi is filled with wild, natural wonders. Ancient pathways meander through mature olive groves with incredible prehistoric village ruins found at Capo. Cruise past the famed La Canna rock and the bright blue Grotta del Bue Marino, the largest cave found here and home to rare monk seals. Salina is the second largest of the Aeolians and one of the most mountainous, with three of the area's highest points. Discover freshwater springs, charming villages, lush vegetation and hiking trails galore. At the end of the day take the opportunity to enjoy a glass of local Malvasia wine at one of the charming bars in Pollara, where you can watch the spectacular sunset.
Known as the VIP island and often a favoured choice for fashionistas and jetsetters, Panarea is in fact the smallest Aeolian isle. Take a walk-through car free, whitewashed streets in chilled San Pietro to relish the relaxed vibe, anchor off picture-perfect Cala Junco beach and visit the peaceful cove at Le Guilie. A coastal stroll to Punta Milazzese, where Bronze Age settlement foundations perch atop the headland, is highly recommended. Established island nightlife is lively with modish partying until the early hours at Hotel Raya. In total contrast, magical and remote Stromboli is home to "The Black Giant" volcano, which has erupted non-stop throughout history. Watching the natural fireworks from the deck of a charter yacht with a drink in hand is a truly memorable experience. For an exceptional visit, book a guided sunset ascent to the 900m summit and witness orange magma shoot from the crater against the darkening sky.
Dazzling Lipari is the largest and most populated isle- a lively place with a small-town feel and friendly atmosphere. Wander around pretty Lipari Town, filled with winding lanes lined with boutiques, restaurants and local delicatessens; don't forget to purchase delicious local capers and Malvasia wine here. In the north, the white pumice beach and luminescent aquamarine water of Spiaggia Bianca di Pomici offer a perfect bay for yachts to anchor with stunning views. Remember to embrace the infectious Sicilian atmosphere and sample Lipari's bustling and fun nightlife with plenty of entertainment. In iconic Vulcano, the Faraglione della Fabbrica hot springs are a perfect spot to relax in the therapeutic mud. Home to Fossa di Vulcano, which gives the island some beautiful black sand beaches, this is an ideal place to spend time snorkelling and swimming.
Ideal for a summer yacht charter, the north and west coasts of Sicily bring together an abundance of natural beauty and activities ideally accessed from the water. Adventure awaits in a variety of radiant islands and captivating towns, all filled with genuine Italian charm.
Nicholas Dean is Managing Partner of Ocean Independence. Ocean Independence is a global leader in luxury yachting, providing a bespoke experience across yacht charter, sales and management.
If you would like to be a guest blogger on A Luxury Travel Blog in order to raise your profile, please contact us.
Did you enjoy this article?
Receive similar content direct to your inbox.