The beating heart of the Netherlands, Amsterdam holds some of the very best and most impactful attractions in the area. In no other place is there such a fine balance between culture, history and luxury. On every canal and down every street there is something new and exciting to discover and enough options to entice every type of traveller. From museums depicting a dark past, to restaurants with an aroma like no other, to rooftop bars with views over the whole city. Amsterdam is full of surprises and will charm even the pickiest of travellers.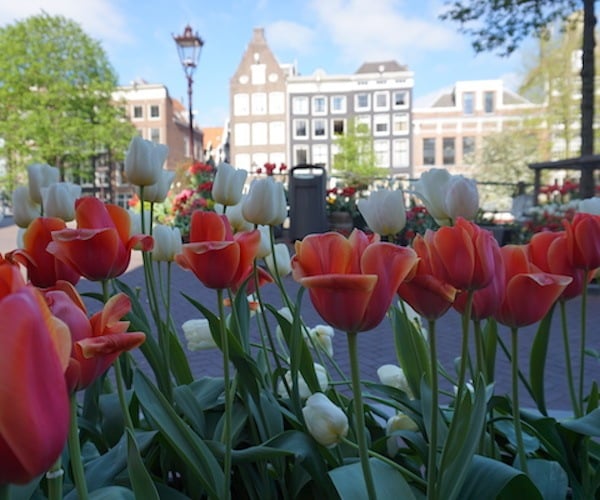 Amsterdam's five pillars that all visitors must experience are cultural, food, night out, accommodation, and city. Experiencing the best of these five items will provide an unmatched Amsterdam experience. Prepare to be blown away by Amsterdam's charm and its magical offerings.
Cultural
There is such a rich and deep history in Amsterdam that can only be experienced by diving headfirst into the cultural side of the city. Despite Amsterdam's reputation as a shady place, there is so much more to it than red lights and smoking. The sheer number of museums in the city is enough to make anyone fall in love. Not only are there a lot to choose from, but they all come with their own unique offerings to display.
The most famous and popular museum in Amsterdam is the Anne Frank House. This museum tells the story of a young girl in World War Two who was hidden in an attic in an old Amsterdam house. Although she was taken and murdered, her story lives on through her diary and this museum. World War Two has had a profound impact on Amsterdam and this museum offers the opportunity to connect with a past humanity should not soon forget.
Amsterdam's other most famous museum is the Rijksmuseum which holds artifacts from the middle ages to the present. This museum and the Van Gogh Museum are the top places to head for a cultural and artistic overload that will transport you around the world.
A visit to Amsterdam's museums wouldn't be complete without experience some of the more unusual of options. For those looking for a unique cultural experience be sure to head to The Museum of Bags and Purses, Micropia, Electric Ladyland and more!
Food
Thinking of Dutch cuisine doesn't often eclectic the same feelings of excitement that come with the thoughts of Italian or French cuisine. However, with the right list of places to eat at in Amsterdam this opinion will rightfully be changed. What really makes Dutch people excited is cheese! It is a country built on the principal that cheese should be a part of daily life. However, the best restaurants in Amsterdam let cheese remain less prominent a run with more intricate ideas.
One of these restaurnts is "De Kas" a restaurant located in a glass greenhouse in a park in Amsterdam. This is one of Amsterdam's more classy restaurants and serves delicate plates made with organic, locally grown ingredients. The creative cuisine and ability to walk around and view the herbs and plants which are added to the food only adds to the experience.
In addition to serving local Dutch cuisine options, Amsterdam is also home to various other restaurants which serve a wide range of food options. A favourite is La Rive, a Michelin stat restaurant serving French/ Mediterranean dishes. It also just so happens to be located in one of the city's most famous and luxurious hotels – InterContinential Amstel Amsterdam. Due to its prestige, it is not the easiest restaurant to get into, but well worth the wait.
Feed the eyes and the body with the gastronomic masterpieces from Ciel Bleu. This is one of Amsterdam's finest restaurants that combines stunning views of the city and amazing dishes. It is also Amsterdam's only two-starred Michelin restaurant.
What is easily forgotten when traveling are the meals other than dinner. There is always a plethora of luxurious places to grab dinner in any city, but the other meals are left a mystery. In Amsterdam there are some amazing breakfast and lunch places perfect for keeping up with the elegant experience of the dinner from the previous evening. From the Pulitzer, to Moon, to The Duchess and beyond. Amsterdam's food scene extends far beyond the dinner plate.
Night out
In addition to the cultural and food side to Amsterdam, there are additional ways to enjoy the city and all its elegant wonder. From rooftop bars, to stunning hotels, to classic cafes, Amsterdam holds it all. For those seeking a night out without joining the usual party crowd in the city, Amsterdam's SkyLounge is best. This is the ultimate night out place to be that offers delicious drinks, perfect snacks, and stunning views over the whole city. It is one of the cities few elegant nights out options that is worth the visit. In addition to this, Amsterdam's A'DAM Tower offers drinks accompanied by stunning panoramic views of the city. The environment of these evening bars is rare.
Accommodation
Amsterdam is packed with luxurious hotels that are just waiting to be enjoyed. The best luxurious hotels are scattered all around the city in autunitic Amsterdam buildings and offer an experience like nowhere else. Options include Pulitzer Amsterdam, De L'Europe Amsterdam and more.
City
No Amsterdam visit is complete without experience the joys of the city. And there is always room for enjoying the finer aspects to the max. One of the best places explore for some additional fun while in the city is Vondelpark, a charming and large park in the center of the city just waiting to be biked around and admired. It is also nice to explore the 9 Streets. These are the city's most famous shopping streets packed with local shops and delicious cafes.