When thoughts turn to a holiday in Ibiza, you may picture its edgy nightclub scene in the heart of the resort of San Antonio. However, it's easy to get away from 24-hour partying, and escape to the more tranquil side of this popular island.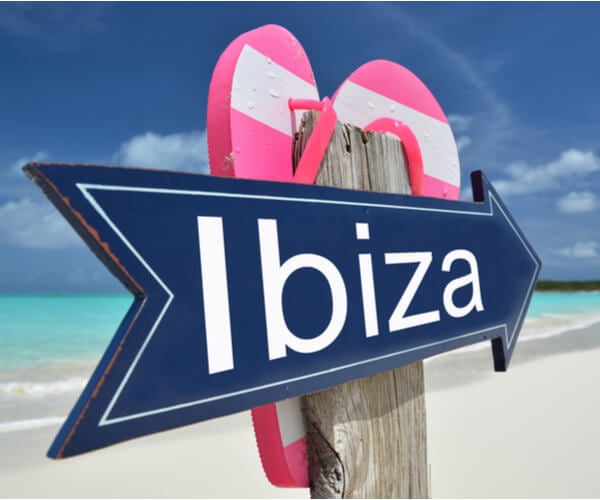 Ibiza is one of the four Spanish Balearic Islands comprising Mallorca, Menorca, Ibiza, and Formentera. Located in the Mediterranean Sea, Ibiza is approximately 150 kilometres from Valencia in mainland Spain. Ibiza is easy to get to as it has its own International Airport located approximately 7 kilometres south west of Ibiza town – its capital.  The island is also shown written as Eivissa, which is the Catalan pronunciation if Ibiza.
Head to the north of the island, and you will find lots of small bays backed by green pine forests. We have set out below just some of the striking colours you can expect to see on an Ibiza holiday. These will show you some of the beautiful places around the island.
Cala Portinatx
Cala Portinatx is located in the north of Ibiza, and was formerly a small fishing village. It will take you about an hour to reach this resort from the airport.  Known for its peace and quiet, and popular with families, Portinatx offers some water activities to keep you entertained. You will find a small bay here with crystal clear calm water, and gently shelving sands into the sea. Cala Portinatx can be popular with day-trippers, but if you prefer to stay here for the duration of your holiday, there are some lovely hotels found here.
You can spend some time on the sandy beach, or for the more energetic there are a number of walking trails taking you along the coast. Don't forget to take some sensible walking shoes and your camera, as you won't want to miss out on some of the lovely scenery.
Just a few kilometres to the south west of Portinatx, you will come across Cala Xarraca.  This small bay is very popular with snorkellers, and offers some wonderful photographic opportunities.
Santa Eulalia
Probably the second most popular resort in Ibiza is Santa Eulalia.  Expect to find a more laidback atmosphere here. There is a lovely promenade lined with plants, bars, and restaurants. This resort is known for its food as well as its designer boutiques, and art galleries.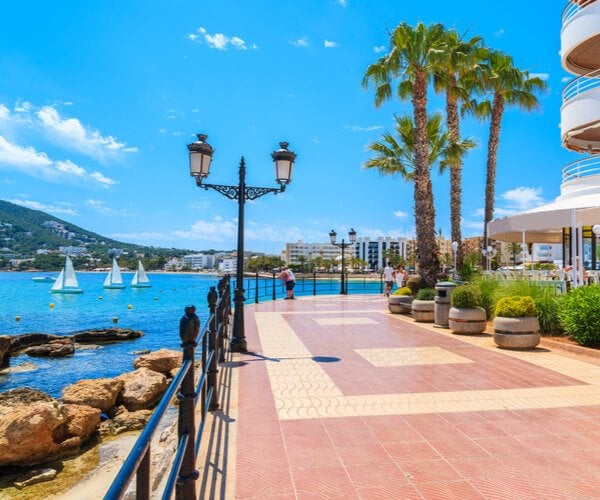 Why not take a walk along the marina, and stop off at one of the pavement cafes and watch the world go by. For golfers, this may be the ideal location for you, as Golf Ibiza not too far away.
If you prefer the beach scene then you won't be disappointed. The 300 metre long beach in the heart of the town comes has sunbeds, and a variety of water sports. These include jet-skis, waterskiing, pedalos, kayaks and lots more to keep the whole family occupied. Another beach here is Mariner's Beach which is slightly longer at 400 metres. You'll find plenty of places to eat and drink along the promenade. From here you can follow a path along the river.
Don't miss the views from the Puig de Missa.  This hill will take you about half an hour to walk up (it's about 52 metres above sea level). At the top you'll find a 16th century whitewashed church, and of course a stunning view of Santa Eulalia below.
If you're in Santa Eulalia on the first Sunday in May, you will be able to see their annual flower festival. Horse drawn carts take to the streets adorned with flowers, and the town comes out to watch the procession.
Cala Comte
This is a beach located to the south west of the island of Ibiza. Simply come here to rest on the sandy beach, and take a dip in the clear and calm sea.  If you are here in the evening then you may be rewarded by a stunning sunset.  Cala Comte (also known as Platges de Comte) Is about 25 kilometres from Ibiza Town and can be reached by bus, taxi, or car.
Cala Salada
Cala Salada is just a few kilometres north of San Antonio, and is a small cove surrounded by pine forests . Again, you will find crystal clear and calm water here, along with walking paths offering scenic photographic opportunities to visitors.
Ibiza Town
The historic and fortified Dalt Vila is just a climb up a steep cobbled streets, taking you to the old city walls. Here you will find the mediaeval cathedral as well as a Moorish castle, and of course not forgetting the spectacular views to the port below. Dalt Vila Is a UNESCO World Heritage site where you can enjoy walking around stone courtyards. This is an ideal opportunity to purchase a souvenir of your visit here, or perhaps visit one of the many art galleries to escape the hot summer sun.
Ibiza Town is home to a party scene – although on a small scale to that found in San Antonio. At night you can visit one of the many lively bars and restaurants, or simply wander around the port viewing boats of all shapes and sizes.
Ibiza town isn't just a city holiday, as you will find some lovely beaches nearby.
Sant Joan de Labritja
Sant Joan de Labritja is located inland in the northern area of Ibiza, approximately 3 kilometres south of Portinatx.  This is a village of small whitewashed homes with narrow streets. In the centre of the village is the 18th century Sant Joan church.  Ideal for a day trip, this village brings visitors peace and quiet amidst a traditional atmosphere.
Cala Bassa
You will find Cala Bassa to the northwest of the island, and just over 1 kilometre from Cala Comte. The beach comprises soft white sand, and calm, crystal clear water. You can find here a variety of water sports, including jet-skis and banana boats. If you're looking for a special place to chill out, the Cala Bassa Beach Club runs the length of the beach offering luxury sun beds in shaded areas. The Beach Club also offers 3 restaurants including sushi , traditional, and even quick bites.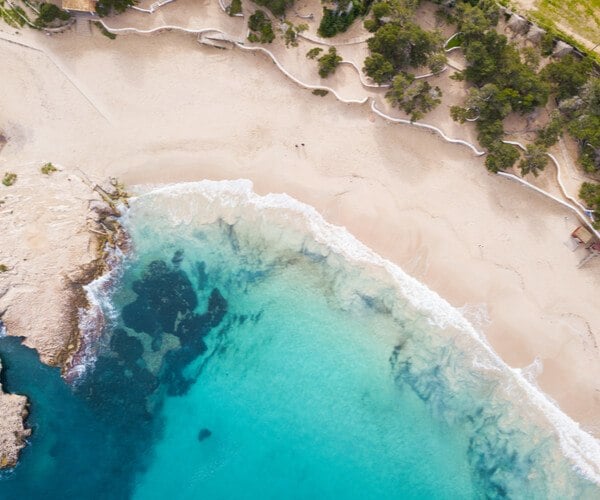 Es Vedra
Es Vedra is a small rocky island to the south west of Ibiza. The island is uninhabited, and comes with a few myths and legends. It is said that sailors in the area have seen strange shadows beneath their boats, and divers hearing sounds beneath the water. It is also said that the 400 metre high rock emits an energy possibly due to it being one of the largest magnetic centres on earth.  Es Vedra is known for some of the most idyllic, and magical sunsets on the island.
Hippy Market
For something completely different visit the Hippy Market found in the resort of Es Cana. Held here every Wednesday, you'll find many colourful arts and crafts on sale including jewellery, pottery, items of embroidered clothing, among other things. The market can be busy so we would recommend you get there as early as possible.
Of course, if you want to relax on the beach for a while then Playa Es Cana is just half a kilometre from the Hippy Market. Here you will find water sports available including waterskiing and parasailing .  There is also a small harbour, and you can board a ferry from here to Santa Eulalia and Ibiza Town.
If you are looking to travel to the island of Ibiza, the main holiday season is from May through to the end of October. The hottest months are July, August and September at around 26ºC. The coldest month to visit is January at around 12ºC.
Gail Hewitt is Owner and Director of Corona Holidays. Corona Holidays are specialists in tailor-made holidays to the Canary Islands, Balearic Islands, and European city breaks.
If you would like to be a guest blogger on A Luxury Travel Blog in order to raise your profile, please contact us.