St Tropez is a fashionable southeastern coastal town on the French Riviera in the Cote d'Azur, Provence region. Once a quaint industrious fishing village that attracted artists and writers, it became a magnet for global celebrities in the 1960s. Today it is world-renowned for luxury resorts. Yachts of the glitterati have mostly replaced fishing boats, but St Tropez remains charming with fine weather, excellent beaches, and vibrant nightlife.
Below are 5 of the best hotels to stay in St Tropez next Summer.
Chateau De La Messardiere
Set within 25 acres of land and ornamental gardens, this architectural gem has been an iconic institution in the region since the 19th century. The historic building stuns as its romantic turrets and towers come into view just above the town. The location is perfect, surrounded by pine forest and enjoying sweeping views over St Tropez Bay and the beaches of Pampelonne.
Moreover, with excellent event facilities and exemplary staff, it is not surprising that this is a popular venue for weddings, celebrations, and business conventions. There are 117 guest rooms and suites in several categories of size. However, all feature a balcony or terrace and fine garden views. Additionally, recent renovations have included a host of modern amenities. These include king-sized beds, spacious and luxurious bathrooms with double vanities, showers, and other whirlpool tubs in some suites.
Furthermore, the décor has Provencale and Mediterranean elements and is decidedly ultra-French chic. Other features include a gourmet restaurant serving Mediterranean menus, an international poolside eatery, and sushi from the famed Nobu chain. A private beach is also available for guests with dining and bar. Besides, an indoor pool and fabulous Valmont Spa plus a gallery of international art add to the joys of this beautiful hotel.
Cheval Blanc St Tropez
This gorgeous newly redesigned creamy-white villa hotel nestles among tall trees directly on the Mediterranean coastline. White sea foam splashes over rocky bluffs, and a stunning private beach are wafted by palms in this idyllic location beside the marine blue sea. This secluded haven draws on the history of the building and environs while harmonizing the colors, warmth, and style of the Mediterranean. Moreover, the decor matches the azure blues of the sea. It weaves contemporary art, beautiful ceramics, and modern amenities into the historical framework of the hotel.
The rooms and suites highlight colors that match the sunrises and sunsets over the Mediterranean, viewed from wide verandas and balconies. Moreover, furnishings are luxe and in-room amenities plentiful. Marble bathrooms are also large and lavish with complimentary designer bath products.
Other notable features are a triple Michelin-starred Arnaud Donckele restaurant, terrace dining with breathtaking sea views, gorgeous grounds, a delightful courtyard, and a pool. Additionally, a Guerlain Spa offers state-of-the-art treatments. There is also a sauna, hammam, ice fountain, and access to a vast infinity pool. Moreover, a top-class fitness studio is also in this top-notch hotel.
Pan Dei Palais
Romantic, serene, and beautiful describes this hotel. It is a sanctuary away from the rush and stress of modern lifestyles. This boutique hotel is in the heart of St Tropez, near to the port and Place des Lices, but exudes a sense of tranquility and peace within. From 1835, when the building was created for an Indian princess, the elaborate wood carvings and objets d'art still tell this engaging tale.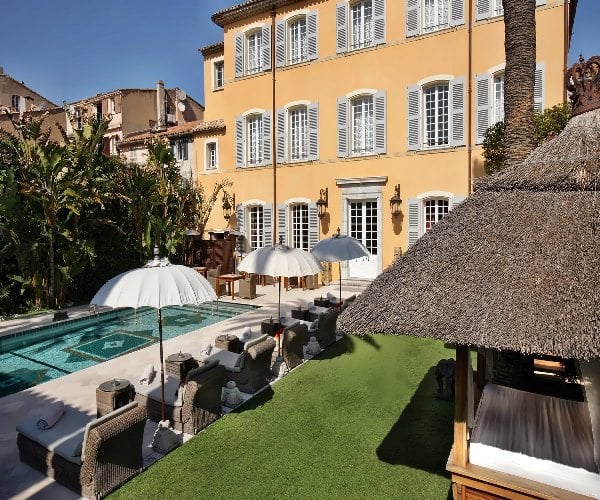 Guest rooms are equally romantic with delicate fabrics, quilts, throws, four-poster beds, and drapes. There are also lovely views, balconies, and luxurious bathrooms. Dining options include the innovative French-Asian-inspired cuisine of Renaud Capelle. Moreover, the beautiful turquoise pool area and gorgeous garden liven up into music and dancing under the stars at weekends.
Additionally, guests can refresh and rejuvenate at the hotel or take the motor launch around the fabulous Mediterranean coast. Concierge services are also ready to help you enjoy a stay at this fine hotel.
Hotel Byblos
This lovely resort is in the heart of St Tropez. It is built in the style of a Mediterranean village and filled with color and Provencal scents. Magnificent sunny beaches are nearby. Additionally, cool courtyards and patios, adorned with trailing bougainvillea and fragranced with lavender, give delightful places of shade at Byblos. Floral and aromatic perfumes drift up to the 90 spacious rooms and suites. All feature individual décor in vibrant Mediterranean colors – marine blue and gold with cream and pops of crimson.
Moreover, most have garden or village views and a raft of in-room amenities. Duplex rooms have bedrooms on the upper floor. Suites have fine views of the hill, more living space, and large plush sofas. Furthermore, bathrooms are luxurious, with tubs and separate showers. Adapted rooms are also available.
There is an outdoor swimming pool with a jet stream and a Mediterranean restaurant close by. A newer Italian upscale restaurant is another dining option. Other features include a Sisley Spa with luxury treatments, a fitness center, a hair salon, boutiques on-site, and an exciting nightclub.
La Reserve Ramatuelle
Close by St Tropez, on a clifftop overlooking the Mediterranean Sea, is the 5-star luxury resort of La Reserve Ramatuelle. The resort offers stunning views over a gorgeous bay. It also has luxury accommodation, a sublime spa, a beautiful pool, and gourmet dining in a tranquil private domain. Moreover, the location is ideal for exploring St Tropez and the glamorous beach life beloved by the 'jet set' for decades.
The spa offers the highest quality treatments using the latest relaxation, rejuvenation, and complete wellness. Poolside dining offers guests top-class Italian menus using fresh local ingredients in a beautiful setting above the azure sea. Michelin-starred La Voile serves the inspired Mediterranean cuisine of Chef Eric Canino, or there is an upscale Japanese diner option.
Furthermore, the 14 stunning villas feature chic modern décor, light-filled rooms from floor-to-ceiling windows, spectacular Mediterranean views, lavish bathrooms, and many in-room amenities. Moreover, family villas are vast, featuring period furniture, fireplaces, additional hotel services, and amenities. A courtesy shuttle service is also ready to take guests around this beautiful resort and surrounding areas.
St Tropez is a famous destination resort. These hotels are beautifully situated for exploring the stunning beauty of the Mediterranean coastline.
Guido Graf is Founder of Privateupgrades. Privateupgrades is a global luxury travel club with over 20 years of experience in luxury hotels, ensuring exclusive VIP privileges like upgrades, free breakfast, free nights, rate discounts, free airport transfers, free massages and much more.
If you would like to be a guest blogger on A Luxury Travel Blog in order to raise your profile, please contact us.