Barcelona is a spectacular city. It packs an astounding amount of beauty and gorgeous architecture into a small area surrounded by the Mediterranean Sea and stunning mountains. But after you have been in Barcelona for a few days, you may want to explore further afield. Here are our top day trips from Barcelona.
Sitges: The Spanish Saint-Tropez
Sitges has it all, including some of the best beaches in Spain. You will enjoy the perks of a cosmopolitan place in a cosy town located 35 km west of Barcelona. The comparison between the famous French resort town and Sitges can help you picture this Spanish twin's charm, luxury, and style. On the one hand, you will find exclusive beach clubs, yachts, and plenty of exquisite restaurants. On the other hand, you can visit galleries and museums, a wonderful cobblestoned old town and unique boutiques.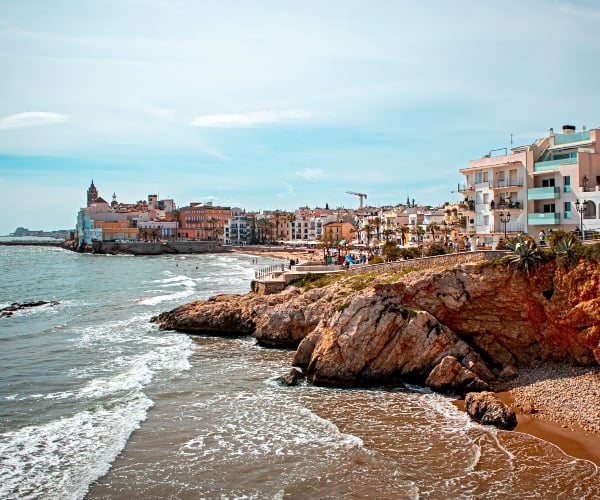 Take your time to walk and fall in love with its whitewash buildings, narrow streets, and loads of local culture. If you feel that it is enough, there is more! You'll experience a balance between its noted nightlife and its family atmosphere. And on top of this, Sitges is LGBT-friendly with a celebrated culture of inclusion.
2. Penedès Wine Region
At just 40 Km away, you can delight your senses by tasting high-quality wines. A few bottles of local wine are the perfect addition to your luxury holiday. By the way, Sitges is in the heart of the Penedès region.  Penedès stretches from the coast between Castelldefels and Tarragona into the hinterland around Sant Sadurní d'Anoia. The historic town of Vilafranca del Penedès is home to the interesting Vinseum, a museum dedicated to the region's wines.
There are more than 140 wine producers here. However, some of the most popular destinations are Codorníu and Freixenet, two of Spain's most extensive. The smaller wineries of the region are welcoming and interesting, but you'll often need to book an appointment.
3. Girona: travel through time
If you love Medieval cities with colourful charm, Girona is for you. It's about one and a half hours drive away from the Catalonian Capital (100 km). Some people say you can't travel through time, but you will lose track of it once you reach Girona. Each corner transports you to a different era with architecture that spans over 1,000 years. In addition to this, the city is famous for being one of the Games of Thrones locations.
The walled Old Town on the hill will leave you breathless. Wander around its charming stone stairways and get lost in its cobbled streets, high walls, and places full of culture. Interesting fact: the movie Perfume (2006) was filmed here.
Another key point about Girona is that it is home to a 13th-century Jewish Quarter. Historians considered it one of Europe's most extensive and best-preserved Jewish quarters. We recommend visiting the San Martí Church and its fantastic Baroque escalinata, which consists of 96 steps climbing up to the cathedral.
4.  Figueres and the Dalí Theatre-Museum
The museum is part of the cultural offer of Figueres city in the Girona province. Besides being Dali's birthplace, Figueres is a cosy and charming small city that you can enjoy.  More specifically, you can find picturesque plazas, museums, and cute shops. Another place worth visiting is Sant Ferran Castle. It was built in the 18th century, is over 32 hectares, and is the largest in modern European history.
The Teatro-Museo Dalí is one of his artworks. In his own words, it is the most outstanding surrealist piece in the world, and it took him more than ten years to finish it. Without a doubt, if you love art and Dalí's work, this is a must-visit day trip from Barcelona (138 km distance).
As it is one of the most visited museums in Spain, you need to buy/book your ticket online here before you head there.
5.  Tarragona
Tarragona is a small city just 97 km southeast of Barcelona. You will find many Roman archaeological ruins with incredible sea views. If you are interested in UNESCO-heritage towns, Tarragona will blow your mind. One of the most amazing places to visit is the Roman Amphitheatre, holding up to 15,000 spectators. Other well-preserved and stunning ruins such as Les Ferres Aqueduct and the Roman walls.
In addition, you can visit its gorgeous Romanesque and Gothic Cathedral or its fantastic medieval El Poblet Monastery. Finally, remember to visit its beautiful beaches and consider visiting during October. Why? There's a Human Tower tradition. In other words, people will gather in matching outfits and climb on top of each other to make, well, a human tower! It is fascinating to watch.
Which was your favourite day trip from Barcelona?
When you plan a trip to Barcelona, make sure you leave a few days to explore further afield. I have mentioned just a few of the day trips you can do from Barcelona. There are plenty of options within an hour or two.
Miriam Burke is Co-Founder and Director of Utopia Villas. Utopia Villas has a large selection of villas in the Sitges and Barcelona areas for holidays, weddings and corporate events.
If you would like to be a guest blogger on A Luxury Travel Blog in order to raise your profile, please contact us.