The unbridled beauty of Plitvice Lakes National Park enchants every visitor. Its crystal-clear lakes, the murmur of water and the sound of waterfalls echoing through the forest are the reason why Plitvice Lakes is by far the most visited national park in Croatia. Here, we bring you 15 reasons why you should put this national park on your next travel list.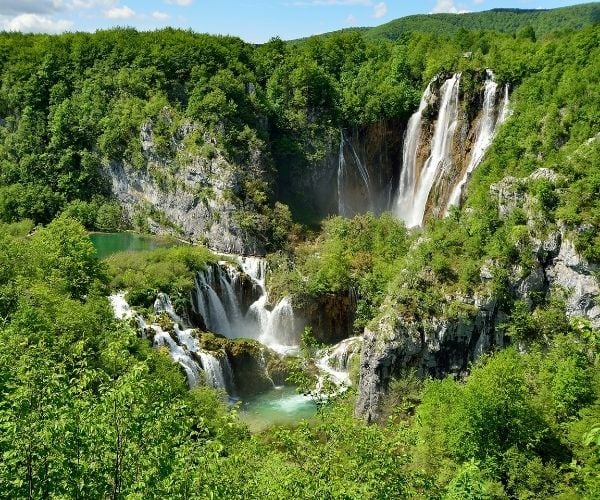 1. The largest and the oldest national park in Croatia
The charm of 16 emerald green lakes, numerous waterfalls and dense forests which hide abundance of plant and animal life, makes Plitvice Lakes National Park one of the most attractive destinations in Europe. Being for decades one of the favorite places of nature lovers, Plitvice Lakes were proclaimed Croatia's first national park on 8 April 1949 and inscribed onto the UNESCO World Heritage List on 26 October 1979, due to their exceptional universal value. Today, with the surface of almost 30 000 hectares, this is the largest national park in Croatia. Its forrests cover over 80 % of the area and are proudly among world's top five UNESCO forests for CO2 absorption per unit area. These incredible cascading lakes are divided into Lower Lakes, placed in the steep canyon, and Upper Lakes, embraced by the lush forest vegetation. It's such a unique experience to listen to to the sounds of water and forest harmony, to take a photo in front of the biggest bursting waterfall in Croatia or to observe the creation of the Korana River that springs just a few steps away.
2. Eight tour programs
Walking through this croatian paradise in nature is the best way to feel the pulse of its unique ecosystem. Depending on your preferences and the time available for the visit, you can opt for a tour programs that start at Entrance 1 or at Entrance 2 and choose between 4 different routes on each of them. Marked green from Entrance 1, and orange from Entrance 2, signboards are easy to follow, which allows you to take a walk through the Park by yourself and admire the beauty of the waterfalls and lakes at your own pace. If you decide to take a break from the walk, there are two enjoyable activities during the visit included in the ticket price; a boat ride in a serene scenery of the biggest Kozjak Lake as well as panoramic bus ride through the lush forests of the Park.
3. Four hiking trails
There is something powerful among the hundred years old trees and captivating hidden world of the dense forests of Plitvice Lakes National Park. Experience that special bond with the nature on one of our educational hiking trails and catch a sight of a picturesque views of the lakes and waterfalls discovered by hiking trough beautiful beech forrests.
4. Green destination
Academic Ivo Pevalek, credited by his research work for declaring this area a national park, once said: " There are water, lakes, waterfalls and forrests elsewhere, and yet Plitvice Lakes are unique in the whole world". In order to preserve this natural oasis, sustainability is our top priority task. We contribute to the protection of our ecosystem from the use of green energy and zero waste management strategy up to seamingly small things, like sensor taps for drinking water consumption and biodegradable packaging in our hotels and restaurants. By green procurement we buy food categorised as green products that have reduced harmful impact on environment and human health throughout its entire life cycle and strive to keep this destination green for the future.
5. NATURA 2000
Plitvice Lakes National Park is a part of NATURA 2000, the biggest global ecological network of areas important for the conservation of endangered species and habitats in European Natural Heritage. This network includes more than 27,800 sites and seeks to expand as much as possible in order to preserve European biodiversity, with the Plitvice Lakes National Park area being extremely important for a total of 69 target species and habitats. The interesting fact is that about 60% of Lika Destination, in which the Plitvice Lakes National Park is located, is a protected area within the NATURA 2000 network.
6. Nature protection at highest level
The biodinamic proceses of travertine formation which create the lakes are extremely fragile and sensitive to pollution of any kind. In order to protect the water, plant and animal world of the Plitvice Lakes National Park, all prohibitions are mentioned to our visitors on entrance tickets to the Park. It is not allowed to swimm, pick plants, disturb the animals, damage the rocks as well as the other activities which might harm the ecosystem of the Park. We strive, together with our visitors, to make a change and be friendly to the stunning nature that surrounds us.
7. Rich gastronomy with a foothold in tradition
Freshly baked homemade bread, cheese made by grandma's recipes, local potatoes, lamb and trout dishes as well as traditionally prepared apple and plum strudels are just a part of the local specialties which conquer the senses of our visitors in restaurants of the Plitvice Lakes National Park. Our rich gastronomic offer is based on the food grown on local farms placed in the ecological oasis of the Lika Destination. Our locals produce a food in a way passed down through generations, which makes every bite on a plate a story of the Lika tradition. This exceptional quality of food and beverage offer is a result of verified traceability and local food production protected by the regional quality system called Lika Quality.
8. Great accommodation offered in the heart of the Park
If you seek for a true vacation in a divine nature at your fingertips, National Park Plitvice Lakes has to offer hotel and camp accommodation for diverse types of holidays, invididual and group visits. With their exclusive location in a soothing forest oasis just 300 metres from the biggest Kozjak Lake, variety of facilities, local gastronomy and surrounding area full of recreational activities, hotels Jezero and Plitvice are ideal choice for comfortable holiday at the very heart of the most famous croatian national park. All our hotel guests pay entrance ticket only once and can enjoy in the walks through the Park for all days of their stay.
9. Cycling in surrounding
Although cycling is not allowed in the central visitor zone of the Plitvice Lakes National Park, there are numerous cycling routes in the surroundings which pass through beautiful green valleys, picturesque villages and forests, interwined with cultural sights and natural attractions. Family or recreational, guided or individual, bike tours will allow you to enjoy the ride and explore the corners of Plitvice Lakes surroundings in a very exciting way.
10. Horseback riding
Ranches in the vicinity of the Plitvice Lakes National Park offer local trails rides, accompanied by the guide, through colourful meadows and peaceful forest pathways. It is interesting to observe these beautiful animals in untouched nature and feel the unspoken bond between horse and rider that makes memories for a liftime. Discovering the amazing landscapes of Plitvice Lakes by horseback riding is a trully unique experience, adequate for both, beginners or excellent riders of all ages.
11. Adrenaline sports
The rich offer of adrenaline parks in the surroundings of National Park Plitvice lakes will allow you to enjoy quad and buggy rides through the dense forests of Plitvice valleys, ziplines, climbing walls, paintball, shooting targets from the arch and arrow, tomahawk throwing, roping polygon, giant swing and you name it! It is not just fun for the brave who want to feel the rush of adrenaline, but for the entire family, which makes visit to the Plitvice Lakes really an exciting adventure.
12. Caves
Barać Caves with the habitat of protected bat species are situated only 20 km from National Park Plitvice Lakes. These caves were first open to visitors way back in 1892. and due to their protected landscape, biodiversity and great archaeological importance are, besides Plitvice Lakes National Park, one of the most famous natural attractions of the area. In the surroundings we draw the attention to the unique cave park in Europe -Grabovača Cave Park with 24 fascinating speleological objects whose research has lasted for almost 180 years.
13. National parks in our vicinity
Appart from the Plitvice Lakes National Park, in Lika Destination there are two other national parks, Paklenica and Northern Velebit. The Paklenica National Park is a part of Velebit, the longest mountain in Croatia. With the 500 equipped climbing routes, more than 150 km of hiking trails and 115 caves and pits, it is a karst paradise for speleologists, climbers and mountaineers. The Northern Velebit National Park, as the youngest of the eight national park in Croatia, has an abundance of karst formations, plants, wildlife and landscapes that are yet to be explored. Its ecosystem is of immense relevance for 12 species and 13 habitat types within NATURA 2000 ecological network.
14. Rafting and kayaking
The joy of moving across the water by your own strenght is one of the oldest sports and certainly one of the memorable activities to try on. Inside the Plitvice Lakes National Park rafting and kayaking is not allowed. Still, on Kozjak Lake our visitors can rent a wooden rowing boat and be amused by serene ride and the water reflections in the very heart of the Park. Moreover, water sports lovers can enjoy in kayaking on Gacka River as well as rafting on Mrežnica and Slunjčica rivers in village Rastoke, in surroundings of the Plitvice Lakes National Park.
15. Cheese and brandy tastings
The gastronomic delights of Lika Destination, with healthy food produced on local farms are now available to visitors on every step. The skill of growing quality fruit and techniques for the production of the well-known Lika brandy have been passed down for generations. Even so, the application of modern technological procedures is also respected, which makes Lika brandy a product of the highest quality. Open Lika pastures rich in aromatic herbs form the basis for the exceptional quality of local cheeses. The assortment includes cheeses made by traditional recipes, but also more modern versions, such as cheeses enriched with peppers or dried fruits. Numerous farms sell their products on the doorstep, yet, in the vicinity of the Plitvice Lakes National Park there are also cheese and brandy tasting places where you can enjoy the unique flavors of Lika Destination.
Tomislav Kovačević is General Manager at Plitvice Lakes National Park. Plitvice Lakes National Park is the oldest and biggest national park in Croatia.
If you would like to be a guest blogger on A Luxury Travel Blog in order to raise your profile, please contact us.