Did you know that Australia is approximately 32 times bigger than the United Kingdom? With an area of 7.692 square million kilometres, it is a dream destination filled with surprises, natural wonders and friendly locals. From underground towns, pink lakes and the world's largest fringing reef to ancient rainforests, world-class scenic drives, and the oldest living culture in the world. If you have never been to Australia, now is the time to discover this magical part of the world.
Unique wildlife
Australia is a natural wonderland and features some of the most unique wildlife in the world. Home to approximately one million different native species, there are plenty of opportunities in Australia to have close encounters with unique wildlife. Get up close to kangaroos, koalas, echidna, wombats, wallabies, dolphins, seals, platypus and so much more. 
Featuring 379 different species of mammals, 828 species of birds, 300 species of lizards, 140 species of snakes and 2 species of crocodiles. Approximately 80% of the mammals, reptiles, frogs and flowering plants are unique to Australia. There is no shortage of weird and wonderful creatures in this part of the world.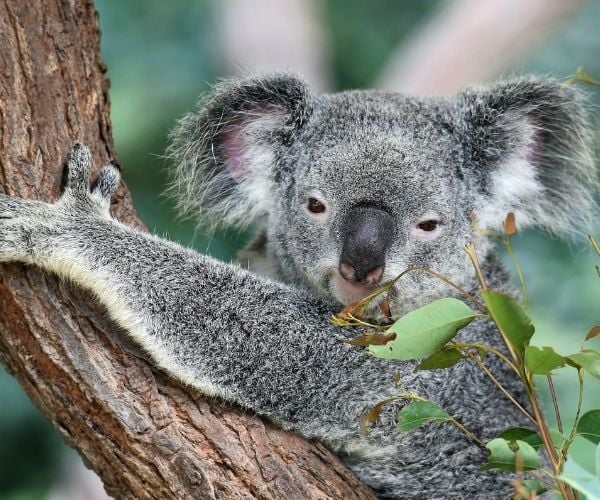 Take a cruise through the spectacular ancient rainforest of the Daintree and spot crocodiles sunbathing on the banks of the river. Swim with whales in the Pacific Ocean or admire kangaroos in the grassy paddocks at dusk. If you're lucky, spot the elusive cassowary in Tropical North Queensland or even the Tasmanian devil at Cradle Mountain-Lake St Clair National Park. Australia is the ultimate destination for wildlife lovers. 
The best beaches in the world
With almost 12,000 beaches, Australia has endless spectacular beaches to explore. In fact, if you visited one beach every day, it would take more than 30 years to see them all! With a coastline of approximately 25,760 kilometres, 90% of Australians live on the coast and enjoy the beach lifestyle. Some of these extraordinary beaches are among the best and most beautiful in the world. From paradise-like bounty beaches, trendy city beaches, golden sands and rugged surf spots, Australia has it all.
Some of the most iconic beaches are Bondi Beach in Sydney, Australia's most eastern point, Byron Bay, and one of the world's most photographed beaches, Whitehaven Beach in the beautiful Whitsundays. However, there are also many hidden gems to discover. Imagine a bright turquoise ocean with pearled-white sand, and a coastline that stretches endlessly into the distance with not another person in sight – that is Australia!
The oldest living culture in the world
The Aboriginal people of Australia have been roaming this land for over 50,000 years. Learning more about this fascinating culture will definitely be a highlight of your trip to Australia. The Aboriginal people of Australia are waiting to welcome you and tell you their stories. In each corner of the country, with their own traits and traditions, it is a truly unique experience.
From admiring ancient rock paintings in Australia's largest national park, discovering Cape Tribulation with an Indigenous guide, or experiencing a traditional welcome ceremony in Sydney. There are many opportunities to connect with the Indigenous people of Australia.
685 national parks 
Australia has the most national parks than any other country in the world. With 685 national parks, the next closest country is Thailand with 147! Covering millions of hectares across the country, the largest national park in Australia is Kakadu National Park.
Located in the Northern Territory, the World-Heritage-Listed Kakadu covers almost 20,000 square kilometres. Rich in Indigenous history, the park is remote and features many diverse landscapes. Here, you can discover rugged cliffs, wetlands, world-class hikes, waterfalls and much more. A highlight in the area is spotting saltwater crocodiles and birds in the Yellow Water Billabong.
If you love hiking and outdoor adventures, Australia is a paradise with so much to offer. From the UNESCO World Heritage site, Purnululu National Park and the spectacular Bungle Bungles to the misty Blue Mountains near Syndey and the iconic Uluru-Kata Tjuta National Park in the Red Centre. There is something for everyone in this part of the world. 
Diverse landscapes
Would like a holiday with the perfect blend of everything you love? Australia has one of the most varied landscapes on earth. In one holiday, you could experience so many different types of scenery (and climates!).
From wildlife-rich coral reefs, tropical islands, biodiverse rainforests, the snow-capped peaks of the Australian Alps to pink lakes, plunging waterfalls and the beating heart of Australia and its stunning desert landscapes. There is so much variety in Australia, and nature's open-air playground is waiting to be discovered. 
Meet the friendly locals
Australians are world-renowned for being friendly. Be welcomed by a classic 'G'day, how's it going?' and don't be surprised if you are invited to a barbecue or two! Whether you are lost and need help with directions, or can't decide which restaurant to visit, Aussies always love to have a chat and help you out.  By staying at small-scale accommodations, you will experience authentic Australian hospitality. You can also benefit from the local knowledge of your hosts.
Vibrant cities
As well as beautiful nature, Australia also has many vibrant cities to explore. From the glamorous and world-renowned city of Syndey to the laid-back vibes in Brisbane, the hip and colourful Adelaide and one of the most livable cities in the world, Melbourne. Discover world-class museums, one-of-a-kind shopping, and fascinating attractions that are found nowhere else in the world. Are you a foodie and a wine lover? Choose from an abundance of restaurants, cafes, bars and other unique culinary experiences.
---
IMPORTANT NOTICE:
If you are reading this article anywhere other than on A Luxury Travel Blog, then the chances are that this content has been stolen without permission.
Please make a note of the web address above and contact A Luxury Travel Blog to advise them of this issue.
Thank you for your help in combatting content theft.
---
8222 islands
Australia is home to some of the most beautiful island experiences. If you visit this country, it is without a doubt that you will visit one of the islands. From the stunning Rottnest Island in Western Australia, home to the quirky quokka to the 900 islands scattered across the Great Barrier Reef. An island escape is an ideal way to soak up the Australian lifestyle, tropical beach vibes, and rich flora and fauna.
One-of-a-kind accommodation
Australia offers so many special types of accommodation. Places that become a unique part of your journey. From sleeping in a traditional sway (a type of sleeping bag/compartment) under the Milky Way in the Outback to glamping in an African-styled canvas tent, nestled between the Australian bush. 
If you prefer to experience Australia in absolute luxury, there are many exquisite and exclusive options. You can choose to stay at a luxury resort on Lizard Island, one of Queensland's best-kept secrets. Or experience a luxury desert oasis overlooking Uluru. Perhaps, you would like to wake up to the view of the Syndey Opera House and Habour Bridge? Whatever your wishes are, Australia has something to satisfy your wishes.
Once in a lifetime experiences
Would you like to swim with the biggest fish in the world? Take a hot air balloon ride over the fruitful vineyards of the Barossa Valley? Dine under a canopy of stars in the heart of Australia's Outback? Set sail in the Whitsundays? No matter what you are looking for in a holiday, Australia offers an endless assortment of once in a lifetime experiences.
World-class scenic drives
For a country as large as Australia, it is no wonder there are a galore of world-class scenic drives on offer. Whether you prefer to get off the beaten track in a 4WD, enjoy endless coastal views or conquer the lap around Tasmania. From the iconic Great Ocean Road in Victoria, Gibb River Road in Western Australia to the 75 Mile sand beach highway on Fraser Island in Queensland. There are plenty of unforgettable scenic drives to experience in Australia. 
Are you ready to discover Australia?
Andrew Morten is Founder of A Journey DownUnder. A Journey DownUnder creates bespoke, tailored trips to Australia and New Zealand.
If you would like to be a guest blogger on A Luxury Travel Blog in order to raise your profile, please contact us.