Are you dreaming of wide open spaces and the chance to be alone? Are natural wonders untouched by humans calling your name? The United States is home to all this and more. In this blog, you'll get a glimpse of 7 must-visit national parks in the Southwest USA. From the Joshua trees in California to the hoodoos of Utah, get to know places so beautiful they often feel out of this world.
1. Yosemite National Park
Yosemite National Park is the crown jewel of California, or as President Teddy Roosevelt once described it: a cathedral more beautiful than man could ever build. The park is located in the Sierra Nevada mountain range. The biggest attraction is Yosemite Valley. This valley was carved out by a glacier and is flanked by two gigantic granite rock walls. But other than rocks, the park is home to ancient giant sequoias and hundreds of species of birds and mammals, such as black bears, deer, bobcats, and coyotes.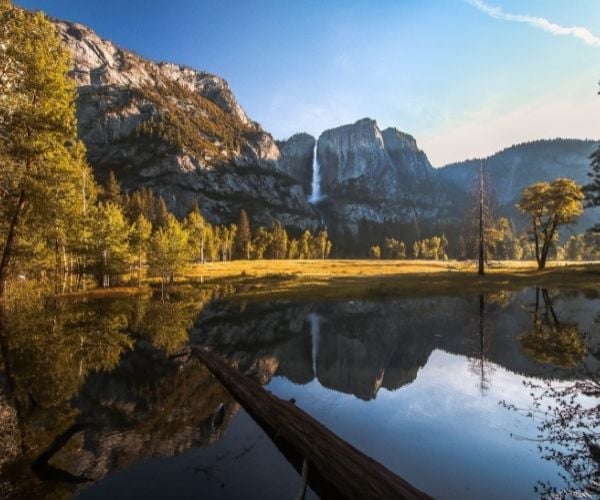 Many rock climbers come to the park to try to climb the famous cliffs. Others chose to hike to the beautiful waterfalls or through Mariposa Grove. Here, the trees are so high that you cannot even see the tops. Other highlights are Glacier Point, where you have a spectacular view of the valley, and Tioga Road, the highest road in the USA.
2. Joshua Tree National Park
Joshua Tree National Park is where the Mojave and Colorado deserts converge. Located in Southern California (less than three hours east of Los Angeles), this area has a lot of nature to offer for a desert landscape. The park is home to a fascinating variety of plants and animals, all of which thrive in the rugged mountains and exposed granite that characterise the area.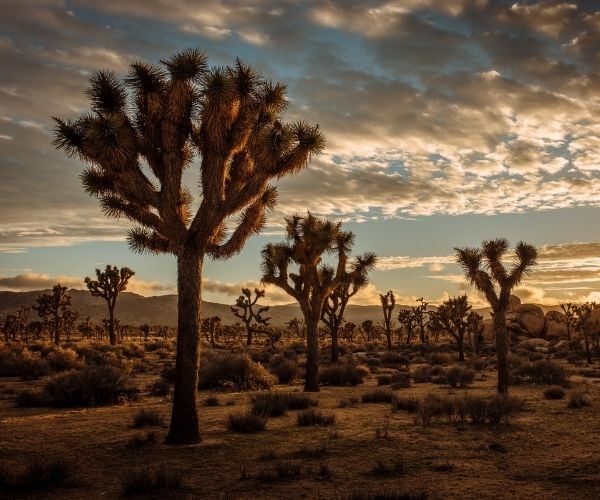 Many visitors come to admire the twisted Joshua Trees, known to some thanks to famous pictures of the band U2. On your visit, a 540-metre climb up Quail Mountain will offer breathtaking views. Or, the rocky gorge of Keys Ranch will show how the early settlers once lived. You can explore the park on foot or by mountain bike, either with a guide or on your own. Take your time while exploring and you will be rewarded!
3. Sequoia and Kings Canyon National Park
Sequoia and Kings Canyon National Park lie side by side in the southern part of the Sierra Nevada Mountains in California. They both offer different highlights, for example, Mount Whitney, one of the highest peaks in the US, is in Sequoia National Park, while Kings River Canyon – which rivals the Grand Canyon in size – is in Kings Canyon National Park.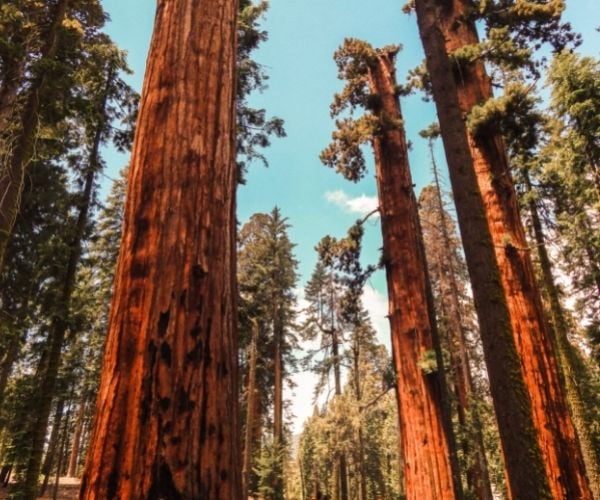 Whether you visit one park or the other, you will definitely need a few days to enjoy the mountains, rugged foothills, deep gorges, huge caves and towering sequoia trees. There is only one road through the parks, so it's important to get out of your car and start hiking; try the Redwood Canyon Trail or the Big Trees trail, for example.
4. Capitol Reef National Park
Located in the heart of Red Rock Country in Southern Utah, Capitol Reef National Park is a hidden treasure of cliffs, canyons and geological wonders. The park gets its name from the white domes of Navajo sandstone which resemble the capitol buildings. In the north of the park, you will find Cathedral Valley, a bizarre desert landscape with sandstone spires reminiscent of great Gothic churches. In the south of the park is Waterpocket Fold, a 160-kilometre long fissure in the earth's crust whose edges look like giant waves rolling toward the shore.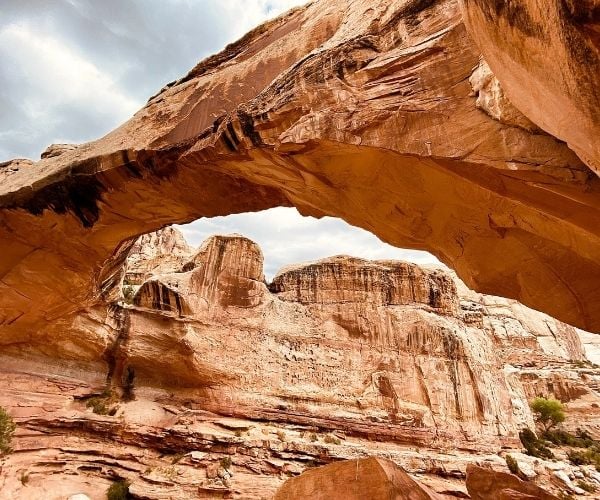 Much of the park can be reached via Highway 24, which runs along the Fremont River, as well as many great viewpoints and short hiking trails. Panorama Point, Sunset Point and Goosenecks Overlook will amaze you, and the hiking trails of Hickman Bridge and Rim Overlook Trail are highly recommended.
---
IMPORTANT NOTICE:
If you are reading this article anywhere other than on A Luxury Travel Blog, then the chances are that this content has been stolen without permission.
Please make a note of the web address above and contact A Luxury Travel Blog to advise them of this issue.
Thank you for your help in combatting content theft.
---
5. Bryce Canyon National Park
Bryce Canyon National Park is located in Southern Utah. In the course of time, wind and rain have hollowed out the rock floor here, leaving only extremely remarkable spire-shaped rock pillars, called hoodoos. Dark green conifers grow between these crimson coloured rock formations, which contrast beautifully with the landscape.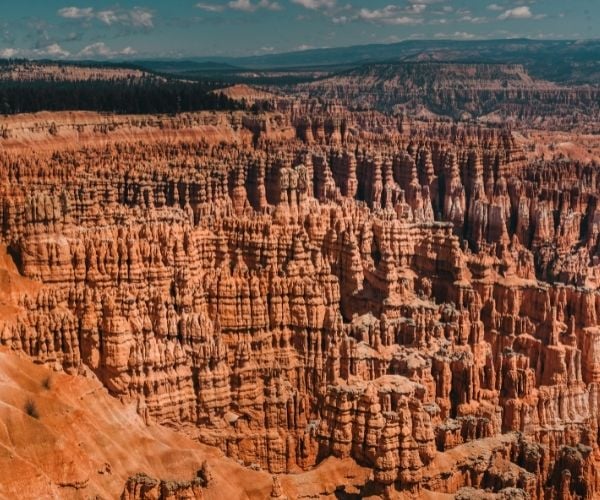 Experience all that the park has to offer by taking a walk through the peaceful hinterland on the Riggs Spring Loop. Or, wander through the pine forests on the Under-the-Rim hiking trails. For some extra excitement, you can also explore these forests in an off-road vehicle. Make sure you have time to visit Fairyland Point, Bryce Point or Sunset Point which all offer memorable views of the park. Bryce Canyon National Park has a rich history that the park rangers will be happy to tell you about.
6. Zion National Park
The eye-catching Zion National Park in Utah lives up to its name. Zion means 'sanctuary' in Hebrew. The park received this name from Mormon pioneers who settled in this area in 1860.
Zion National Park consists of huge orange rock formations that are cleaved by deep canyons. The most beautiful, Zion Canyon, is 24 kilometres long and 800 metres deep. The Virgin River runs through the canyon and this makes the valley green and fertile. The vegetation that rises from the water contrasts beautifully with the warm glow of the orange sandstone formations.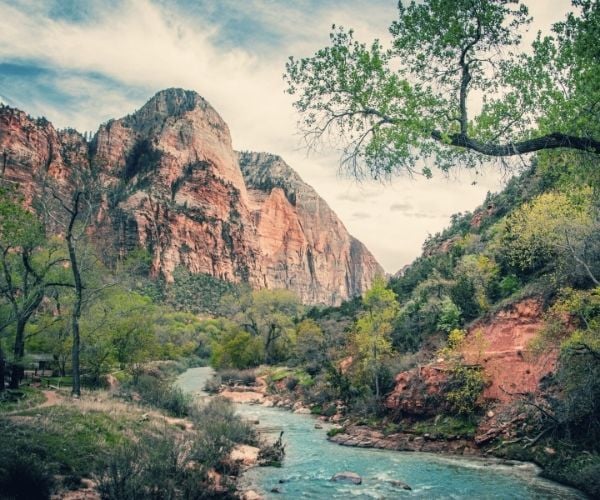 The park offers many hiking possibilities from short family-friendly walks to long strenuous hikes to remote viewpoints. The good news is that the easy trails lead to fantastic views. Visit the Emerald Pools with their waterfalls and hanging gardens. You can also explore different driving routes, such as the Kolob Canyons Road or the Zion-Mount Carmel Highway.
7. Monument Valley
Monument Valley sits on the border of Utah and Arizona. Although it is not technically a national park but part of the Navajo Nation Reservation, it is a must-see. It's so picturesque that filmmakers have used the sandstone formations as a backdrop for their stories for decades. You may know this iconic desert landscape from the 1939 film, 'Stagecoach' with John Wayne. But behind these huge red rocks lies a history much older than film.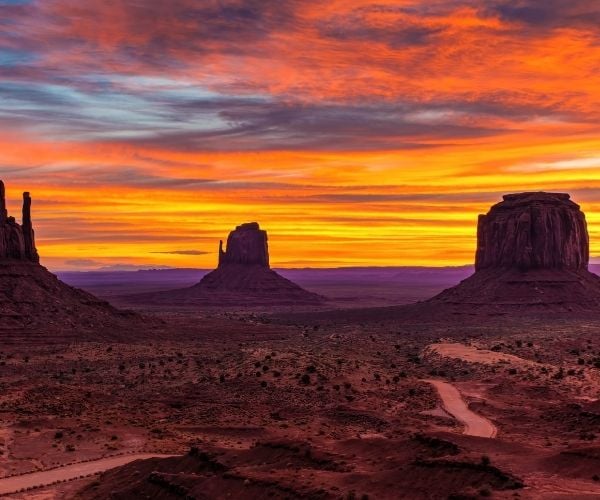 Monument Valley is home to Navajo Nation. Navajo families have lived here for generations, honouring their ancient traditions and living off the land. Via Highway 163, you can drive across the area in three hours. Another road called 'Valley Drive' is a 30-kilometre stretch of dirt from the visitor centre to the heart of the valley. On this drive, you'll come across various stalls with Navajo artists selling jewellery, pottery and other souvenirs. While taking pictures and stretching your legs, keep in mind that walking in the desert is prohibited.
Andrew Morten is the Founder of Little America. Little America creates bespoke, tailored trips to the United States and Canada.
If you would like to be a guest blogger on A Luxury Travel Blog in order to raise your profile, please contact us.