Dubrovnik is always a good idea, but it does not hurt to remind why it should be (again) on your bucket list.
And with a number of changes from January 1st, it is also closer and more approachable than ever. With Croatia now part of the Schengen, more travellers will be able to arrive without additional visas, and the brand new Euro currency will simplify the overall experience in Croatia, for both businesses and travellers alike. The grand opening of Pelješac Bridge in summer 2022 finally connected all Croatian territories into one entity, meaning that car travelers could finally reach Dubrovnik from central Dalmatia or Zagreb without crossing the border. And notwithstanding to mention, Dubrovnik is, as it has always been, safe for travel – ideal for all types of visits, from solo travelers and friends travelling together to couples and families.
So what are our recommendations?
Take a scenic drive over Pelješac Bridge
Regardless if you are flying to Dubrovnik or maybe choosing to drive, don't miss your chance to head to Pelješac and enjoy panoramic views of the Pelješac Bridge over the blue Adriatic. Make a stop at the designated area and savor the amazing views. For a touch of luxury, book a wine-tasting tour in the Rizman winery overlooking the Bridge and Adriatic archipelago and seize the moment with a glass of white, red or bubbly.
Swim in one of the world's best beaches according to Conde Nast
There are beaches, and then there are Conde Nast Traveller's top beaches. Pasjača, a small hidden gem in Konavle region, some 30 km south of Dubrovnik, is an iconic beach known for turquoise waters and steep access through steps carved in a hill heading down to a fusion of pebbles, sand and rocks. Extra tip: bring a picnic basket and turn this into a romantic experience.
Dare to cliff-dive from (below) Dubrovnik City Walls
While we are speaking of the sea, cliffs and adventure, if you ever wanted to try cliff diving, Dubrovnik City Walls will give you just what you need. When in the Old City, head towards Buža Cafe to find a plateau on the rocks from which true adventurers enjoy immersing into the blue Adriatic.  Just make sure the sea is calm and there are no strong winds. You can also just soak the sun over a cold drink while watching others cliff-dive.
Explore the city's artisan scene
If you're not into adrenaline and prefer arts and crafts, you'll be spoiled for choice with delightful shops and boutiques strewn across the Old Town. Check out some of the local goldsmiths' jewelry businesses, a year-round Christmas shop, or an artisan food and wine offer. The maze of cobblestone alleyways with iconic balconies, urban plants and gardens, and outstanding architecture is an additional experience in and of itself.
Discover Dubrovnik's neighborhoods outside of the Old Town
Remember that Dubrovnik is more than just the Old Town; there is much more to uncover beyond the stone city walls. Explore some of Dubrovnik's other iconic neighbourhoods on your own, with an experienced local, or with a private guide. Visit Gruž, the city's urban center, Lapad Bay, a recreational beach area with cafes and restaurants, or Ploče, a residential district with the most instagrammable views of the Old City.
Elaphite island hopping with a private yacht
In case you didn't know, the Dubrovnik region is surrounded by islands, islets, bays, coves, and beaches. If you are a genuine sea lover, charter a private yacht and spend the day touring the islands. This fascinating trip is a one-of-a-kind and greatest option for visiting hidden treasures of Dubrovnik Elafiti islands to discover natural beauty and historical heritage in comfort and seclusion.
Picnic with the family on the magical Lokrum island
If you want to experience Dubrovnik's island life without spending the entire day at sea, travel to Lokrum island, which is just a few minutes' boat ride from the coast. This natural park has it all: picnic areas beneath olive groves, hiking routes, free-roaming peacocks, an arboretum, historical landmarks and Game of Thrones filming locations, swimming places throughout the island, and even a "dead sea" in the centre of the island.
Enjoy a magnificent sunset over the city from Srđ mountain
Dubrovnik has more gorgeous sunsets than one might dream – and not just in the summer. The best sunsets are probably those with the sun dropping into the sea behind the Elaphite islands, and the best position to see them is from the top of the Srđ mountain. They are accessible via private transfer, cable car, or trekking from the Old Town. This is such a beautiful photo location that many individuals choose to have their proposal photos taken here.
Visit the Homeland War Museum 
While you're at the top of the hill Srđ, stop by the Homeland War Museum, which is located inside Napoleon Fort Imperial, today s symbol of Dubrovnik's defence and independence. The museum has significant exhibitions from the Fort's history and the Croatian independence war from 1991 to 1995 featuring authentic documents, videos and photographs, weapons, explosives and more. Bonus the beautiful panoramic views that you can enjoy from a hilltop bar next door.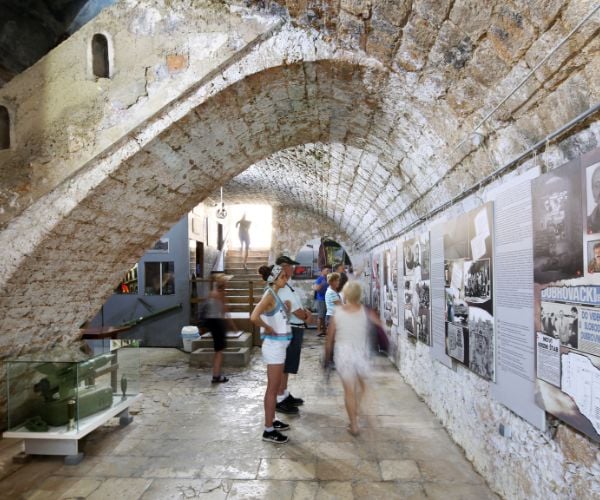 Don't forget about wine o'clock
Although we have already mentioned wine and the view from the Pelješac Bridge, wine culture is so prevalent in the Dubrovnik region that it requires more than one visit to sample the various varieties on offer. Plavac Mali (meaning 'small blue' after the tiny dark blue grapes on its vines) is Dalmatia's finest red, also a relative of Zinfandel, while Korčula is a haven for two of Croatia's most loved white varieties – Pošip and Grk.
Christian Larss Kreković is a General Manager at Sun Gardens Dubrovnik. Sun Gardens Dubrovnik is a luxury resort on the Adriatic coast in Croatia offering bespoke guest experiences.
If you would like to be a guest blogger on A Luxury Travel Blog in order to raise your profile, please contact us.