Suite of the week: Horizon Overwater Villa at Bora Bora Nui Resort & Spa
Suite name: Horizon Overwater Villa
Resort: Bora Bora Nui Resort & Spa, French Polynesia
Size of accommodation: 950 sq ft
Cost per night: 140,000 CFP
Who's stayed there? Isaiah Washington, Christina Applegate, Alicia Silvestone, Rob Lowe
What makes it special? The resort reflects a perfect balance between Polynesian authenticity and refined luxury.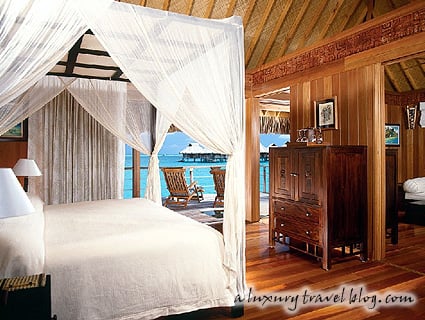 Suspended between crystal waters and limitless skies, the Bora Bora Nui Resort and Spa is nestled in a sacred cove of white sand and majestic lava rock. Incomparable in its balance of authenticity and luxury, the Bora Bora Nui offers a unique combination of Polynesian tradition and sumptuous comfort.
The 120 luxury suites & villas at Bora Bora Nui Resort & Spa are located on 16 acres of lush & terraced land overlooking a private cove of crystalline waters. The importance of Motu Toopua within Polynesian mythology is echoed through the authentic artefacts, decorations, and landscaping. The indigenous feel of the property is delicately offset by the luxurious oversized interiors of the suites and villas featuring marble tiles, exotic woods, and precious Tapa cloths.
Did you enjoy this article?
Receive similar content direct to your inbox.