By
Kay McMahon
on Oct 12, 2011 in
Accommodation
,
Asia
,
Bars
,
Going Out
,
Leisure Travel
,
Regions
,
Resorts
,
Restaurants
,
Spas & Pampering
,
Special Features
,
Speciality Travel
,
Thailand
,
Travel Miscellany
Please let me get some adjectives out of the way before I go on to give you a more factual report of staying at The Pavilions in Phuket. Amazing, wonderful, fun, incredible, entertaining, educational, friendly, interesting, luxurious, impeccable, beautiful, spacious, different, comfortable, exciting, relaxing. Are you getting the gist of it yet?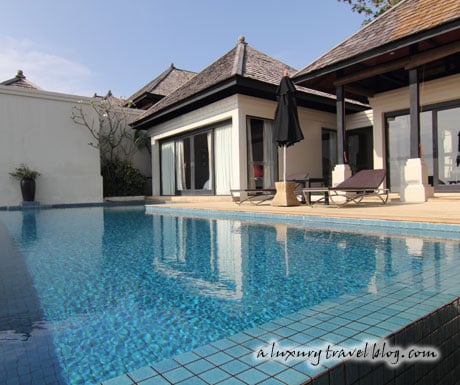 The Pavilions is a 5-star boutique hotel that's a member of the Relais & Châteaux association of luxury hotels and gourmet restaurants worldwide. It has 48 private pool villas with ocean views or hillside panoramas. It's built on a steep hillside but there's no problem in getting around. They have plenty of electric buggies (just phone guest services and ask for one) and for the newer hillside villas there's even a cable car which you can summon at the press of a button. The cable car isn't anything scary, it's just a walk-in-walk-out cabin that takes you up or down to wherever you want to go.
We found it a great advantage to be on higher ground at The Pavilions rather than a sea-level resort, because we benefited from the cool sea breezes despite the tropical humidity lower down. The ambient temperature was so comfortable we didn't even bother with the air conditioner most of the time, even though it was a fairly hot time of year in Phuket. If you're a beach person, don't worry because The Pavilions offers a free shuttle service to and from their own private beach just five minutes' drive away. You can enjoy the best of both worlds this way.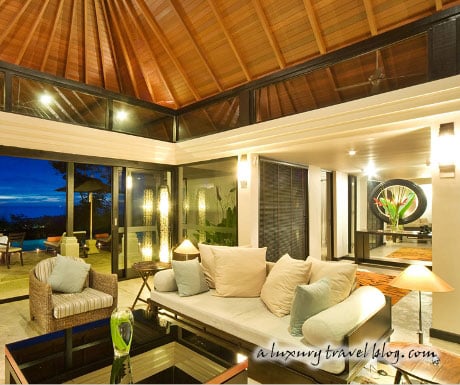 We had an ocean view villa and even though we had the opportunity to look around the other Pavilions properties, which included penthouses, three-bedroom villas and very stylish newer villas, I liked 'our' place the best. I don't want to tell you that Villa 9 is the very best because I'd prefer to keep that as an insider secret.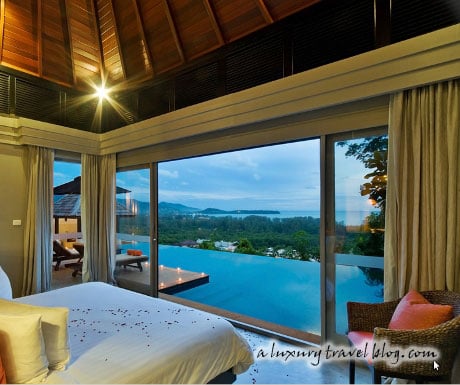 The Pavilions is primarily a resort for couples. It's about romance and passion. Children aren't allowed. (Yippee!)
Passion lies at the heart of what The Pavilions offers. Perhaps you're passionate about art, music, dance or adventure. There really is something for everyone here. You can create your own perfume with guidance from a Master, ride on an elephant, have a chocolate spa treatment, learn yoga, indulge in body painting, or even learn about primordial sound meditation. The resort has Masters in all of these activities.
Have you ever snorted chocolate? Apparently it's legal. Master chocolatier Laurent Bernard fed us with some wonderful chocolates, which he'd made himself, and then invited us to try sniffing chocolate. Now that sounds weird, doesn't it? What you do is to put a little bit of cocoa powder blended with another flavour, such as raspberry or ginger, onto a special gadget that fires it up both nostrils (sniff hard for the full experience!) and having sniffed it, you can taste the chocolate. It was fun but also demonstrates how much your sense of smell is related to your sense of taste. Magnifique!
The food at The Pavilions was always excellent. And I didn't complain about the fact that they had Champagne on the breakfast menu. Ooh, such decadence. I loved it! I hadn't realised before how a glass of fizz along with the Eggs Benedict could set you up for the day. Chef Alec Lomas, a Californian and an honours graduate of Vancouver's Pacific Institute of Culinary Arts, is very interested in organic foods. That's his passion. There's some controversy around whether organics are better for you and if they really taste better. I won't go into that argument here. Suffice to say that I ate and enjoyed more food at The Pavilions than I normally would when visiting any restaurant.
The 360° Bar at the top of the hill is a wonderful place. As the name implies, it offers a panoramic view of the hills and valleys of the island of Phuket to the north, east and south and of the sea to the west – which makes it the perfect place to view the glorious sunsets over the Andaman Sea. What the name doesn't reveal is that you can also order delicious bar meals and tapas from the kitchen and grill, as well as some of the most sensational cocktails around. Both of us loved the Hex Appeal, flavoured with a fiery blend of kaffir lime and chilli. We also tried tequila shooters with chocolate. Hmm, I'll try just about anything once. As was the case throughout the resort, the staff were very friendly as well as being efficient. They were fun people to be around and this added to the ambience.
The main restaurant is housed in The Pavilions' Plantation Club. This is perhaps the true heart of the resort as it also houses a colonial-style bar – with complimentary English-style high tea every afternoon – and a library where you can borrow books, CDs and DVDs to enjoy in your villa, or surf the Web (although you can do that in your villa too – there's free WiFi in all of them). The dining room has views over the hills of central Phuket and Layan Bay. The large floor-to-ceiling windows are actually French windows and can be drawn fully back, so diners don't have to choose between outdoor and indoor seating – they can have the benefits of both at the same time!
The Plantation Club also has an outdoor stage, located in easy view of both the restaurant dining room and the terrace below, and this was the setting for some amazing entertainment in the evenings too. On the evening of our first full day there, two Chinese drummers held all of us diners enthralled by a dazzling performance of perfectly synchronised rhythms. They were then joined by a Chinese orchestra who serenaded us beautifully through dinner. I'd expected the drummers would be men, but to my slight surprise one of them was a very talented young lady, Cheryl, who for me was the star of the show. You can see her below – she's in blue, between Tat-Leong Sweeting (PR guru for The Pavilions, in green) and Jean-Christophe Nager (General Manager of The Pavilions).
Afterwards, two Cantonese opera singers sang a famous duet, "The Parting Song of Love", between a Chinese princess and a warrior from a barbarian state who had rescued her from drowning. The couple fell in love and married, but the princess was forced to leave her husband after the Emperor threatened war with the barbarian state if she did not return to China. Sad, but very beautiful – as were the elaborate costumes and make-up, which we were told took two-and-a-half hours to put on.
We also watched and listened to some flamenco performers – two dancers and a guitarist – the following evening and that was a lot of fun too. A big cultural contrast from the previous evening's entertainment, but every bit as enthralling!
It was particularly good to be able to have the opportunity to meet and talk with these entertainers after they'd done their performances. And, of course, the entertainment is all linked to the Passions programme, so you can be taught by them too if music and dance are passions of yours.
There are several ways to enjoy Passions at The Pavilions, by joining one of the pre-arranged Passions weekends, or by arranging a corporate event, or even by arranging your own bespoke Passions programme according to your interests.
You can read more about the Passions programme on The Pavilions' website:
http://www.thepavilionsresorts.com/phuket-passions/